Who is Michelle Collins' Boyfriend in 2020? Find Out About Her Relationship
Find out who Michelle Collins is Dating in 2020, and find more about her relationship with her boyfriend.
Michelle Collins (born Michelle Danielle Collins) is an English actress who is best known for her stint on the shows 'Coronation Street' as 'Stella Price,' and 'EastEnders' as 'Cindy Beale.' Michelle, who was born on May 28, 1962, in Hackney, East London, England, started her career from a theatre.
Her first theatrical performance was in Mikhail Bulgakov's 'The Crimson Island' at the Gate Theatre. Michelle's first TV appearance was in BBC drama, "Morgan's Boy" with Gary Oldman. She has worked on numerous other projects; however, she is mostly known for her stint on hit English show, "EastEnders" in 1988.
We suppose Michelle is someone who needs an introduction for her works. We all know how much of a talented person she is. So, let's dive into her personal life and find out who she is dating.
Who is Michelle Collins' Boyfriend? Is She Dating Someone in 2020?
Well, we suppose you are aware of the fact she was dating a much younger man couple of years ago. Things have not changed so much since as Michelle Collins is still in a relationship with her 22 years old younger boyfriend, Mike Davison.
Michelle Collins is still dating Mike Davison as of 2020.
Photo Source: The Sun
The couple still makes headlines with their appearances on public places, and by what it seems, they are doing pretty good and going strong. The last time couple was in the news was back in February of 2019. The lovebirds stepped out on February 1, 2019, and "looked absolutely smitten as they lovingly leaned in for a photo," The Sun reported.
Also, See: Who is Inanna Sarkis Boyfriend in 2020? Find Out About Here Dating Life and Pregnancy
According to the media outlet, the couple started dating from 2012. They were introduced to each other by Michelle's niece as she had worked with him previously. It's over eight years now, the couple first met, and it seems like they are here to last.
Michelle Collins Was Criticized For Her Relationship with Mike Davison
As it is apparent there is a 22 years gap between Michelle Collins and Mike Davison, she was called 'Cougar' and other names for her relationship. The actress talking to The Sun, said, "Mike is 22 years younger than me, and I'm regarded as a predator."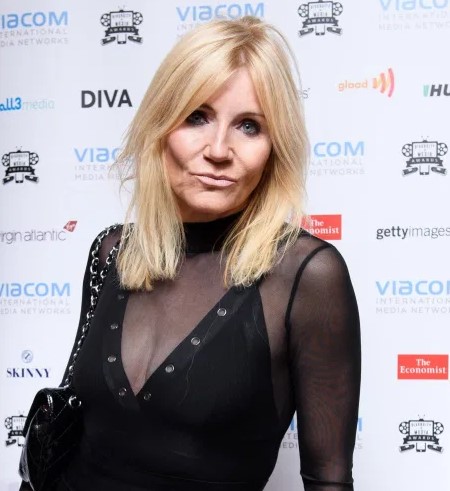 Michelle Collins was and still criticized for dating 22 years younger man.
Photo Source: The Sun
Michelle further added, "It drives me mad. People call him my toyboy beau. He's nearly 35, for God's sake. He turned to me the other day and said, 'Surely I'm not still your toyboy, am I?' I laugh about it now, but it is annoying. And I hate that word cougar. I can't stand it. I find it so demeaning. A cougar is a predator going around looking for young flesh. I'm certainly not like that."
Also Read: James Murray "Murr" Girlfriend - Find Out Who the 'Impractical Jokers' Star is Dating in 2020, Are They Engaged Now?
Collins continued, " "But then, women are judged far more harshly than men. And, funnily enough, often by other women. If people think I look old enough to be his mum, then let them! There's nothing I can do about it. It's one of the downsides, I suppose, of being in the public eye. No-one mentions an older man and a younger woman, do they? Nobody goes on about Rod Stewart's wife Penny being nearly 30 years younger than him!"
Watch: Michelle Collins Reveals Why She Turned Down Strictly | Good Morning Britain
Well, there you have it, despite their perfect relationship, people are calling her names, and criticizing their relationship. If the two persons in the association are happy with what they have and what they are doing, people should mind their own businesses.
You May Also Like: Who is Paige Spiranac Dating? Find Out If She Has a Boyfriend
For more information on your favorite celebrities' lifestyle, stay tuned to Glamour Fame, don't forget to sign up for the newsletter.
-->