Miley Cyrus Reveals Her First Kiss Was With A Girl
Published Sun Mar 03 2019 By Andrew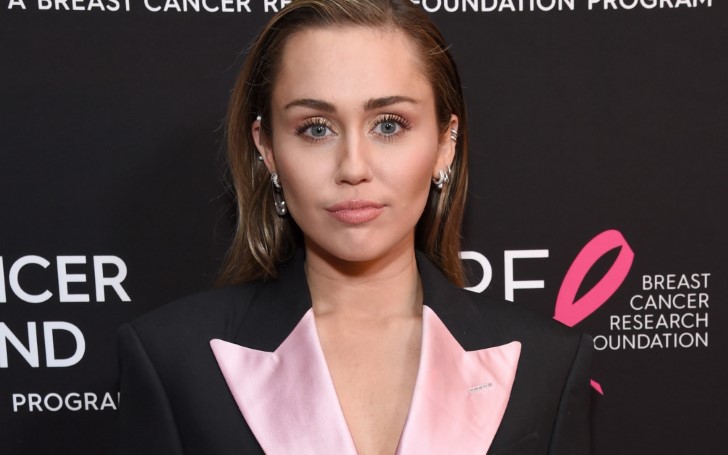 Miley Cyrus confessed about her first kiss!
The name Miley Cyrus itself is enough to steer a significant amount of controversy and in a recent interview, the singer made a revelation that her first kiss was a girl.
The 26-year-old 'Wrecking Ball' singer revealed the information about her first kiss during an interview on RuPaul's podcast RuPaul: What's the Tee with Michelle Visage.

CAPTION: Miley Cyrus' first kiss was a girl
SOURCE: Billboard
Cyrus told during the Interview,
"When I was kind of growing up, being from the South…my first kiss was with a girl in middle school,"
She shared,
"And no one could understand, in Nashville, saying that … so I had that relationship."
The comment paved its way into the conversation as Cyrus who previously risked wardrobe malfunction was emphasizing the importance of using her platform to spread a message of inclusivity towards the LGBTQ community. Also, She verbalized that back in her days as a Disney heartthrob, she still felt that responsibility.
She told the host,
"I was one of the only kids on Disney that would come out and say that I supported all my gay friends,"
The singer added,
"No one really would say that, so that was always really important to me."
During the podcast, Miley spoke her mind about how gender identity and sexuality were channels to express one's true self.
She shared,
"Besides even sexuality, it's about what your show represents; being your fucking self,"
The singer added,
"That's what it is. It doesn't have to attach to who you love, it's about you loving yourself more than who you love outside yourself."
The pansexual entertainer has always been open about her sexuality and is one of the trendsetters in the LGBTQ community. As a matter of fact, she recently opened up about her 'modern' reason for marriage with Liam Hemsworth to the Vanity Fair's March 2019 issue. In addition, the magazine also featured her in the cover of the edition set to hit the stores on March 5.

Miley Cyrus featured in the cover of May 2019's Vanity Fair
SOURCE: HawtCelebs
Miley revealed,
"The reason that people get married sometimes can be old-fashioned, but I think the reason we got married isn't old-fashioned—I actually think it's kind of New Age. We're redefining, to be f*cking frank, what it looks like for someone that's a queer person like myself to be in a hetero relationship. A big part of my pride and my identity is being a queer person. What I preach is: People fall in love with people, not gender, not looks, not whatever. What I'm in love with exists on almost a spiritual level. It has nothing to do with sexuality. Relationships and partnerships in a new generation—I don't think they have so much to do with sexuality or gender. Sex is actually a small part, and gender is a very small, almost irrelevant part of relationships."
Miley Cyrus is sure one of the most considerate people towards the LGBTQ community and now we know why the community's enrichment is so close to her heart.
-->