Miley Cyrus Slammed For 'Promoting Obesity' In New Video - Is The Criticism Justified?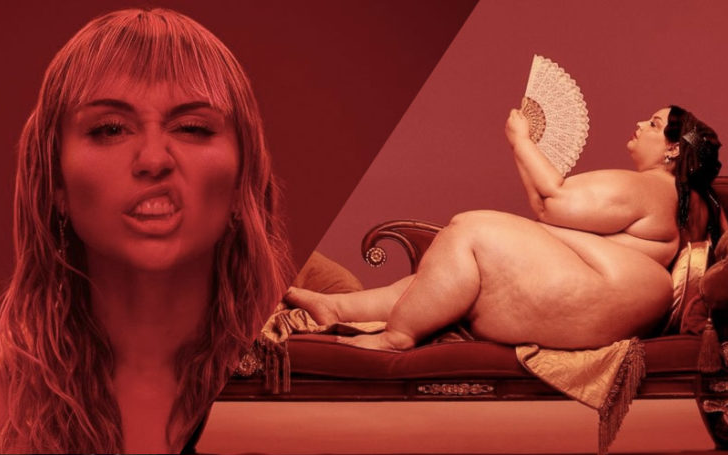 Miley Cyrus is grabbing the headlines after her latest post on Instagram to promote her new music video.
After the music video was shared on Miley Cyrus's official Instagram page, some fans were indeed not okay with it.
One of the fans reshared Miley's post of actress Angelina Duplisea and said that obesity shouldn't be 'accepted or praised.'
The fan who is coming with her strong claims is an Irish social media influencer, Pamela Umeh, 22.
See Also: Ariana Grande Receives Text From Miley Cyrus After Split From Pete Davidson
The social media personality said it's not healthy to promote obesity as it leads to health problems. Obesity should not be praised or accepted because society has become sensitive to everything.
The music video for the 'Mother's Daughter' of Miley's new EP, 'She Is Coming' featured Duplisea and it went seriously wrong.
Umeh wrote she don't care how she is viewed but thinks someone has to say it.
Recommended: Jason Momoa and Matt Damon Are Hosting Saturday Night Live This Month
The social media personality's post was retweeted more than 40,000 times before she deleted it after the social media influencer faced a considerable backlash people calling her fat-phobic.
We really don't know if promoting obesity is right or wrong, but openly calling out on social media, and one with so many followers, obviously seemed wrong.
Read Also: Miley Cyrus and Liam Hemsworth Secretly Got Married Just Before Christmas
We are not criticizing the actress or the social media personality who created a stir with her single post. However, there's a place to say things more systematically and correctly.
Though Umeh's points are valid, coming out so strong with one's claim to shame or slam someone on social media should not be 'accepted or praised.'
A few Twitterati dragged Umeh for her opinionated views. The social media personality tried to defend herself but were not enough for some.
After all the turmoil, Miley took it upon herself to head on over to the videos comment section to respond.

Miley finished her apology post by saying that she is committed to using her voice for 'healing, change, and standing up for what's right.'
-->