Miley Cyrus Slammed After Uploading 'Disrespectful' Instagram Post
Published Thu Apr 04 2019 By Jessica
Fans are upset after Miley Cyrus posted a series of pictures where she is seen climbing a Joshua tree.
Following her glorious Hannah Montana hairstyle debut that recently left the internet moved, Miley Cyrus is making noises on the internet once again. However, this time, instead of receiving praises and compliments, the singer is facing backlashes from the public.
On Tuesday, the 26 years old singer took to Instagram to share a series of pictures which showcases Cyrus climbing and sitting on a Joshua tree. And the fans feel her candid nature pictures are rude and disrespectful.
Recommended: Lena Dunham Just Debuted an Empowering New Tattoo
Donned in a skin-tight colorful jumpsuit printed with flower design, the 'Wrecking Ball' hitmaker poses for the snaps as she sits on a branch of the tree.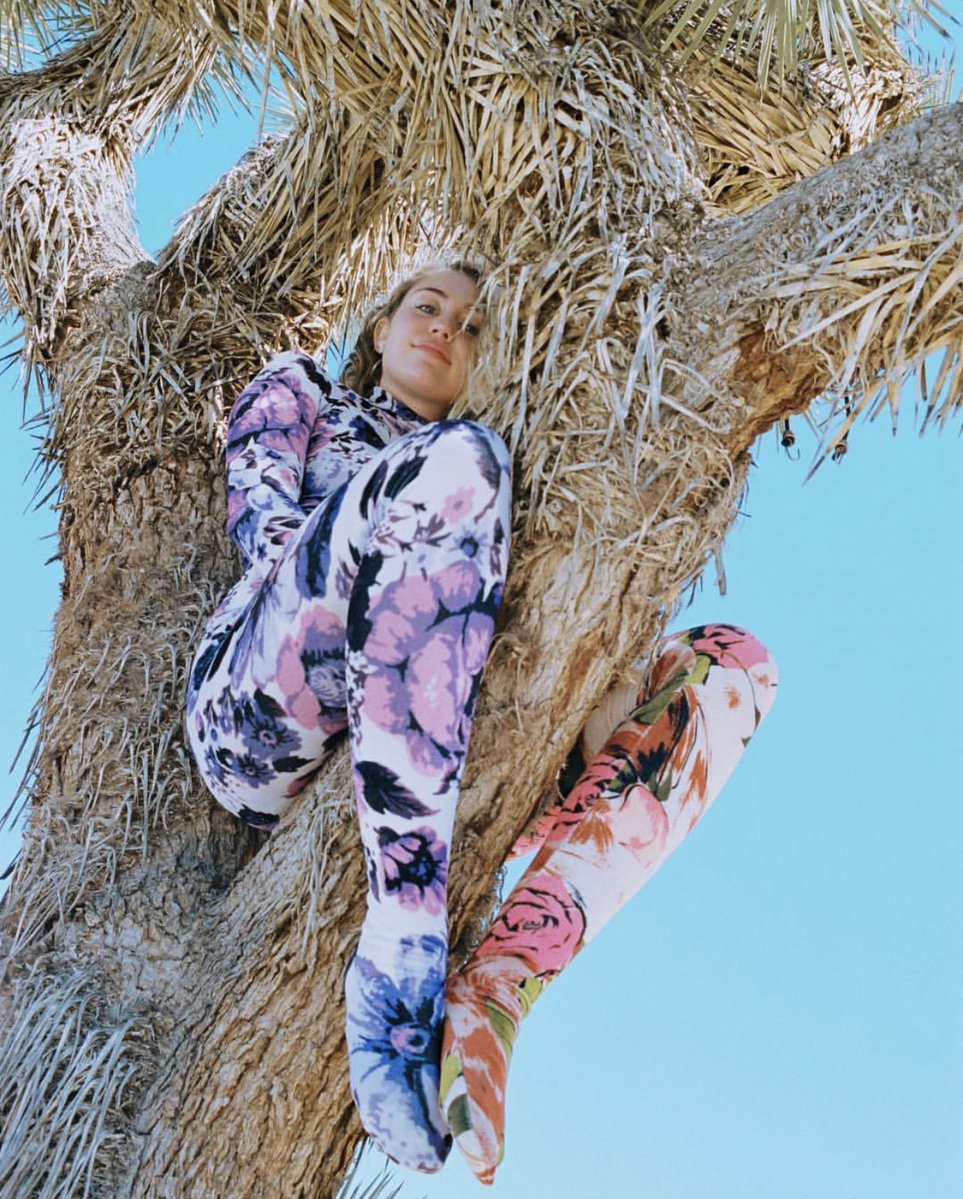 Miley Cyrus shares a picture of herself climbing a Joshua tree on social media.
SOURCE: Miley Cyrus Instagram
"Looking down at all the petty drama like...." said Cyrus in the caption.
Although it looks like all Miley wanted to do was embrace nature, the Disney alum had no idea what was ahead of her.
Immediately after Cyrus dropped the pictures on the photo-sharing platform, her 90 million Instagram followers came after her life.
Whilst some appreciated the pictures claiming how beautiful she looked, others dragged her for climbing and posing on the Joshua tree.
One person replied to the singer in the same picture she posted on Twitter, writing: "Hey. I work for the Joshua Tree National Park and you should not climb Joshua trees. Their limbs are very fragile and don't regenerate. We have issues with visitors climbing and damaging our iconic trees. Please take this down so others don't climb and damage them. Thanks."
Another person added: "Please don't climb our Joshua trees (and then post it for people to imitate) they are protected and extremely delicate! Please respect our wildlife!"
Also see: Will Jeremy and Audrey Roloff Be on the New Season of 'Little People, Big World'?
Whilst another slammed her saying: "Show some respect. Don't climb the Joshua Trees. Not what they're there for. #educateyourselfplease"
Similarly, a fourth person wrote: "Miley come on you're smarter than this. Our Joshua trees are super fragile! Please remove this and tell your fans it's not ok to climb these trees. You're setting a bad example. For someone like you who advocates for animals, why aren't you advocating for the nature they call home?"
However, this fan in defense of the singer replied: "UNBOTHERED QUEEN"
Meanwhile, Miley is not the only celebrity facing backlashes online. Cyrus's friend and fellow pop singer Justin Bieber recently just received tons of criticism from the public after making a joke on the occasion of Aprils Fool where he claimed that his wife Hailey Baldwin was pregnant.
Some of his fans then responded to the superstar that the joke was insensitive and disrespectful to people who can't have kids.
Many slandered Bieber saying things like: "What is wrong with you," and "pregnancy jokes are never funny."
However, the 25 years old singer later released a long statement to apologize to the fans who he offended.
Don't miss: Emilia Clarke Looked Drop-Dead-Gorgeous in Dramatic Dove Grey Gown at the NYC premiere of 'Game of Thrones'
In his words, his full statement read:
"There's always gonna be people offended, there's also people who don't take jokes very well, I am a prankster and it was APRIL FOOLS. I didn't at all mean to be insensitive to people who can't have children. A lot of people I know, their first go to prank on April fools is telling their parents they are pregnant to get a big reaction. But I will apologize anyway and take responsibility and say sorry to people who were offended. I truly don't want anyone to be hurt by a prank.. it's like when I shoved cake in my little sisters face for her birthday expecting her to laugh but she cried. You sometimes just don't know what will hurt someone's feelings not to compare pregnancy with cake in the face but it's just to paint the picture of not knowing what will offend. Some might have laughed but some were offended .. I think With pranks u sometimes have to roll that dice. #prankster #dennisthemenace #sorry#truly"
Meanwhile, as for Miley, she is yet to respond to the backlashes.
-->