MMA Superstar Conor McGregor Arrested in Florida For Smashing Fan's Cellphone
Published Wed Mar 13 2019 By Tess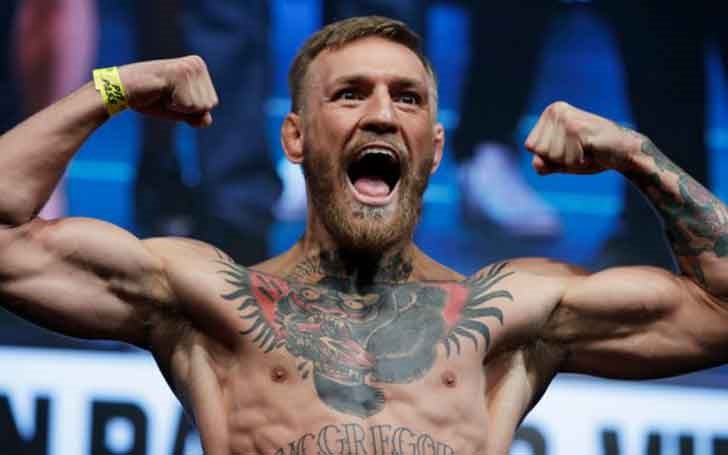 Mixed Martial Arts superstar Conor McGregor arrested and jailed on Monday after he allegedly smashed a fan's cellphone in Miami.
Mixed martial arts fighter Conor McGregor was arrested on Monday by American police for allegedly smashing a fan's cell phone outside a Florida nightclub.
McGregor got booked into the Miami-Dade County Jail on charges of strong-arm robbery and criminal mischief after Miami police said he allegedly slapped the phone out of the fan's hand and then stomped on it.
Conor McGregor arrested for allegedly smashing a fan's cell phone.
SOURCE: IrishCentral
According to reports by The Miami Herald, Miami Beach police were called to the scene outside the LIV Nightclub at 5:00 am (0900 GMT). The police started their investigation and McGregor was arrested later in the day at a nearby home and was taken to the Miami-Dade jail at around 5:56 p.m.
Also see: 'Guardians of the Galaxy' Star Dave Bautista Claims Dwayne Johnson Isn't a Great Actor
Addressing the incident McGregor's attorney Samuel Rabin said in a statement:
"Last evening Conor McGregor was involved in a minor altercation over a cell phone that resulted in a call to law enforcement. Mr. McGregor appreciates the response of law enforcement and pledges his full cooperation."
Recently, the former two-division UFC champion issued his first remarks on Instagram since his arrest.
Few hours after paying the bond amount $12,500 and being released from Turner Guilford Knight Correctional Center in Miami, Conor posted a picture of himself alongside a caption on Tuesday morning.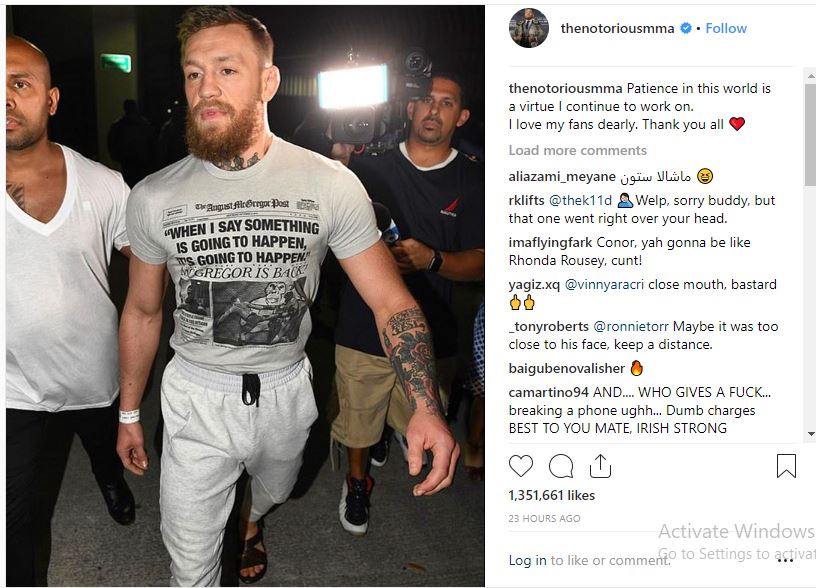 Conor releases a statement on his release.
SOURCE: Instagram
His caption read, "Patience in this world is a virtue I continue to work on. I love my fans dearly. Thank you all."
As per some reports, Conor recently completed his 25 hours of community service assigned to him per his guilty plea for the bus attack in Brooklyn last year in which Conor allegedly attacked the UFC fighter bus carrying lightweight champion Khabib Nurmagomedov.
Don't miss: Lori Louglin Roped in an Alleged Admission Scam; Deletes Social Media account
Per the terms of the plea deal to one count of disorderly conduct, McGregor was forced to undergo five days of community service, 1-3 days of an anger management evaluation, and compensated for the damage inflicted in a UFC fighter bus during UFC 223 fight week.
Following the bus incident, Conor is apparently suspended by the Nevada Athletic Commission (NAC). Conor stage name "The Notorious" will come off the six-month suspension on April 5.
Read more: Game of Thrones Star Liam Cunningham Wants Game Of Thrones Role On His Gravestone
McGregor's arraignment is scheduled for April 10, per a state attorney's office spokesperson.
-->