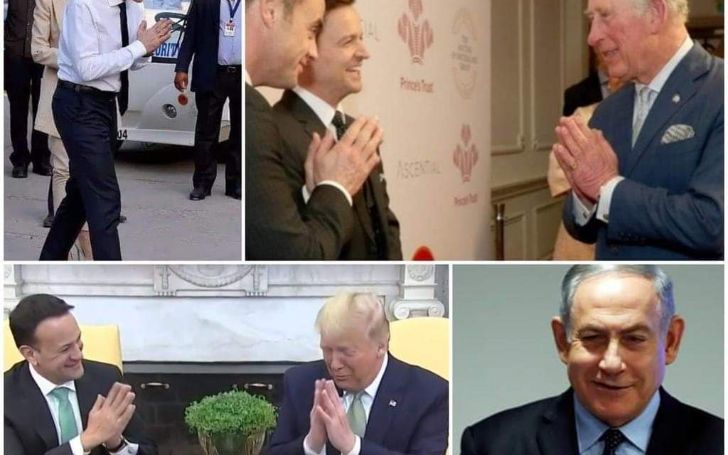 It's pandemic, it's all around the world, and now like all 21st-century things, it's setting trends. That's right; as the Coronavirus takes over everybody's nightmares, people ditch the traditional way of greeting each other and opt for the Indian Namaste instead!
It sprung out of nowhere just over a month ago, and it's already causing havoc all over the planet; the Covid-19 or commonly known as Coronavirus, is causing all sorts of crises, and that's not just limited to the country of its origin, China. Multiple countries, even those with adequate health personal like Italy, are struggling to keep the contamination of the viral outbreak under control. And in such efforts, a new trend is taking over the world as people opt for safer ways of greeting each other.
In light of recent events, people all over the world are adopting a different form of greeting, one that doesn't require physical contact and closeness. Even the most significant world leaders are advising those following them to take up the Indian way of saying hello Namaste instead of the regular handshake, hug, or kiss. The joining of both hands, palms touching and fingers pointing upwards, thumbs close to the chest and a slight bow means 'I bow to the divine in you' in Hinduism.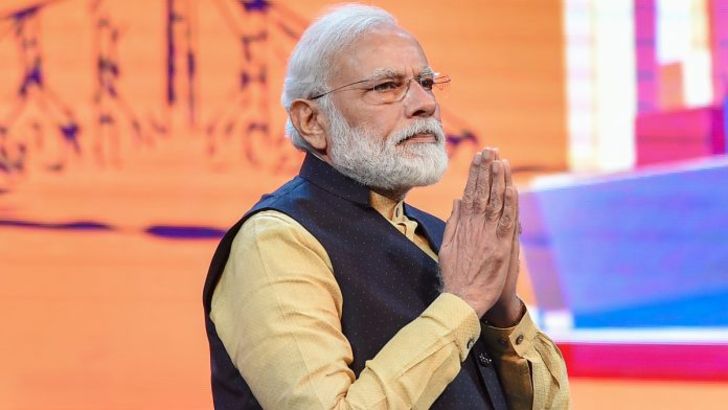 Indian PM Narendra Modi urges people to adopt Namaste.
Photo Source: The Print
Narendra Modi, the Prime Minister of the country where Namaste originated from India, addressed the Indian people and asked them not to panic in the face of global adversity. Instead, he requested the mass, "The world due to coronavirus outbreak is shifting towards greeting someone from handshakes to Namaste. If by any means we have forgotten to use Namaste, then it is the right time to do so."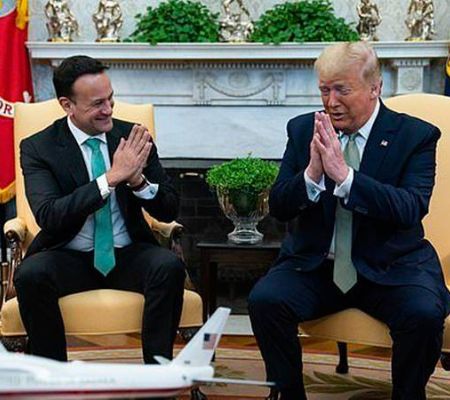 US President Donald Trump greeted Irish PM Leo Varadkar with Namsate.
Photo Source: Business Today
The President of The United States of America, Donald Trump, a good friend of the Indian Prime Minister, followed the recommendation of PM Modi and joined his hands together instead of a traditional handshake with the Irish Prime Minister Leo Varadkar. Varadkar, in return, did the same at the meeting in the Oval Office on Thursday while saying they can't afford to shake hands amid coronavirus outbreak.
Similarly, a prominent figure from the British Royal family is also trending in Twitter for the same reason. After a video of Prince Charles bringing out his hand for a shake and then suddenly switching to Namaste amid the growing coronavirus scare found it's way to the internet, it left a great mass of netizens impressed. Most even called it the best version of Namaste displayed by well-known figures in public.
Watch: Adopt Indian way of Namaste instead of handshake : Israel PM Netanyahu on Coronavirus prevention
Israel's Prime Minister Benjamin Netanyahu asked his countrymen to adopt Namaste and ditch the handshake during a press conference on March 4. That was not all; he even demonstrated how to do a Namaste. One of the quickest countries to implement precautions, Israel has 100 reported Coronavirus positive patients but no deaths to date.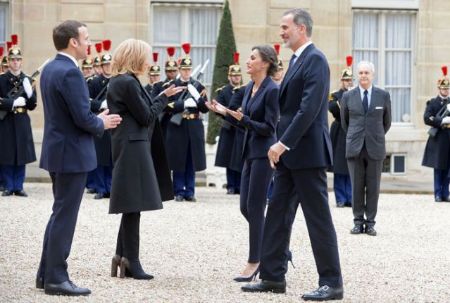 French President Emmanuel Macron greeted Spain's king and queen with Namaste.
Photo Source: Yahoo News
When French President Emmanuel Macron greeted Spain's king and queen on Wednesday, he replaced the traditional handshake with an Indian-style Namaste, pressing his palms together and bowing slightly. Besides Macron, the First lady of France Brigitte Macron, blew a kiss in Queen Letizia's direction as a way of greeting.
With no rigid cure in sight, the pandemic continues to wreak havoc throughout the planet. Recent reports from Italy shows the number of deaths peaking at almost 400 in the last 24 hours.
For more updates, head on over to Glamour Fame, and don't forget to sign up for the newsletter.
-->