Inside Natalie Portman and Husband Benjamin Millepied's Relationship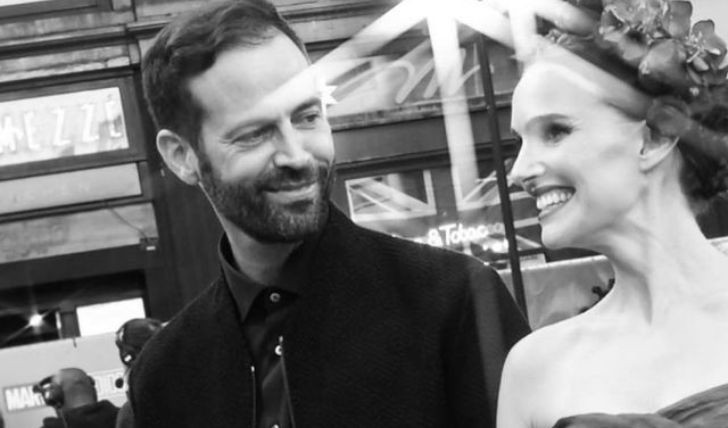 Natalie Portman and Benjamin Millepied commemorated their 10th anniversary: Complete story here!
Oscar winner Natalie Portman and choreographer Benjamin Millepied have long represented the enduring relationships in an industry mainly stereotyped by facile nuptials. As the couple marks the 10th anniversary of their conjugal togetherness, Portman and Millepied affirm their continuing love for one another.
Portman, 41, is one of the most renowned actresses in the world with a host of accolades under her belt, including an Oscar, BAFTA, two Golden Globes, and a Screen Actors Guild Award. Her husband, with whom she shares two children, is a French dancer and choreographer with an extensive career in the field. On the occasion of the "I want what they have" duo's 10th anniversary, here's the complete timeline of how it all started.
Inside Natalie Portman and Benjamin Millepied's Relationship!
Both love and a quantum leap came to Portman at once. The actress was already a critically acclaimed actress when she played her Oscar-winning role, Nina Sayers, in the 2010 psychological thriller Black Swan. Little did Natalie know that she would walk out of sets with more than worldwide acclaim. The actress was introduced to Millepied, who trained her Portman in the art of ballet.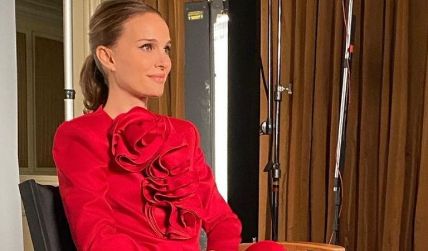 Portman met her husband while working with him on 'Black Swan.' Photo Source: Instagram
The pair started dating while filming the thriller and announced their engagement and first pregnancy within a year. "The pregnancy was a bit of a shock," an insider said while revealing that the French choreographer proposed to Natalie after learning about the pregnancy. The couple's firstborn, Aleph, was born in June 2011, over a year before their traditional Jewish wedding at a private home facing the ocean, in August 2012.
Don't Miss: Comedian Martin Lawrence Has Been Married Twice: Who is He Currently Married to?
The star-studded event was graced by the likes of Ivanka Trump, Macaulay Culkin, and more. The twosome's relationship continues to thrive, propelling everyone to wonder about the reasons behind it. Given her supreme career, Portman does appear as an overtly ambitious woman, but the Oscar winner states she has and will always prioritize her personal life over work.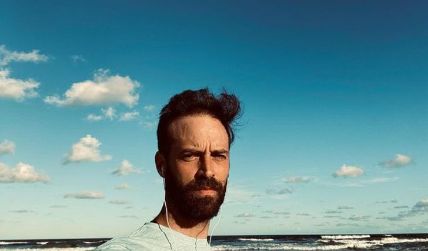 Benjamin is a French choreographer and dancer.
Photo Source: Instagram
"Nothing is more important than my personal life," the Black Swan actress once said, adding, "It's something which comes first, always makes sense, and compared to the happiness of a successful family life, everything else is practically superficial." A year after their wedding, Portman and Benjamin relocated to Paris, and the actress even contemplated becoming a French citizen, calling it her unfulfilled francophile dream.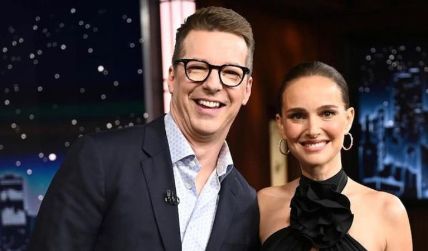 Portman and Benjamin are doting parents of two.
Photo Source: Instagram
The family of three returned to LA in 2016 after Millepied left his job with the Paris Opera Ballet, and the pair's arrival in the city was met with their second pregnancy. The Star Wars alum debuted her baby bump at the Venice Film Festival in 2016. Their secondborn was born in February 2017. The delighted pair were brought even closer after they collaborated on their second project since Black Swan. Portman and Benjamin teamed up for the drama film Vox Lux in 2018.
Natalie Portman and Benjamin Millepied Celebrate 10th Anniversary!
One decade down and the couple is as smitten as a decade ago. Posting an old picture of the pair hands in hands, the Thor: Love and Thunder actress wrote, "Ten years today @benjaminmillepied, and it keeps getting better." Millepied took to his story to gush about their milestone. "10 years today," the choreographer writes while sharing the same picture.
The couple marked their 10th anniversary on August 4.
Source: E! Insider
Fans and fellow stars took the duo's comment section and showered them with much love. Actor Ahmed Best comments, "Happy anniversary, my dear Nat and Ben. Love you tremendously." Jurassic World actress Bryce Howard writes, "Remember it like yesterday," followed by love emojis. Isla Fisher, Kerry Washington, and Lena Waithe also left warm messages for the twosome.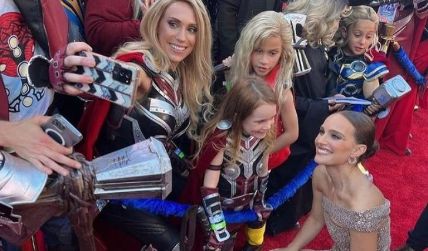 Portman and her co-stars' kids had cameo roles in 'Thor: Love and Thunder.'
Photo Source: Instagram
Portman, 41, who recently role as Jane Foster/Mighty Thor in Thor: Love and Thunder, starring Chris Hemsworth, and Christian Bale, temporality moved her family to Australia to shoot the superhero film. "They were so excited to see me wearing a cape," says the proud mom of two. Portman and her co-stars' kids had cameo roles in Taika Waititi's directorial. "It felt like a one-off fun family experience," Hemsworth said about their kids' cameos.
Recommended: Sylvester Stallone's wife Jennifer Flavin files for divorce: Inside the Pair's Rocky Relationship.
Since becoming a mother in 2011, the Oscar-winning actress has been vocal about her experience as a mother. The Black Swan actress says motherhood changed her for the better. "For me, it was a wonderful, meaningful experience that I couldn't live without," Portman gushes while talking about parenthood, further explaining how the transition has made her a calmer and less judgemental person.
Stay connected to glamour fame for more.
-->