Natalie Portman Speaks About Her MCU Return As Female Thor In Love And Thunder
Published Mon Jul 22 2019 By Jasmine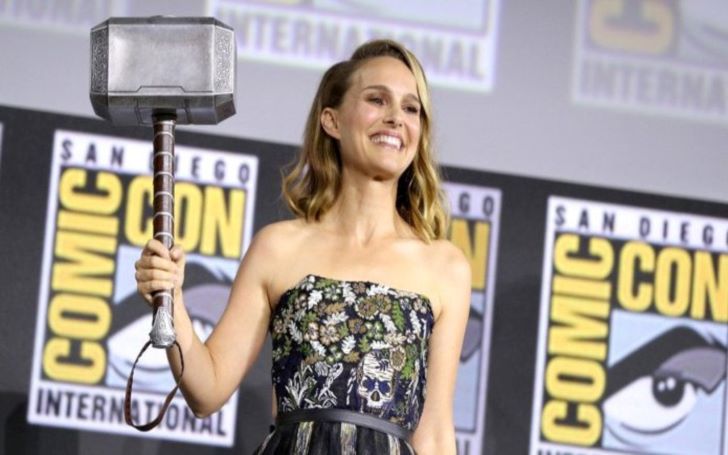 See what Natalie Portman wants to say about her MCU return as female Thor in Love and Thunder.
Natalie Portman recently made a jaw dropping come back into the Marvel Universe: she is now the Mighty Thor! While the fans thought they had seen everything from Natalie Portman in the MCU, she shocked everyone with the most unbelievable comeback and she is definitely more excited than anyone else!
The announcement was done in the San Diego International Comic Con by Taika Waititi. The fans went crazy knowing they were getting a fourth Thor movie 'Love and Thunder'. Just then Takia made an announcement about a gender makeover of 'Jane Foster' being the latest person worthy one to lift the hammer.
Watch: Natalie Portman is the new Thor: Love and Thunder
When Natalie was asked how she felt about the role, she replied saying,
"It feels pretty good!, I've always had hammer envy."
Later in her official Instagram account, Natalie joked about how she was going to "Jack up" for her new role, hinting on how the previous Thor actor, Chris Hemsworth was of a muscular built, unlike her. She wrote on her Intagram account:
So thrilled to share the news with you today at #sdcc2019that I'll be returning to the @marvel#mcu as female Thor with legends @taikawaititi @tessamaethompsonand @chrishemsworth. (Remember this as the before picture for when I get jacked)
Natalie also Posted a picture of herself holding the Mjolnir hammer. But we will have to wait for some time to see if Natalie will actually get jacked up to be the Mighty Thor.
-->