Oliver Giroud Makes The Difference As Chelsea Beat Atletico Madrid
Published Wed Feb 24 2021 By Bran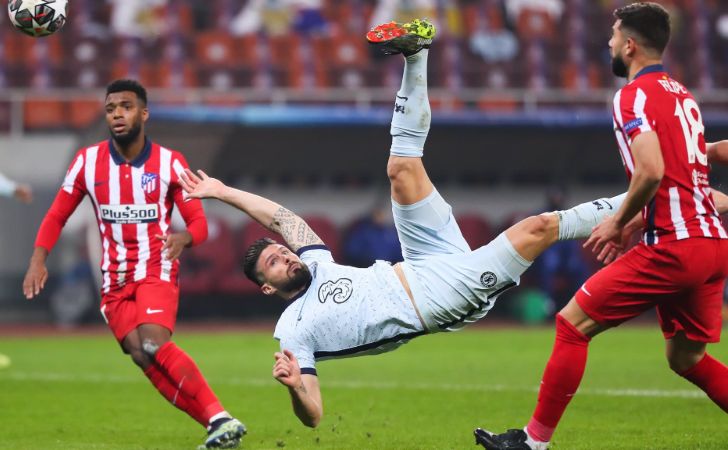 Chelsea managed to get a crucial win against Spanish table-toppers Atletico Madrid 1-0 in the UEFA Champions League, the round of sixteen's first leg, thanks to a sensational goal from Oliver Giroud.
English giants Chelsea FC managed to get the first laugh in the tight Champions League draw against Atletico Madrid. In an extremely overhyped contest at the National Arena in Bucharest, Romania, it was the London club who achieved the difficult thing to get an away goal and win the first leg.
In an evenly matched contest where Chelsea had most of the possession but wasn't clinical enough, it took an acrobatic attempt from striker Oliver Giroud in the 68th minute to give the visitors a much-needed lead.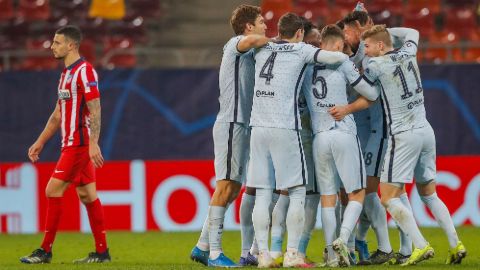 Chelsea will host the second leg against Atletico Madrid in Stamford Bridge on March 18, 2021.
Photo Source: Yahoo Sports
Well, the video assistant referee (VAR) played its part as well, taking around three minutes to come up with a decision that looked like an offside in the first place. Lucky for Thomas Tuchel's side, the ball came from an Atletico Madrid defender who helped the Londoners get an away goal.
You May Like: Chelsea Reportedly Reaches an Agreement to Sign the Bayern Munich Defender
Atletico Madrid played on the back foot for most of the match, but they did look sharp upfront in a few counter-attacking moments. Former Premier League striker Luis Suarez, however, couldn't get anything in front of the Blues' goal. One of the highlights of his match was getting into a light feud with Antonio Rudiger.
Chelsea beat Atletico Madrid in Round of 16 first leg 1-0 with a goal from Oliver Giroud.
Photo Source: Football Espana
With that win, Chelsea becomes the only side to beat Diego Simeone's Atletico Madrid at their home ground twice in the past three years. Interestingly, it wasn't the Spanish side's home ground on a technical level as the LaLiga leaders were compelled to host the UEFA Champions League match in Romania due to strict COVID-19 protocols in Spain.
Recommended: Six-time NBA All-Star Pau Gasol Finally Returning Home To Barcelona
Regardless of a win and an away goal that gives them a slight advantage, Chelsea must not be complacent as the tie is far from over. The Spanish side is leading the LaLiga table ahead of Barcelona and Real Madrid for a reason, and they would be desperate to prove their worth in the second leg at Stamford Bridge on March 18, 2021.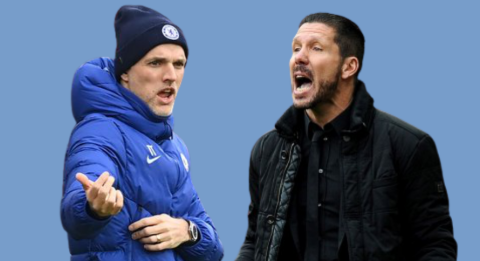 Thomas Tuchel's Chelsea got the crucial away goal against Atletico Madrid.
Photo Source: FoottheBall
Chelsea and Atletico Madrid both had their own problems heading into this tie. While the English club was dealing with injuries to Kai Havertz and CM Pulisic, who just made it to the squad traveling to Romania, their opponents also had several players absent due to Corona Virus and injuries, including Hector Herrera.
Don't Miss: NBA's Top Stars Not Looking To Promote COVID-19 Vaccine

It was only after falling back to Oliver Giroud's sensational goal that Atletico Madrid started to attack more. Diego Simeone, the Atletico Manager, tried to pull all the cards bringing players like Dembele, Vitolo, and Lodi to get past Chelsea's three-man defense of Rudiger, Christensen, and Azpilicueta.
It was the goalscorer Giroud who got the man of the match prize after scoring his sixth Champions League goal of the season. Only Didier Drogba achieved the feat for the Blues in 2012, the same year when they got their hands to the holy title.
Thomas Tuchel is giving his side a day's rest today, but the team returns tomorrow, all set to deal with their next test against rivals Manchester United on Sunday.
Related: Press Release: Daniel Kushner & Leliana McDermott Releasing 'Rainbow Rewatch.'
For more news and updates about your favorite stars, please stay connected with us at Glamour Fame.
-->