Oops! Sofia Richie Unfollowed Kourtney Kardashian on Instagram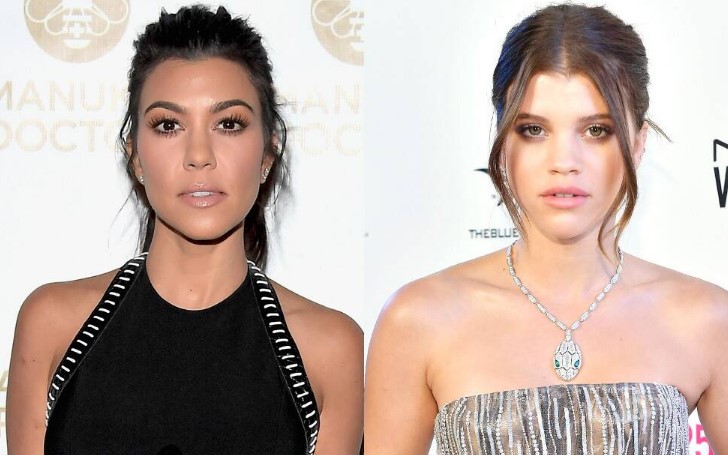 Sofia Richie unfollowed and refollowed Kourtney Kardashian on Instagram.
Well, things are heating up between now-girlfriend and ex-girlfriend of Scott Disick. It seems, Sofia Richie just unfollowed Kourtney Kardashian from her Instagram.
One of the media outlets which was watching their social media activity very closely found Sofia Richie unfollowed Kourtney just after six months the star expanded her olive branch.
Watch: Kourtney Kardashian Posts About Exes & Sofia Richie Unfollows Her
But it was also noted Richie refollowed her boyfriend's ex, but Kourtney never followed her back. (SAD!) According to the reports, the move by Richie came a few days after she announced she wouldn't be appearing on 'Keeping Up with the Kardashians.'
Also See: Austin Rhodes - One of the Twins of Rhodes Bros is a Gay Model, Is He Dating Someone?
Sofia stated, "I want to get into acting! Great things are happening, and I'm really excited about it. I feel like, for a while, I kind of held back on things because I was afraid of failure, but 2020 is [the year of] no fear! I'm going to be doing acting stuff soon. The roles I'm reading for right now are kind of similar to me, so they're easy for me to play, and I enjoy it."
Kardashian and Sofia, who developed a close relationship over time after Scott's split with Kourtney, were going really great as friends. The two were having the time together, even went on some vacation.
Watch: Sofia Richie LEFT OUT During Awkward Vacation With Scott Disick & Kourtney Kardashian On KUWTK
There was one instance when Kourtney opened up; it's effortless being around Sofia as she avoids dramas. Since everything was going well, will this recent incident will cause problems between the two? Well, it seems like the two are still cool with each other.
But let's just wait what Kourtney has to say about all this thing. Till then, all we can do is, wait and see how Kardashian reacts. Maybe all Sofia unfollowed Kourtney accidentally and followed back, who knows!
You May Also Like: 'The Good Place' Actor Manny Jacinto's To-Be-Wife Dianne Doan - Facts You Need to Know
For more information on your favorite celebrities' lifestyle, stay tuned to Glamour Fame, and don't forget to sign up for the newsletter.
-->