Pete Buttigieg Net Worth - The Complete Breakdown
Published Sun Dec 22 2019 By Matthew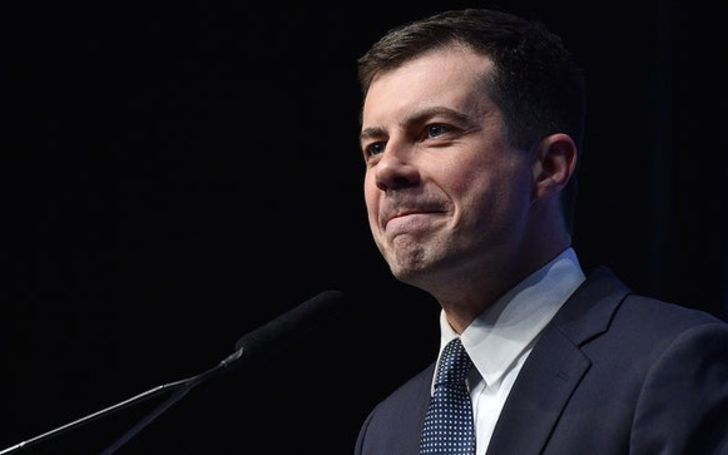 Learn about 2020 presidential candidate Pete Buttigieg, one of the least wealthiest presidential candidate's net worth.
From the staggering $53 billion net worth of Michael Bloomberg, Pete Buttigieg falls last on the list being one of the least wealthy 2020 presidential candidates among them all. Born Peter Paul Montgomery Buttigieg on January 19, 1982, Pete is the current mayor of South Bend, Indiana, since 2012. The 37 years old American politician graduated from both Harvard University and Pembroke College, Oxford, both notoriously known for being the hardest universities to get enrollment. Buttigieg attended Pembroke College, Oxford, on Rhodes Scholarship.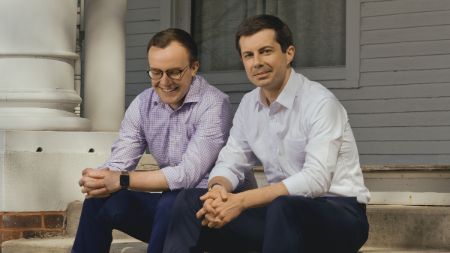 Pete Buttigieg and his husband Chasten Glezman.
Source: Time
The only openly gay democratic representative for the 2020 presidential candidate is also the first elected official to come out while in the office on June 2015. Only after two months of announcing his sexuality, Pete met the love of his life Chasten Glezman, a junior high school teacher on the dating app Hinge. After dating for almost two years, they got engaged in December 2017 and were married on June 16, 2018, in a private ceremony at the Cathedral of St. James.
Watch: Buttigieg, Warren spar over big dollar donors, fundraisers in wine caves
Senior US Senator of Massachusetts Elizabeth Warren recently attacked the only 2020 presidential candidate who isn't a millionaire or billionaire for holding a closed-door wine cave fundraiser. Pete Buttigieg is ranked last as the poorest 2020 presidential candidate, but how much precisely is his net worth? Let's discuss this.
Pete Buttigieg's Net Worth
As estimated by Forbes, Pete Buttigieg's net worth is $100,000 by 2019.
Also see: Pete Buttigieg Husband Chasten Buttigieg - Details of their Married Life!
The Democratic representative's financially comfortable wealth is all the result of his six-figure salary as mayor of South Bend, Indiana. Over the decade, Pete's fortune took a lot of hits and bounced up and down quite a great deal.
2020 Presidential Candidate Pete Buttigieg's Net Worth is $100,000.
Source: Forbes
The stabilization of his rocky finance came after becoming the highest-paid mayor in Indiana.
Pete Left a High-Paying Job
In hopes of becoming the Treasurer of Indiana, Pete left behind a high-paying job as a consultant with McKinsey & Company. However, his dreams were crushed when he lost that relay, and his income dived from $150,000 to just $34,000.
Also See: United States Senator Amy Klobuchar Net Worth - The Complete Breakdown
Even after that dive, Pete didn't reach the lowest income of his career. His lowest recorded revenue was only $7,000 in 2011, which came as insurance and pay from being in the U.S. Navy Reserve. Fortunately, the dark time came to an end when he became the mayor in 2012. Nevertheless, he had to go without his parts of his mayoral income when he was deployed to Afghanistan in 2014.
Buttigieg's House, Investments and The Bestseller
The presidential candidate's most valuable asset is probably his 2,480-square-foot house, which he bought for $125,000 around the neighborhood where he grew up. He even took out a $100,000 mortgage just for refurbishing the house and made the news when he revealed that the payment was only $450 per month.
Pete Buttigieg's house in South Bend, Indiana.
Source: Forbes
As for investments, Pete poured his mayoral income along with a $35,000 book advance into a portfolio of cash and investments like Apple and Google stock. He also received the remaining $45,000 of the book advance after his bestselling autobiography 'Shortest Way Home: One Mayor's Challenge and a Model for America's Future' was published in February 2019.
Also See: Who Is Scarlett Johansson Supporting In The 2020 Presidential Race?
With almost $355,000 student loans between the couple and Pete's mayoral time coming to an end this year, his income might yet retake another hit.
For more celebrity net worth and news, check out the entertainment section over at Glamour Fame.
-->