Priyanka Chopra Speaks On Returning to the Met Gala with 'Best Friend' Nick Jonas
Published Sun May 12 2019 By Chester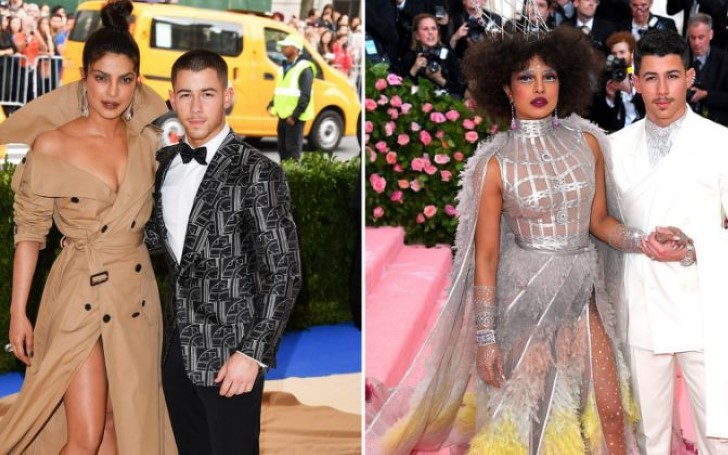 Priyanka Chopra opens up about two of her experiences in Costume Met Gala with Husband Nick Jonas citing him as 'Best Friend.'
The couple initially walked into the red carpet back in 2017 featuring as the guests of Ralph Lauren, however this time it was little different than previous.
Well, this time Priyanka Jonas Chopra and singer Nick Jonas walked into the Met Gala as husband and wife, supporting each other as a power couple.
The soon-to-be newlyweds attend the Met Gala together in 2017.
SOURCE: People
As a recent interview by People, Priyanka shares regarding his experiences of both previous and current.
'The first time when we went together was sort of like so awkward', Chopra shares, 'We didn't know each other and whether or not we were vibing, we didn't know' expressing his first experience saying it was 'all weird.'
Priyanka Chopra Opens Up About Her 'Feud' With Meghan Markle >>>
'But this time it was a lot easier and comfortable' as Priyanka, 36, shares, this time it was a great go as she didn't need to be worried about small things such as 'Oh my gosh, who am I meeting?'
In fact, this time at the Gala, Former Miss World claims it as a 'wonderful experience' where she had someone to cheer and support and it was none other than hubby Nick Jonas.
Priyanka Chopra admits first Met Gala with Nick Jonas was 'so awkward'
Source: Billboard
The Baywatch actress added that both the partner discussed their experiences after the event comparing to the previous one.
Well, this time without a doubt the power couple flaunted the star-studded ceremony showing up in a fascinating and alluring outfit.
Hollywood power couple Priyanka Chopra and Nick Jonas at Met Gala 2019.
SOURCE: Pop Sugar
The love birds showed up in a Camp-themed attire, Priyanka was on a Dior Haute Couture silver gown embed with colorful feathered ruffles with a matching cape, silver crown, and sparkling closed hills.
Chopra seemed steamy hot in the see-through gown with accessories like Purple stone earrings, silver bangles, and three necklaces that were visible through her transparent hot toppings.
Nick Jonas and Priyanka Chopra Want To Go on a Double Date with Liam Hemsworth and Miley Cyrus >>>
And when it comes to the handsome hunk Nick, he seemed trendy with his fashion choice on a classic white tuxedo with silver collar matching with his shining party shoes and partner Priyanka's dress theme.
Nick's unique ear piercing with a new haircut and mustache was what made him unique and trendy from the rest.
Priyanka Chopra Rumoured To Be Pregnant; Any Truth To It? >>>
So, guys the Hollywood famous couple Priyanka and Nick definitely slew the red carpet, didn't they? Their wardrobe collections were one of the best in the Meatball held on Monday, May 6.
-->