Randy Moss ecstatic over son's touchdown vs Oklahoma
Published Sun Dec 29 2019 By Sea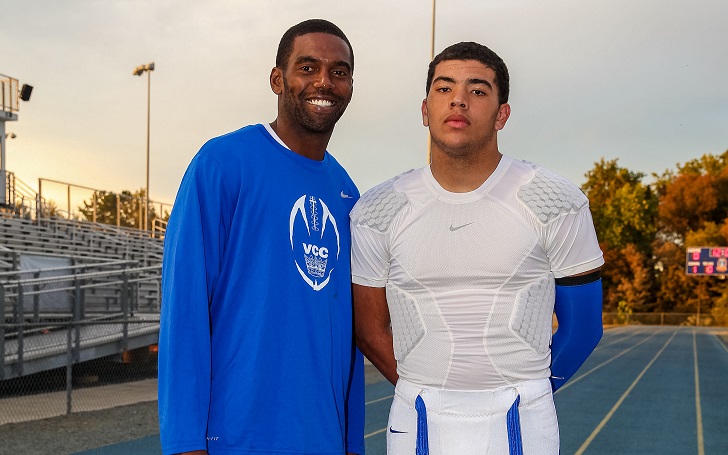 For Thaddeus Moss' 62-yard touchdown, father Randy Moss celebrated with much ecstasy in LSU's game against Oklahoma.
While it was a particularly difficult time off the pitch for the LSU offensive coordinator, Steven Ensminger Sr., the team's on-the-pitch-win over Oklahoma Sooners showed one of the most dominant postseason performances ever. And Thaddeus Moss made the stretch for the defining touchdown with a spectacular 62-year run.
Moss' father, Randy Moss was in the stands as he stood motionless with his most proud face. It was not how he highlighted his reaction though; he kept it pretty cool. The bigger thing was that he was wearing a shirt featuring his son's No. 81 on it.
In the College Football Playoff semifinals at the Peach Bowl, Louisiana State University football team defeated the Sooners by 49-14 early in the third quarter. Moss was left wide open by the opponent's defense when Joe Burrow hauled him the ball.
Learn More: Facts about Randy Moss' Younger Son, Montigo Moss
The former American-football player then went on to Twitter in the half-time to share his pride. Yes, that's what prompted the football headlines.
The game itself was not the only trend that hopped on the tabloids. Off the pitch, there was some bad news for the LSU OC, Ensminger Sr. just before the game. His daughter-in-law had passed away in a plane crash.
Carley McCord, the wife of Ensminger's son, Steven Ensminger Jr., died in a plane crash heading for the game from Mississippi to Atlanta to support her father-in-law. She took the plane as Ensminger Jr. couldn't get out of his work and drive her to the game.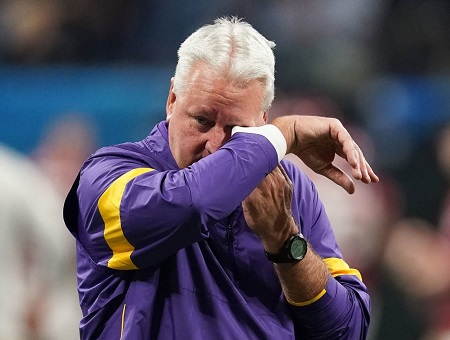 Steven attended the game nonetheless.
Source: John David Mercer, USA TODAY Sports
The news hit Ensminger Sr. hard just before the game, but he had to soldier on and tell his son about the accident. He had a close relationship with her, and it's probably one of the heartbreaking moments for the son. He'd missed her calls and texts she sent before boarding the plane because his phone was also not with him.
The coach went on to the game either way, carrying the grief as the team gifted her the best game they've ever had. She was a sportscaster before her untimely death. She was 30. Our Condolences.
-->