Ricky Gervais Confirmed He Will Begin Making The Second Series Of After Life Next Week
Published Tue Aug 06 2019 By Sea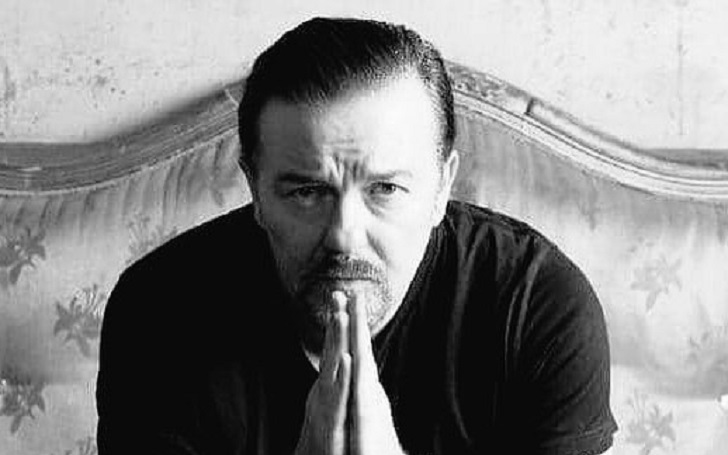 Ricky Gervais has confirmed that he will be beginning the pre-production of the second season of his series 'Afterlife' with a post on Instagram and Twitter.
Following the first season's success, he began writing the script for 'Afterlife 2' immediately since March and finished the first draft by early May. Now he is ready to start the production for it and will film the series in September and October. The caption read,
"I start preproduction on #AfterLife2 next week and film it in September and October. Then I'm bringing #SuperNature to Europe! Madrid, Paris, Berlin, and Prague to start with. Stay Tuned for details."
By the way, 'SuperNature' is his stand-up comedy tour that is scheduled to begin on November 16 from Madrid and will travel to Paris the next week and so on throughout Europe.
Netflix's Afterlife is a black comedy-drama series that depicts the life of 'Tony Johnson', played by Ricky Gervais himself, following the tragic death of his wife due to breast cancer. He thinks of suicide due to the sadness but later decides to live life the way he wants to and not listen to what anyone has to say about it.
As soon as fans completed watching the first season in March, they requested for a second season of the series and Ricky admitted that there always was a second season planned for it. He told Metro,
Now I've thought about it, and I really would like to do a second series because I fell in love with the characters and I've got an idea of where it can go. The second series is always better. Usually because you know the actors.
The comedian's dark humor and bad jokes along with heartfelt views on life, death and grief attracted fans following the release in March. He has been very grateful to them for motivating him for the upcoming season.
All of the cast will return for season 2 except Julian who passes away in season 1. He also said that there was a little clue for Season 2 at the end of season 1 when Tony says, "I'm just going to use my superpower for good" that is, he can still be an a**hole, and just enjoy it more.
Watch: Bloopers from Season 1 of Afterlife
But fans may be a little glum because the 57-year-old has stated there will not be a third season for Afterlife. He 'might' make the third season if the cast could help him write it.
Check Out: Fans - The Office UK Is Better Than The US Version
The British actor, writer and director does have a habit of ending his series after just two seasons as observed with BBC's 'The Office UK' and 'Extras'. He opposes his shows to be long-running. But he would return to the third series if he just has to turn up for work.
-->