Is Ronan Farrow Engaged to His Partner Jon Lovett? Let's Find Out
On this article: Find out if Ronan Farrow is engaged to his partner Jon Lovett.
Ronan Farrow is well known for his articles in The New Yorker that helped uncover allegations of sexual abuse against film producer Harvey Weinstein. For his pieces, The New Yorker magazine won the 2018 Pulitzer Prize for Public Service, sharing the award with The New York Times.
Ronan Farrow has similarly exposed many of other high-profile personalities with his investigative journalism. Some of such exposures are allegations against politician Eric Schneiderman, media executive Les Moonves, and Justice Brett Kavanaugh. While most of you are well aware of his works for the welfare of the public, you might be uninformed about the journalist's personal life. Below, we have compiled details on the love life of the 32-year-old, so you get to know him better.
Ronan Farrow is Currently Dating His Partner Jon Lovett
Ronan Farrow came out as a part of the LGBT community in 2018. He is currently in a relationship with the American podcaster, comedian, and former presidential speechwriter Jon Lovett.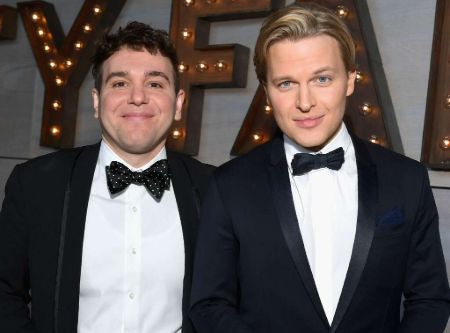 Ronan Farrow is currently in a relationship with his partner, Jon Lovett.
Source: E! News
Jon Lovett is the co-founder of Crooked Media, along with his fellow former White House staffers during the Obama administration Jon Favreau and Tommy Vietor. He is also the host of podcasts' Pod Save America' and 'Lovett or Leave It.' Jon also worked as a speechwriter for President Barack Obama's 2008 presidential campaign and Hillary Clinton when she was a United States Senator.
Also See: Sierra Furtado Boyfriend - Find Out If the Tik Tok Star is Dating Someone Or Still Single
Jon Lovett and Ronan Farrow began dating in 2011. The couple lives in a $1.87 million home in Los Angeles, which they bought in August 2019. The two became engaged in 2019 and are planning to get married.
Ronan Farrow Revealed That He Proposed to Jon Lovett in His Book' Catch and Kill'
Ronan Farrow revealed in his book 'Catch and Kill' that he proposed to Jon Lovett in the unique way possible: by popping the question by writing 'Marriage?' in a draft copy of the same book. The article by USA Today wrote an expert from his book: 'It had been a long year for me – and for us – but we hung in there. Later, when I decided some of that reporting would make its way into a book, I'd send him a draft and put in a question, right on this page: 'Marriage? On the moon or even here on Earth?'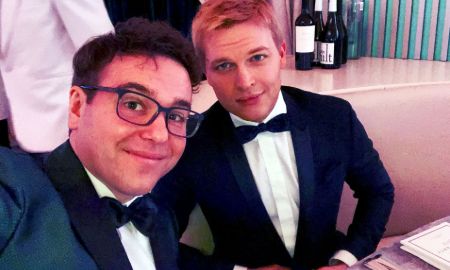 Ronan Farrow and his partner, Jon Lovett, got engaged in 2019.
Source: Daily Mail
Jon Lovett read the draft and found the proposal. After reading it, his response was: 'Sure.'
In the book, Farrow mentions Jon's support for him throughout the highs and lows of his life. Jon helped Farrow clam down after he received a call during the first week of October 2017, informing him that Weinstein and attorney and Lisa Bloom were heading to the Times' office in Midtown Manhattan. At that time, Farrow was extremely worried and unable to get hold of the situation he was in. He was going into meltdown, but Jon was always there for him and helped Ronan get through the difficult times.
Check Out: Jonathan Taylor Thomas Wife - Is the 90s Teen Heartthrob Married?
Stay tuned to Glamour Fame for more relationship-related content of your favorite celebrities.
-->