Rosario Dawson and Cory Booker are Reportedly Dating
Published Sat Mar 16 2019 By Tess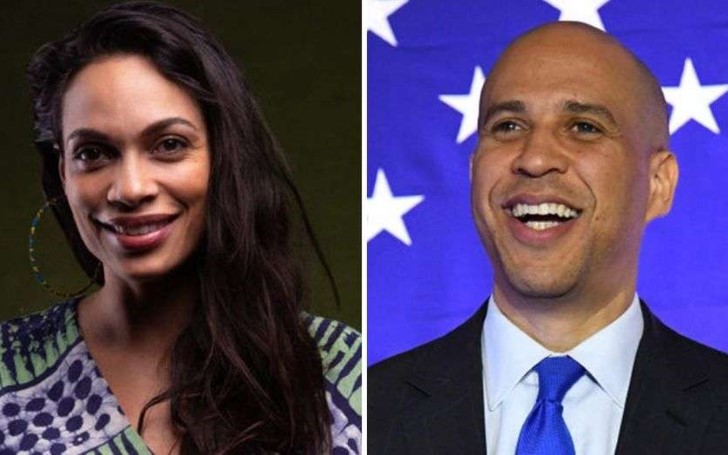 Actress Rosario Dawson confirms she is currently dating Cory Booker.
Actress Rosario Dawson is reportedly dating Sen. Cory Booker, the New Jersey Democrat who's launched a bid for the White House in 2020.
On Thursday, the Men in Black II actress confirmed the rumor with TMZ when they caught up with her at the Reagan National Airport in D.C.
Later, the outlet shared the video of the encounter in which reporter notes Dawson is frequently visiting the nation's capital and is 'hanging out with" Booker.
The actress said "yes" when the reporter questioned if the rumor about her and Cory's was true.
The reporter further questioned how the relationship was progressing to which she answered: "So far, so wonderful. He's a wonderful human being. It's good to spend some time together when we can. Very busy."
Read more: The Tour Life Seems To Be Wearing on Noah and He Misses His Dog in the Video for "Mess"
Dawson, however, didn't reveal anything about their engagement plans when questioned about it but offered an optimistic note on their relationship - "I am just grateful to be with someone that I respect and love and admire so much who is so brilliant and kind and caring and loving."
Also see: One Direction Star Louis Tomilson's Sister Felicite Passes Away Aged 18
Likewise, Presidential candidate Sen. Cory Booker also confirmed his relationship with her on Friday.
"I am dating Rosario Dawson and I'm very happy about it."
Earlier, during an appearance last month on "The Breakfast Club," a nationally syndicated radio show on Power 105.1, Booker revealed he was dating someone he considered "really special."
Don't miss: Ava Max Gushes Over Lady Gaga Comparisons: 'It's A Huge Compliment'
For now, the two are in a loving relationship who knows what the future holds, Rosario could be the next first lady in the coming days.
-->