Sam Hurley Looks Uncomfortable While Rating Danielle Cohn's Fashion Nova Outfits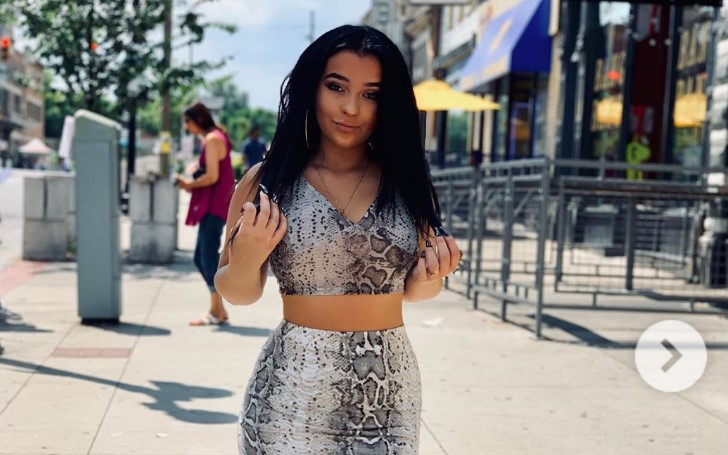 Sam Hurley seemed very uncomfortable rating Danielle Cohn's outfit when the star tried skimpy clothes.
We hope you know Danielle Cohn faced a massive backlash after posting a picture of herself clad in an outfit from Fashion Nova, well that was not enough, the 14-year-old took the game to the next level.
The 14-year-old internet celebrity, who recently faced fallout after pregnancy joke, invited Sam Hurley, who is a YouTuber himself, to rate Cohn's outfit from Fashion Nova.
The 14-year-old tried ten different outfits and asked Sam to rate her, the internet star then started the show, where she first appeared on the bathing suit.
You could tell from Sam's face, he was purely not interested, or should we say, felt uncomfortable seeing Dan on those skimpy things.
The 15-year-old YouTuber does not even try to rate her; instead, covered Cohn with a towel.
Then the TikTok star, who failed in a sixth grade and dropped out of school, came with a pink top with matching skirt, to which Sam approved as he said, "that one is much better!" and gave her a rating of nine out of ten.
And the rating game pretty much continued, Dani got average of 7-8 rating out of 10, which is impressive, but one thing we noticed loud and clear is, Sam did not like when Cohn tried more revealing outfits.
Hurley gave Cohn a meager rating when she tried more provocative outfits, and to which Sam even denied rating at all.
After feeling awkward to rate Dan, Sam invites one of his friends to join the rating game.
Even the fans noticed the awkward situation Sam was going through, as some people pointed, "Sam actually doesn't like when Danielle Cohn is showing up her self too much."
Another fan wrote, "Sam could not keep an eye on her due to how uncomfortable he was lool."
Well, it's pretty evident the fan noticed the uneasiness on Sam's face. He was trying to be a protective friend, or just felt uncomfortable watching Dan on skimpy stuff.
Whatever the reason was, the show was very uneasy to watch for us as well. And guess, we know what Hurley was going through. All in all, this was another shit-show from Danielle Cohn, but again, she does not care!
-->