Sarah Burge Plastic Surgery - Before and After Comparison
Sarah Burge, a name only a few know, but if she is known for anything, then it was to be her plastic surgeries. Sarah, who was born in 1960, is known for hundreds of cosmetic surgeries, and earned herself a name of 'Bionic woman.'
According to the reports, she has undergone more than 300 procedures, from head to toe, and is now known as 'human barbie.' Moreover, she claims she spent $3 million on her cosmetic surgeries over 20 years.
How it All Began for Sarah Burge?
The 60-year-old was first married when she was 22 years old but she revealed she never stayed with him. Instead, she started seeing a married man who became the cause of her destroyed face.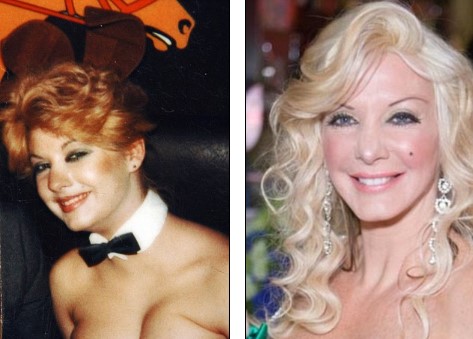 Sarah on her twenties, before any surgeries (left) and Burge on her fifties post surgeries.
Photo Source: E! Online
Doctor work hard to save her life, which they did, but could not save her face, leaving her look like patchwork quilts. But she emphasized because she lost her look, she could focus on her career as she no longer could rely on her face or beauty.
Following which, Sarah went back to her school for nursing and went on to work in aesthetics. As she stressed, losing her beauty became the key to her success. But she did not stayed with her disfigured face for too long.
Recommended: Kurt Warner Plastic Surgery - Internet Thinks He Went Under a Knife; Did He Really?
Sarah began visiting best plastic surgeon in London to get back what she lost. That's how Sarah Burge journey to more than 300 surgeries began. Here are some of the prominent surgeries she has undergone.
Sarah Burge's Disfigured Face
Sarah Burge's face after her ex-boyfriend beat her to death.
Photo Source: E! Now
As we know, she was beaten to death by her ex-boyfriend leaving her doctors worried about making sure she lived. But she lived, however, her face was a nightmare.
Sarah's Face post surgery
Photo Source: E! Botched
After completing her nursing school, Sarah pursued best surgeon in London who helped her regain beauty and confidence.
Sarah Burge's Liposuction, Breast Implants, Tummy Tuck
Post Surgery look.
Photo Source: E! Botched
It's hard to tell how she used to look before her procedures. She opted for plastic surgery in her twenties, since then, she has undergone more than 300 of them. But here's the look of her post surgery, after she had liposuction, tummy tuck, and breast implants.
Sarah's Reason for Breast Implants
Sarah before she went through her plastic surgery. On left, Burge on her twenties, and on right after surgeries.
Photo Source: E! Botched
Sarah Burge opened up for her reason to get a breast implants. Initially she just wanted to fix her face and look beautiful like she was before, but decided to get implants as she wanted became an exotic dancer.
Also See: Jevon King Baby "The Trinidadian Model Welcomes Baby With Diplo" Here's Everything You Should Know
While she was working as exotic dancer before even the procedure, but implants worked like charm for her and made her more money. Moreover, she also emphasized the main reason she opted for the procedure was uneven breasts, which she got fixed after the procedure.
Sarah Burge Had Vaginal Surgery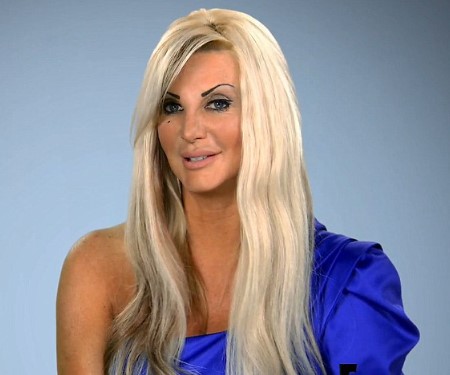 Sarah admitted of having virginal rejuvenation to stop her husband from straying.
Photo Source: E! Online
Sarah Burge is now married to Anthony Burge and share six children with him. Sarah is now 60 years old, but she said had gone viginal surgery to feel more youthful. Sarah admitted of having virginal rejuvenation to keep her not only young on the outside but inside also, back to being virgin all over again.
Also Read: Meg Ryan Plastic Surgery - Get the Complete Details of Her Surgery
She revealed she was unable to have sex for three weeks after surgery, but she believes sex was better than ever. She further added one more reason she opted for vaginal surgery was to stop her husband from straying and replace her for younger model.
Sarah is Obsessed With Plastic Surgery
We guess you know by know Sara is obsessed with plastic surgery. After more than 300 procedures and spending more than $3 million, she still can't imagine her life without plastic surgeries. Sarah is now qualified to administer Botox, nose jobs via injections, augmentations and lip enhancements, and can perform some of the job on herself.
Sarah is now a qualified practitioner, and performs some of the procedures on herself.
Photo Source: E! Online
She has turned her home into a clinic after qualifying as a practitioner, and is now helping patients get the look they want by performing a variety of treatments. She stressed her main priority is helping people who have been victim of bad surgeons and domestic violence.
Sarah, at point, came under fire for handing her then 7-year-old daughter, Poppy, a plastic surgery voucher and pole dancing lessons. In 2012, Sarah admitted of injecting daughter, Hannah, who was just 15-year-old then, with Botox, and Poppy, a boob job and liposuction voucher worth $20,000.
You May Also Like: Vera Wang Plastic Surgery, "The Complete Story of Chinese-American Fashion Designer's New Polished Look"
For more information on your favorite celebrities' lifestyle, stay tuned to Glamour Fame, and don't forget to sign up for the newsletter.
-->