Sarah Hyland Reveals How She Became Obsessed With Skin Care After Her Kidney Failure
Published Thu Apr 25 2019 By Andrew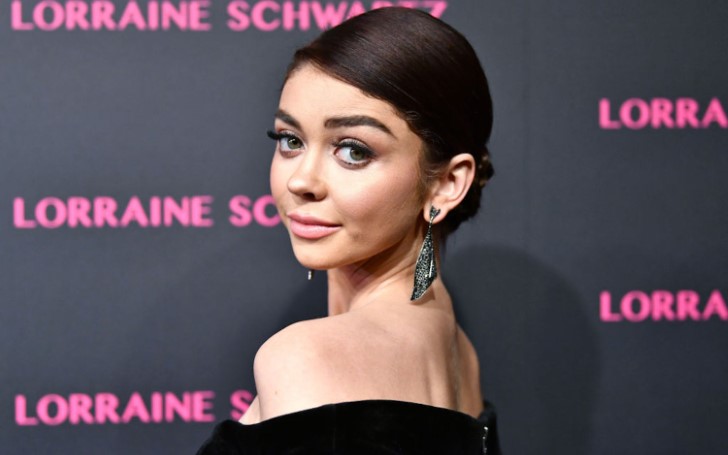 Sarah Hyland became obsessed with skincare after kidney failure, know the details here.
After keeping the world guessing with vague hints on her health condition, Hayland recently opened up about years of hospitalizations and surgeries in a candid interview with Self.
In 2012, the actress took the world by surprise when she confirmed that she had undergone a kidney transplant. Furthermore, she also revealed the organ was donated by her father and going through the life-threatening surgery as a result of a life-long battle with kidney dysplasia and resulting kidney failure.
However, Hyland later maintained to the magazine that in October 2016 that her body began to reject the organ and it certainly didn't filter out waste properly. Moreover, she experienced a lot of fatigue and frequent infections and fever while a doctor's visit confirmed the kidney was no longer functioning. Hyland spent the rest of the year visiting the hospitals in high frequency.
Sarah Hyland survived a series of transplants and surgeries.
SOURCE: Yahoo
She recalled to the magazine,
"We did all of these tests and all of these treatments to try and save the kidney,"
Then, on Valentine's Day in 2017, she underwent dialysis for the first time as a port was implanted into her chest. The multiple weekly dialyzes surely took its tool of the 28-year-old with side effects including weight loss, sciatica, fluid retention, and vision damage. Fans may recall Hyland taking to social media in May 2017 to rebuff anorexia claims and noting she hadn't "had the greatest year." This was why.
That same month, the transplanted kidney was removed and she later learned her younger brother Ian Hyland was a match and willing to donate. However, the fate of the first transplant left Hyland "very depressed."
She told the magazine,
"When a family member gives you a second chance at life, and it fails, it almost feels like it's your fault. It's not. But it does,"
Hyland went on to express,
"For a long time, I was contemplating suicide, because I didn't want to fail my little brother like I failed my dad."
As she explained her thinking, "I had gone through [my whole life] of always being a burden, of always having to be looked after, having to be cared for." The star had contemplated suicide a couple of times and finally went through a second transplant in September 2017.
In addition, she underwent the surgery just three days after meeting boyfriend Wells Adams in person for the first time. "For anybody that wants to reach out to somebody but doesn't really know how because they're too proud or they think that they'll be looked upon as weak, it's not a shameful thing to say. It's not a shameful thing to share," the Modern Family star stated.
Although she and Ian are enjoying their well-off love life after the transplant, Hyland is in a constant battle with endometriosis and unknowingly had an abdominal hernia. This past spring, she underwent two surgeries, a laparoscopic one for endometriosis and another to repair the hernia which was just weeks apart.
You may also like: Modern Family Actress Sarah Hyland Opened Up About The Death of Her Cousin, Trevor Canaday
She noted, "Laparoscopic [surgery is] one of the most painful things I've ever been through in my life."
Fortunately, Hyland always received the support and love of her close ones including her famous beau.
"He's seen me at my worst," she told the magazine of their relationship after successfully making it through on the other side of the surgery, "I think that's why I feel the most beautiful in his eyes because he still finds me beautiful after seeing all that."
Sarah seems to be hopeful about her future maintaining, "I'm thriving. I'm super happy with life."
People generally fail to get the lessons from their past and instead choose to dwell on their problems but there are a few people who learn from those hardships.
-->