Scott Disick's Girlfriend Sofia Richie Looks Sizzling In A Topless Photoshoot
Published Wed Jul 17 2019 By David
SCOTT Disick's girlfriend Sofia Richie posed topless for a sizzling photo session.
Sofia Richie modeled seductively on the beach while sporting nothing but a pink thong. She released the pictures to her Instagram, captioning: "On a mission to tan!"
Kylie Jenner reacted to the picture, saying: "Perfection."
Sofia was taking a break in the Turks and Caicos Islands. She and Scott started dating last September, and the former had recently run into with his ex, Kourtney Kardashian.
Scott and Kourtney share three kids in between - Mason, nine, Penelope, six and Reign aged four.
Also Read: Scott Disick Totally Sees A Future With Girlfriend Sofia Richie
They had begun their relationship in 2006 and stayed together for nine years before splitting up in July 2015.
A source, as of late, described of Kourtney's confrontation with Sofia and Scott. The insider mentioned Kourtney doesn't necessarily care to get to know Sofia better, but she feels she needs to because of the children.
Recommended: Kris Jenner Is Worried Kourtney is Still in Love With Scott Disick!
The source added Sofia spends time with Kourtney's kids, so Kourtney wants to make sure they are all on the same page.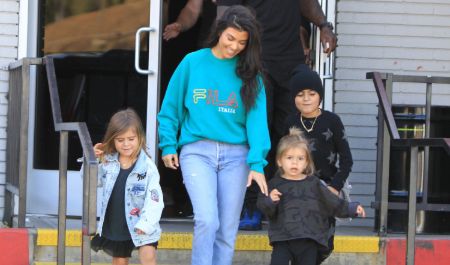 The closed one further said the eldest of the Kardashian's daughter wanted to set up boundaries with Scott and Sofia after learning the new couple often tend to create an argument among each other.
You May Also Like: Are Scott Disick And Sofia Richie Getting Engaged?
The source affirmed Scott and Sofia have the knack to get into disagreements. Kourtney aspires to make sure the children are in a positive domain when they are at Scott's place. She is also setting up protocols for how things need to be when the kids are with their father.
Another source had also said of the trio's meal explaining it was a quick dinner and that it appeared a bit tense; wasn't like they were all friends and were hanging out for fun; looked more like a business meeting.
Allegedly, Sofia is among a list of other Instagram models who flew off to toast the reality star's new line, Kylie Skin, over the weekend. Ever the entrepreneur, Kylie is very likely improvising the vacation as a measure to publicize her cosmetics line. And the daughter of Lionel Richie sure looks like the best choice to do so.
Though Sofia and Kylie are merely hanging out and enjoying their leisure, this excursion could very well result in a future alliance between the two.
-->