Scottie Pippen Wife - Who the Former American Basketball Player is Married to?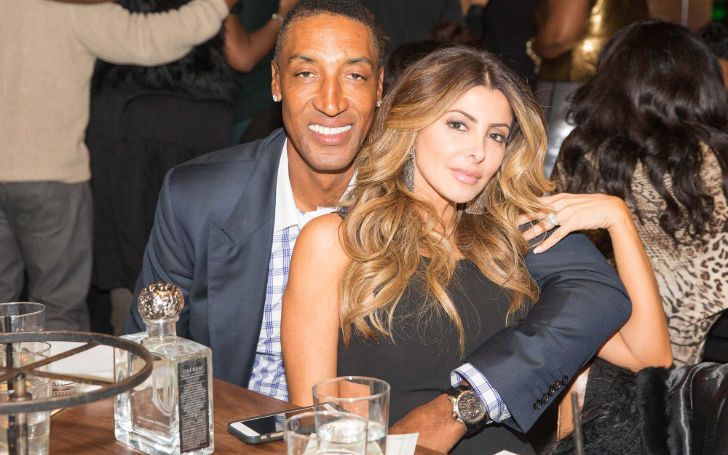 Scottie Pippen is most definitely a name you can't miss in the basketball world. The retired American athlete is known to devote 17 years of his career in the basketball with playing 12 seasons with the Chicago Bulls, one with Houston Rockets and four with the Portland Trail Blazers. As for his achievements, its not something to miss that he is the rock-solid player who led Bulls to win six of their NBA championship alongside Michael Jordon.
We are all well aware of the endless achievement of the professional player, but there things worth attention about his personal life i.e. love life. So, let's get down to know some details about Scottie Pippen said married life. But before that, let's get some briefs on him.
Scottie Pippen's Career
Pippen jump-started his career all through his college days. His parents, Ethel and Preston Pippen, already had 11 other kids, and Scottie was the youngest of all, which was why they couldn't afford for their son's college education. Pippen was scouted by then UCA head coach, who helped turn his life to the opportunities ahead.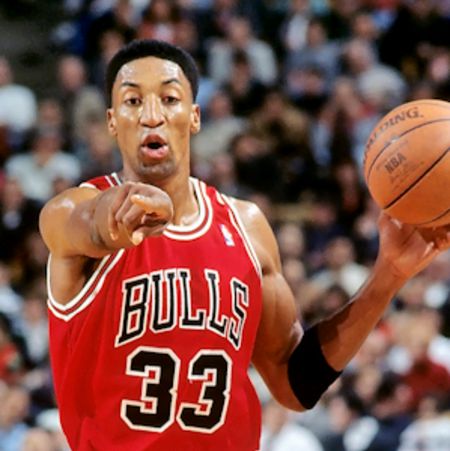 Scottie Pippen was named in the '50 Greatest Players in NBA History' for the year' 1996 – 97'.
Photo Source: Wikipedia
After that, the aspiring player finally became a part of the NBA with Seattle Supersonics in the year 1987. The main deal was when he transferred to the Chicago Bulls, making him create a massive name with championship trophies and worldwide popularity.
Recommended: Who is Joe LaCava? Find Some Interesting Facts About Tiger Wood's Caddie
Bulls was a part of Pippen for 11 seasons before he was transferred to Houston Rockets and Portland Trail Blazers. He later retired in 2004 and upped his amazing net worth collection throughout his time.
Scottie Pippen Married Not Once But Twice
Now finally coming back to the main topic, the personal details of Scottie. As you already noticed, our athlete here was married twice throughout his lifetime without talking about the could be wife, girlfriends and fiancé. The 6ft 8 inch handsome player first took the wedding vows with ex-wife Karen McCollum after dating for 3 years. Karen is an entrepreneur and a musician at profession. However the five year relationship ended in 1990 and the couple parted ways.
Scottie is married twice with ex wives, Karen McCollum and Larsa Younan.
Photo Source: Bleacher Report
After the quick burn down of the marriage relationship, Scottie was known to date, Sonya Roby and engagement with Yvette DeLeone before marrying his second wife, Larsa Younan. His second wife, Larsa is a public personality who's starred in the TV show, 'The Real Housewives of Miami' along with that she's a model, fashion guru with a degree in Political Science. She also manages her own beauty/lifestyle magazine, Life With Larsa.
You May Also Like: Kacey Musgraves Net Worth - FInd Out How RIch the American Country Singer is
The television star is also famous for being in links with Kim Kardashian and has also appeared in 'Kourtney and Kim Take Miami' show. Pippen and Younan ended their 20 years of marriage as it was revealed that Larsa was cheating on the marriage with rapper' Future.'
Scottie Pippen's Children
Over the years with a series of marriages and endless relationship our NBA player ended up his hands full with kids and not from a same relationship. Remember the names of all the ladies we mentioned earlier, yeah well turns out they all bear children with Scottie here.
Scottie Pippen with his second wife and four children, Scotty Jr., Preston, Justin and Sophia.
Photo Source: Bio Wiki
The eldest child is Antron Pippen from first wife Karen who was born in 1987. Then there is Sierra Pippen his daughter born in 1995 with ex fiancé Yvette and another set of twins, Taylor and Tyler from former girlfriend Sonya Roby. Unfortunately though one of the twin, Tyler died nine days after her birth. Now that's not all, we can't forget Younan so soon, can we.
Also See: Yvette Prieto - Some Facts to Know About Michael Jordan's Wife
From the two-decade marriage, Pippen has another four children, Scotty Jr., born in 2000, Preston born in 2002, Justin born in 2005, and finally, Sophia born in 2008. That's one hell of birthdays to remember for the daddy of seven kids. We can finally conclude that Scottie Pippen's personal life is equally happening as his professional life.
If you enjoyed this article, don't forget to tune in to Glamour Fame for more of these.
-->