Who is Joe LaCava? Find Some Interesting Facts About Tiger Wood's Caddie
Published Fri Apr 17 2020 By Bran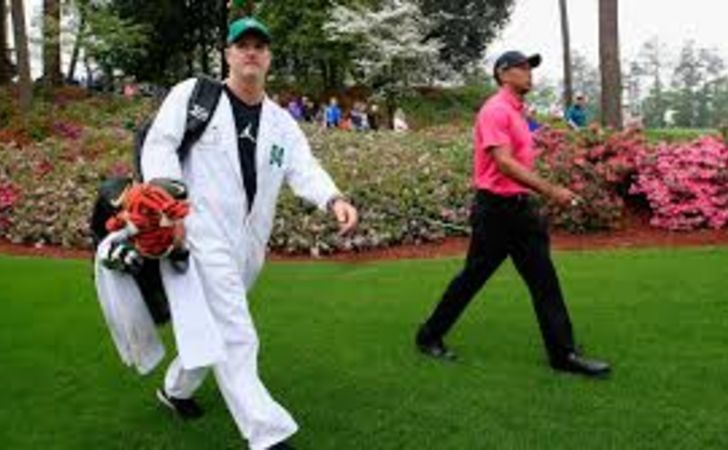 The world is aware of Tiger Woods' accomplishments in the sport of golf. Caddie Joe LaCava was beside him all along, so let's know some intriguing facts about him.
Joe LaCava recently broke into the news as he got inducted into the Caddie Hall of Fame on Wednesday night. The Caddie stood by the side of renowned golfer, Tiger Woods, throughout all the injuries and hardships and helped him achieve tremendous success, winning multiple titles. One of the duo's latest accomplishments came in last year, as Woods won the 2019 Master Tournament.
The journey of Woods and LaCava has been nothing short of glorious since they started working together, with their latest triumph last year. The Caddie pushes the athlete to victory as the golfing legend once labeled him as 'so competitive and very fiery to win.' So, without wasting much time, let us delve into the life of Joe LaCava.
5. The Former Caddie of Fred Couples
Before coming into the service of Joe LaCava, he garnered more than 20 year-long expertise and experience in the sports field. Initially, he started caddying for the first time in 1987, for the retired Ken Green. After three years, he signed a contract to be the right-hand man of fellow golfer, Fred Couples.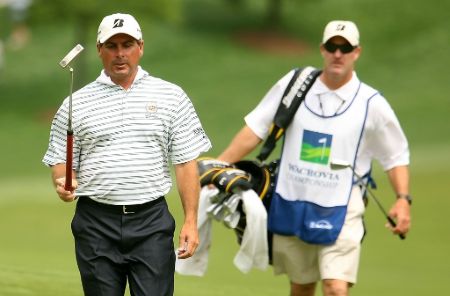 Freddie Couples and Joe LaCava worked together for 20 years.
Photo Source: Zimbio
The two really hit it off, sharing a strong bond on and off the pitch. LaCava caddied him for a total of 20 years, where they shared some of Fred's career-defining wins, including the 1992 Masters and 1996's Players Championship. However, it was the recurring injuries of Couples, which created time in hand for LaCava to work alongside other players like Mark Calcavecchia and Mike Hulbert.
"I miss Joe, sure. Joe was a sport nut, like me, and he made the day a lot easier,"
Following 20 long years of journey, it was Fred who thought of parting ways with his caddy, for good reasons. Since he was already past his peak and close to retirement, the golfer encouraged him to work for a younger player, which he did with Dustin Johnson and won the Barclays.
4. Joe LaCava Is A Married Man
While we see Joe LaCava on the television mostly beside the legendary Tiger Woods, he spends his personal life with his beloved wife, Megan LaCava. Moreover, the married couple is living the best versions of themselves with two children of their own.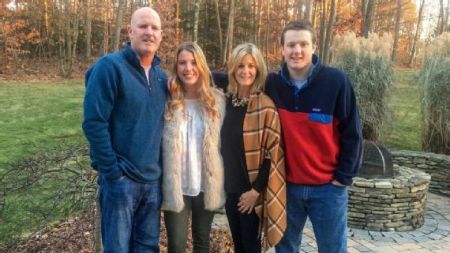 Joe LaCava is married to Megan LaCava and shares two children with her.
Photo Source: ESPN
Whenever he is on a break in the off-season or with an injury to Woods, he spends his time with his family at their house in Connecticut. He told how he used to enjoy watching his kids play, doing some stuff around the home, and watching television in the Superbowl.
Also See: Freddy Harteis - Some Facts to Know About Jeannie Mai's Ex-Husband.
LaCava's children are quite adults now as his elder daughter, Lauren LaCava, completed her high school and recently went to Endicott College. On the other hand, his son, Joe LaCava, is currently attending James Madison University. He is as sporty as his father and used to play varsity football during his high school days.
3.LaCava and Woods Started Working From 2011
With over two decades of experience only, serial winner Tiger Woods decided to hire Joe LaCava for his journey ahead in 2011. Previously, the golfer used to work with the reputed Mike Cowan and Steve Williams. Since the game schedule of Woods was a part-timer back then, many questioned whether it was a wise move for the Caddie.
It was a vital decision for both parties, and Woods claimed how he felt Joe was an exciting candidate to work with from his earlier works with Freddie on his website. Regarding the Connecticut-based Caddie, LaCava was just like all of us when making the decision. He took the job at an instant and labeled it as a no-brainer since it was Tiger Woods, one of the best golf players of all time.
You May Also Like: Some facts to know about Erica Herman.
Just like with Couples, LaCava shares a good relationship with Woods. Even though the American golfer persuaded Joe to go out in the field when he was out with an injury in 2017, the Caddie displayed his loyalty and didn't work for anyone else. Similarly, the two even used to play H.O.R.S.E together, and surprisingly it was the Caddie who came out on top of that. Interestingly, as the competitive Woods lost to his compatriot in that game, Joe revealed how he was annoyed with the loss and didn't speak to him the whole day.
Joe LaCava made a split-second decision to work with Tiger Woods in 2011.
Photo Source: Golf
As the world is aware of the fact that Woods is the highest all-time earner in golf, there is no doubt that his Caddie gets impressive pay as well. As per Forbes, 'established players pay around 8% of winnings and 10% for a win to their caddie' Similarly, through endorsements and salary, LaCava is expected to make around $200,000 annually. In addition to the basics, he made well over $1 million over the wins only, as per ESPN.
2.LaCava Used to Play Golf with Late Father
While Joe LaCava's professional success came as being a caddie to top golfers like Woods and Couples, he learned about the sport through his dad Joseph LaCava Jr. Joseph used to a youth sports coach, active in all sports like football, basketball, and baseball. However, his favorite one was golf and used to be a member of the Newtown Country Club for more than fifty years.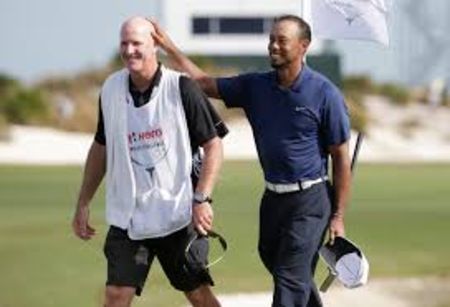 Joe LaCava learned golf from his sports coach father.
Photo Source: The NY Times
One of LaCava's most beautiful memories today includes the times when he used to play the sport with his father, who showed him the right path. Although he completed his graduation with a finance degree at Western Connecticut State University in 1986, he followed his passion instead and became one of the very best caddies.
Highly Recommended: Why Drew Brees and Michael Vick are considered overrated NFL Quarterbacks?
Thanks to his sheer determination and hard work over these past thirty years, he recently got inducted into the Hall of Fame and rightly so. Joe's inspirational father, who passed away in 2009 at the age of 72, must be smiling from heaven, watching his son achieve so much success.
1. Joe LaCava Hates Attention
This one came as a surprise to many since being the Caddie of one of the most famous sportspeople in the world definitely gives a lot of attention. Joe LaCava got himself into the Hall of Fame on Wednesday, which got him in the center stage with everyone asking him different questions. Well, it was quite evident that LaCava was very nervous with all the camera and hype around him.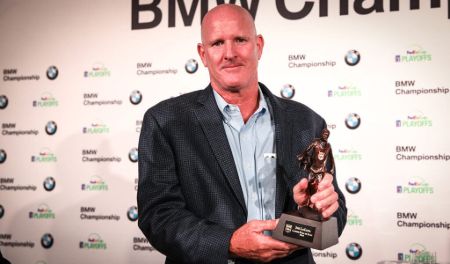 Joe LaCava got inducted to the Hall of Fame on Wednesday.
Photo Source: The Caddie
Joe's professional partner, Woods, revealed how uncomfortable his Caddie seemed the entire evening. Furthermore, he told how uncomfortable LaCava became after getting recognized for his career-long job. Earlier on, the Hall of Fame inductee himself opened up on how he wasn't good with the attention and interviews, so he left that job for Woods himself.
When he came to know the information on how he was going to be inducted, Joe was hesitant initially. But, since it was Jim Bones, who he respected a lot who persuaded him, he couldn't deny the recognition.
For more news and updates about your favorite stars, please stay connected with us at Glamour Fame.
-->