Shannen Doherty Says She's Dying; Reveals Stage 4 Cancer
Published Wed Feb 05 2020 By Matthew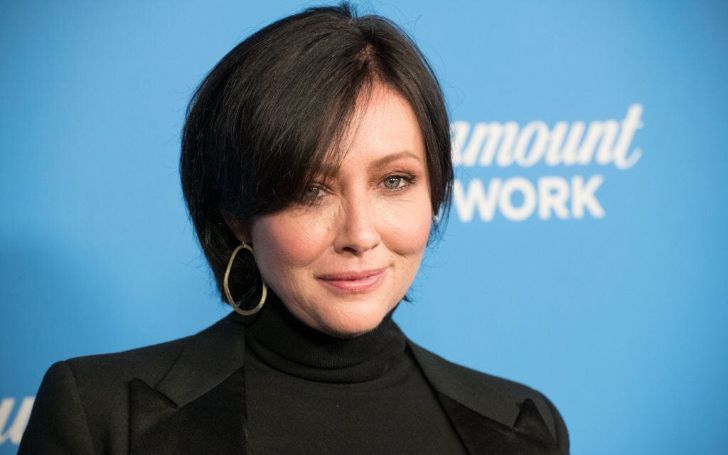 Shannen Doherty's cancer came back, and here is what she had to say about it!
On Tuesday's 'Good Morning America,' Shannen Doherty passed out a piece of grave news to the audience. The 48-year-old American actress flashed out that she was suffering from stage 4 cancer.
The battle of her life returned last year, and it is more aggressive than her previous encounter. Doherty, first diagnosed with breast cancer five years ago, announced her remission in 2017.
Watch: Shannen Doherty Reveals Stage 4 Breast Cancer Diagnosis
Despite her cancer diagnosis, Shannen went right back to work on the reboot of 'Beverly Hills 90210', which launched soon after Luke Perry's tragic passing. Doherty stated that she wanted to keep the news private since she hadn't processed the news quite yet.
Opening up to the 'Good Morning America' anchor Amy Robach, Shannen said,
My cancer came back, and that's why I'm here. It's a bitter pill to swallow in a lot of ways. . . . I definitely have days where I say, why me? And then I go, well, why not me? Who else, you know? Who else deserves this? None of us do.
The 'Charmed' actress remained quite open about her healing journey in the past following her breast cancer diagnosis. In November 2016, Shannen posted a photo of herself sitting on a CT scanner and detailed the panic attack she suffered from while undergoing the test.
After a year of her remission announcement, Doherty posted another picture of herself receiving a mammogram back in 2018 and also encouraged followers to receive check-ups.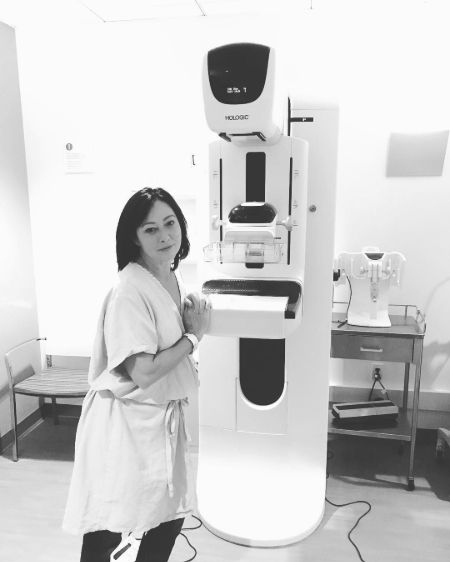 Shannen Doherty posted picture of herself receiving a mammogram back in 2018.
Source: Prevention
As for her recent diagnosis, Doherty further added that she wanted to be the one to disclose the facts about her health issues. She proclaimed how she wanted the story to be real and authentic.
The actress lived with the secret of her cancer reappearing for almost a year. She only revealed the news because she said it was going to come in a matter of days as part of her lawsuit against State Farm over unpaid claims following damage to her house caused by last year's devastating Wolseley fire.
Recommended: Riverdale Pays Tribute to Luke Perry in First Episode Since Actor's Death
Alongside the stage 4 cancer, Shannen Doherty was also dealing with the death of her former '90210' co-star Luke Perry in 2019. In honor of Perry, Shannen worked on the reboot project of 'BH90210' in a way that was very positive and uplifting.
While working on the show, Doherty found a friend in another co-star Brian Austin Green. She credited Green with helping her get through 'BH90210,' as he was the only one working on the reboot who knew about her recurrence.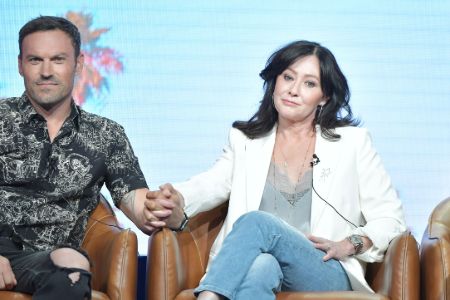 Shannen Doherty found a friend in another 'BH90210' co-star Brian Austin Green.
Source: Good Housekeeping
For someone who is in stage 4 of cancer, Shannen Doherty is genuinely an inspiration, given that she kept on towards her work with the ultimate goal to be remembered for something bigger than just herself.
Tune in to Glamour Fame for more celebrity updates, and don't forget to sign up for the newsletter.
-->