Shannon Elizabeth Recalls Infamous American Pie Webcam Scene 20 Years Later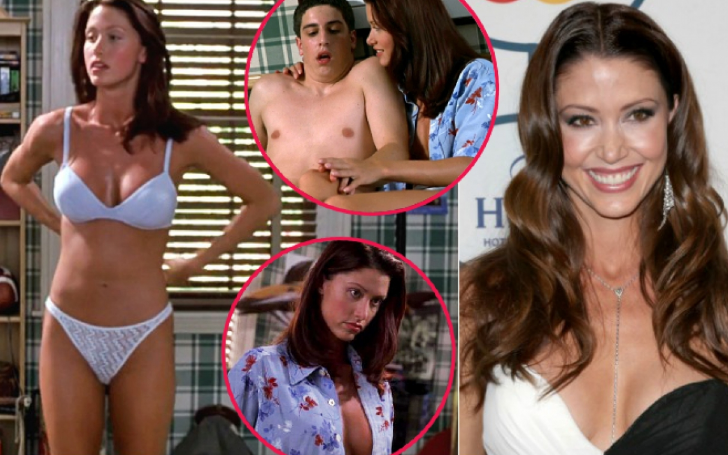 Shanon Elizabeth said, "I am honoured by it, but there's a part of my being that doesn't believe it. You know, like, 'No, that's not me...'
Believe it or not, it's been two decades; the famous movie American Pie came out. Feel old yet?
One of the actresses, Shannon Elizabeth, came to our service and recalled the moments from the classic.
Shannon, after 20 years, revealed what it was like to film the most awkward webcam scene.
See Also: Love Island Fans Accuse Molly-Mae Hague Of Faking Her Tommy Fury Romance
American Pie is a movie about a group of guys who make a pact to lose their virginity before high schools graduation.
One of the characters of the movie, Jim Levenstein (Jason Biggs) tries to get action from Elizabeth's character Nadia.

The whole situation leads to a scene where the boys record Nadia in Jim's bedroom as she was changing her clothes. The boys accidentally send the live feed out to the entire school. Oops!
Jim then returns to his bedroom but remains a virgin due to premature ejaculation.
This scene, for us, was one of the most memorable scenes from any movies and the movie itself, was kind of 'Sex Education for Dummies' for many teenagers.
Shannon tried to take us back to the time and described what it was like to film the awkward scene.
Read Also: What News! Adrienne Bailon Houghton Reveals A Man Once Cried After Having Sex With Her
The actress starts by describing the set itself; she told that it was a closed set and it was just the 45-year-actress in that room and the boom guy above her.
The actress said it was weird filming in a square room the production crew had built in the middle of the warehouse and they made everyone leave the set who did not need to be there.
Despite having a very brief role, Shannon managed to make a big impression and happened to be a big break for her. All the teens (male) love her.
The actress said she is grateful to have played 'Nadia' and said the whole experience was surreal for her as she made a comeback in 'American Pie 2' and 'American Reunion'.
Since actress was always perplexed about ending up in a movie, she is now working as animals rights activist and lives in South Africa.
Shannon now helps to protect endangered species, including rhinos and elephants.
Recommended: Everything You Need To Know About Marvel's First Openly Trans Actor Zach Barack!
Though the actress has parted from the movie career, Nadia will always remain in the heart of 90s male teens.
-->