Sharise Ruddell: Exploring Vince Neil's Ex-Wife's Life and Legacy
Sharise Ruddell is an American model and Reality TV Star. She gained popularity by modeling and working as a ring girl and mud wrestler at the Hollywood Tropicana Club.
Many people recognize her as the former wife of the well-known singer and artist, Vince Neil. Now, let's dig into more detail about the life of the Sharise. Find out who is she dating now. All of the information is listed below.
Is Sharise Ruddell Dating Anyone? Know About Sharise New Boyfriend and Husband
Sharise Ruddell is currently living life as a single woman. After her divorce from her ex-husband, Neil, she disappeared from the limelight and started living a low-key life. For sure, she is not seeing anyone at the moment, but, the former celebrity wife is still searching right man for her.
Further, Sharise Ruddell subsequently entered into a relationship with Kirk Seigel, a man she met through a mutual friend who arranged a blind date for them. The couple eventually had a child together named Colt Seigel.
However, unfortunately, their relationship faced difficulties and Kirk eventually chose to leave. Currently, Sharise resides in California, USA, along with her parents and her son.
Why Did Vince Neil and Sharise Ruddell Divorced?
On 30th April 1988, Sharise Ruddell married her ex-husband, Vince Neil. They first crossed paths when she visited his house as a guest, as Vince would invite female mud wrestlers to his parties. During their marriage, they had a daughter named Skylar Lyanne in 1991.
Tragically, Skylar passed away at the age of four due to stomach cancer. In 1993, Sharise filed for divorce from Vince. After this, she took a break from her design career and transitioned into becoming one of Hollywood's premier club promoters.
Sharise Ruddell's Ex-Husband, Vince Neil's Relationships
Vince Neil has a son named Neil Jason Wharton, born on October 3, 1978, from a previous girlfriend named Tami (last name unknown). He also has a daughter, Elizabeth Ashley Wharton, born on October 29, 1983, from his first marriage to Beth Lynn.
At the beginning of the 1990s, the singer started dating, Heidi Mark, a Playboy model and actress. They were set up by their mutual friends. The couple got engaged within two months and married in 2000. However, their marriage lasted only 15 months, despite several attempts at reconciliation, and they divorced in 2001.
Vince went on to marry Lia Gerardini in January 2005. The ceremony was officiated by MC Hammer, who is an ordained minister and also a cast member of The Surreal Life. However, in 2010, Vince announced their separation.
A Short Bio on Sharise Ruddell
Sharise Ruddell, born on October 27, 1964, in Huntington Beach, California, USA, is currently 58 years old. Her zodiac sign is Scorpio. She is the daughter of Shirley Ruddell and Gary Ruddell.
Sharise has two brothers, Gary Lee Ruddell and Greg Ruddell, and a sister named Shanae Ruddell. While Sharise holds American citizenship, her specific ethnicity is unknown.
What Does Sharise Ruddell Do For a Living?
After graduating from high school, Sharise Ruddell made the move from Orange County to Los Angeles. In Los Angeles, she pursued a career in modeling and worked as a ring girl. She also worked as a mud wrestler at the Hollywood Tropicana Club, where she eventually crossed paths with her future ex-husband, Vince Neil.
Vince would often invite female mud wrestlers to parties and wrestling events. During her time with Vince, Sharise became interested in design. With Vince's assistance, she designed stage outfits and jackets for high-profile magazine covers, including Rolling Stone.
She then went on to create original pieces for upscale boutiques on Sunset Boulevard in Hollywood. Sharise started her own design company, NA-NA, which achieved considerable success. Additionally, she ventured into the world of bikinis with her brand Kandy Wrappers.
Height, Weight, And Body Measurement
Sharise Ruddell has maintained her figure quite well, even at her current age. Due to the COVID-19 pandemic, she is unable to attend the gym, but she tries to make use of local parks whenever possible. Her focus these days is on exercises like jogging, stretching, and other light activities.
Sharise has beautiful blonde hair and brown eyes, which adds to her overall appearance. Even in her 50s, Sharise remains stunning and her fashion choices often make her look youthful. Some would even say that she looks better than younger women. Her body structure is also impressive, with a height of 5'6" (1.67 m) and a weight of 64 kg (141.09 lbs).
Net Worth of Sharise Ruddell in 2023
Sharise Ruddell has accumulated an estimated net worth of around $500,000 as of 2023. She has amassed all of her fortunes through her professional career. As estimated, the former celebrity wife makes over $50,000 per year through her overall involvement.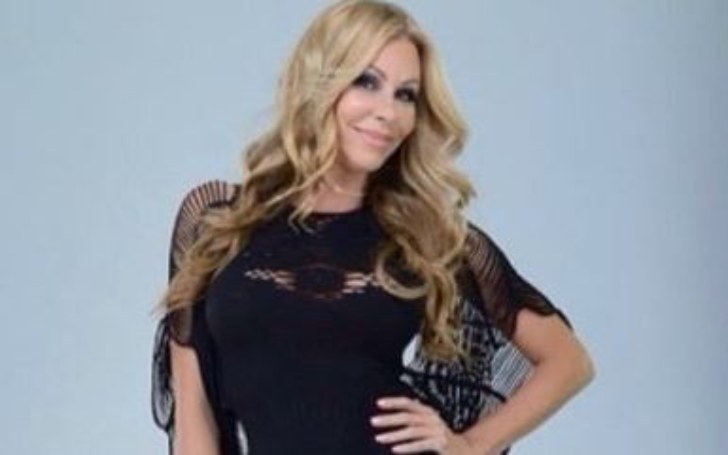 Vince Neil, Sharise Ruddell's ex-husband, is a renowned rock star with a net worth of approximately $50 million as of 2023. Vince frequently tours around the world, which contributes significantly to his fortune. It is estimated that he makes over $1.5 million annually through his various projects and tours.
Visit Glamour Fame For More Related Content
-->