Shay Mitchell Welcomes Second Child, A Daughter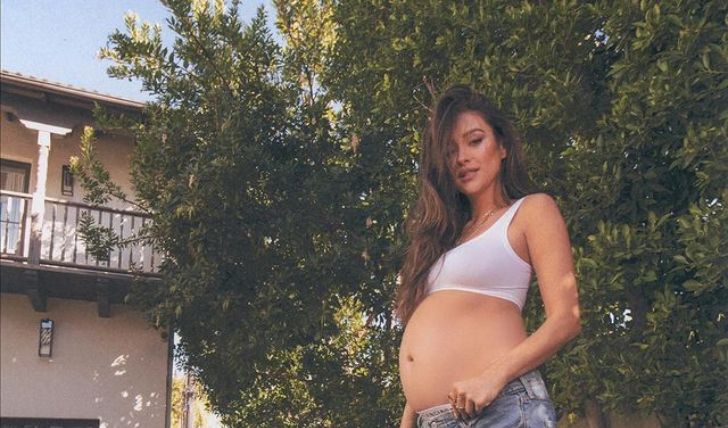 Actress Shay Mitchell and her partner Matte Babel are now parents to two: Complete story here!
Actress Shay Mitchell, 35, and her longtime boyfriend, Matte Babel, have welcomed another blessing into their home. The Dollface actress gave birth to the couple's second child, a daughter, two weeks ago. Shey and Babel had their first daughter Atlas Noa in October 2019.
The happy news comes after two months since Mitchell announced her pregnancy and the death of her grandmother with an emotional post. "Saying goodbye to a loved one while simultaneously experiencing the joy of welcoming another into this world is the great cycle of life. It is also my most challenging season to date," Shay captioned while sharing pictures of herself showing off her baby bump.
An Insider reports the baby was born two weeks ago.
Source: E! News
Shay and Babel have been dating since 2017. "There is something in the oven and it's not my pizza!!! Wow, It's kind of surreal processing the fact that another human is growing inside of you," the Dreamland actress said while making her first pregnancy announcement with her beau Matte. But before Shey was blessed with her first baby in 2019, the actress had suffered a heartbreaking miscarriage.
Don't Miss: Bella Thorne and fiancé Benjamin Mascolo Breakup.
"When it happened, I was just completely blindsided by it," Mitchell said in her Youtube series Almost Ready, where she documented her pregnancies. Shay adds, "I still have all the doctor visit (videos), and it's weird because I haven't looked at them, but it's not like I forgot about that happening."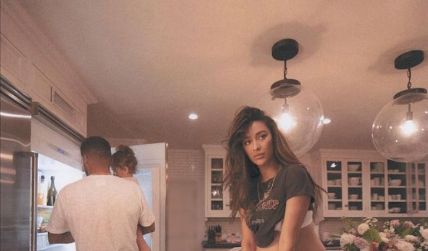 Mitchell suffered a miscarriage in 2018.
Photo Source: Instagram
Shay's boyfriend Babel is a native of Toronto, Canada, and is close to many influential figures, including Drake. Babel has a few acting credits, but he is reportedly working actively in the music industry. Babel seldom uploads tribute posts for his kids' mother. The Degrassi: The Next Generation actor was in awe of his girlfriend when she birthed their firstborn Atlas.
Recommended: Shakira And Gerard Pique Sparks Cheating and Breakup Rumor.
Posting a beautiful picture of a pregnant Shay, Babel wrote, "Watching the both of you grow over the past six months has been the most beautiful thing in the world," he adds, "The strength, vulnerability and grace you've had during this pregnancy have left me in awe, you're going to be an incredible mom. "We're lucky to have you, love you."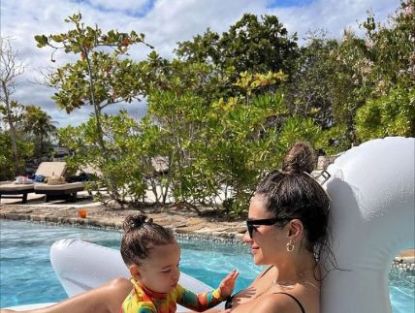 Mitchell says she is not about to marry her kids' dad, Babel. Photo Source: Instagram
Mitchell, a native of Mississauga, Ontario, first rose to fame playing Emily Fields, a lesbian figure, in the teen drama Pretty Little Liars. Although Mitchell is in a loving relationship with her beau Matte, the actress shares marriage is not on the table. "There's no pressure here. I love it. I love the fact that we come home, and every day I'm like, 'I choose you, and you choose me," Shay explained in an interview with E! last year.
Further explaining the benefits of being in a live-in relationship, Mitchell says, "It keeps us on our toes. I'm like, 'Hey, I can walk out. I don't need to go through a lawyer, I can just walk out. And same with him. It keeps it sexy." Having played a popular LGBTQ character and the lack of busy love life in the past has often prompted the media to ask Shay about her sexuality.
And the mother of two has always delivered a simple answer that she refuses to label herself. "People always ask me, 'You play a gay character? Are you gay? Are you straight? Are you this? Are you that?' Shay told Maxim. The actress explains, "Look, Emily doesn't label herself, and I don't label myself either. I fall in love with the spirit of somebody. Love is love, and that's something that I'll keep saying."
Stay connected to glamour fame for more.
-->