Sheryl Crow Calls Out Her Old Friend Kid Rock In Defense Of Taylor Swift
Published Sun Aug 11 2019 By Eden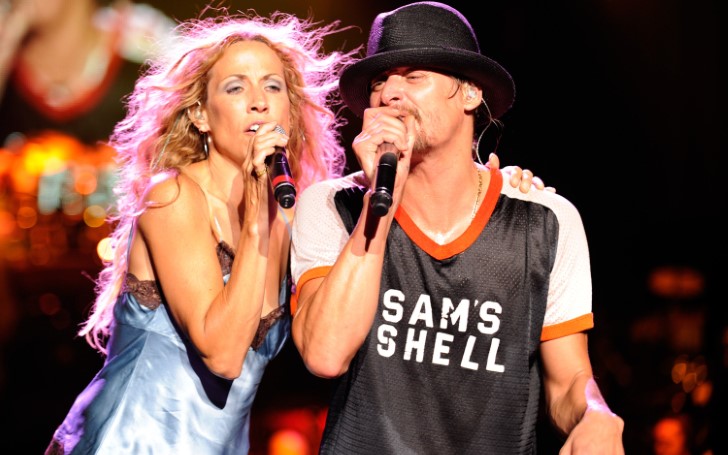 Sheryl Crow is stepping up to Kid Rock following his vicious attack on Taylor Swift.
Sheryl Crow carried a simple response to Kid Rock's sexist tweet aimed at Taylor Swift that went viral on Friday.
The 'Blank Space' hitmaker responded to the rocker with, "Spread love. Not hate. End of subject."
The response followed Kid's tweet where he said,
Taylor Swift wants to be a democrat because she wants to be in movies….period. And it looks like she will suck the door knob off Hollyweird to get there. Oldest move in the book. Good luck girl.
Sheryl and Rock worked together on their massive hit 'Picture' in 2002. This remains one of the biggest hits in the entire career of Kid Rock.
Watch: Kid Rock - Picture ft. Sheryl Crow [Official Video]
Meanwhile, Rock is a well-renowned vocal supporter of President Trump and Republican policies. As a matter of fact, he even attended the signing of H.R. 1551, better known as the "Orrin G. Hatch-Bob Goodlatte Music Modernization Act" in the Roosevelt Room of the White House in October 2018.
Kid sent the tweet following Swift's interview with Vogue where she discussed her decision to involve herself in the battle for LGBTQ rights.
The 29-year-old star told the magazine, "Rights are being stripped from basically everyone who isn't a straight white cisgender male. I didn't realize until recently that I could advocate for a community that I'm not a part of."
Taylor who appears to be inching closer to an engagement with boyfriend Joe Alwyn continued, "It's hard to know how to do that without being so fearful of making a mistake that you just freeze. Because my mistakes are very loud. When I make a mistake, it echoes through the canyons of the world. It's clickbait, and it's a part of my life story, and it's a part of my career arc."
Taylor Swift is not exactly new to controversies, though. Back in June, she got accused of 'using LGBTQ people as props' in her music video 'You Need To Calm Down'.
Watch: Taylor Swift - You Need To Calm Down
Rock's tweet also referred to Swift being cast in Universal's adaptation of 'Cats.' It is Swift's first appearance in a movie since 2014's 'The Giver.'
Previously, Justin Bieber accused Taylor Swift of 'crossing a line' in apology over Scooter Braun drama.
-->