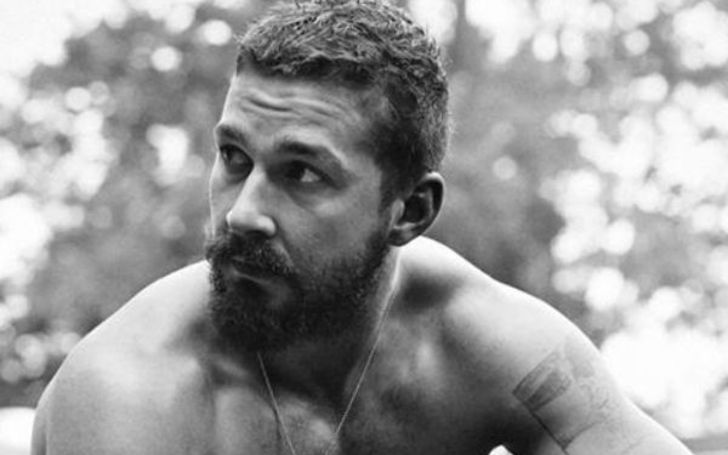 Racing cars, robots, and a high-end cops chase, that's what comes into our mind when we recall the name Shia Labeouf. The transformers movie star's got a raging career ever since he was a child. That necessarily didn't mean there was all rainbows and sunshine as the guy faced his share of downfalls in his decade long career.
Although now LaBeouf is back with a bang and a with a renewed sense of mindset and not to miss tattoos, lots and lots of them. So today, we go through a series of tats that the actor's imprinted on his body.
Thigh Tattoos and Missy Elliot?
Missy Elliot tattoos, that's something Sam from 'Transformers' would most definitely do. And this is not one we are talking about, as Shia admits to getting two Missy Elliot tattoos on his knees.
Shia getting candid about his exposed tattoos during Ellen DeGeneres show.
Photo Source: Tattoo Do
The actor brought up the topic when asked a question in Ellen DeGeneres's show. He said, "I don't love Missy Elliott like I want to get two Missy Elliott tattoos, But you're in a tattoo parlor and peer pressure."
You May Also Like: Evelina Maria Corcos - Some Facts to Know About Debi Mazar's Daughter
Well, that's that, and along with Missy Elliot, there are other tattoos like Prince, a shirtless TuPac Shakur, Biggie Smalls, and Dr. Dre ink. He got these inked during the shoot of the movie, 'American Honey'.
Creeper Belly Tattoo
The Honey Boy is proudly sporting a new tattoo which is a full belly swath that says, 'CREEPER' in a spaced out, block letters. The tattoo can be seen sprawled out all over his belly that pretty much covers up the whole skin.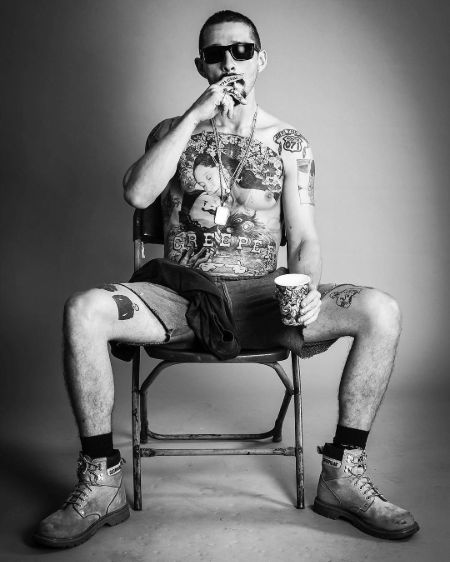 The full body creeper tattoo of Shia LaBeouf.
Photo Source: Twitter
The font of the tattoo almost looks like the attraction sign for the original Ringling Brothers circus tour. It's not anything new to the recent fashion icon that LaBeouf's become. This shouldn't be a surprise if he can wear a paper bag on his head in a red carpet than a circus creeper tattoo is just icing on the cake.
1986-2004, Inner Wrist Tattoo
This one is one of the most important symbols for the actor. It is inked as 1886-2004 in Shia's inner right wrist. The actor exclusively expressed in an interview that most people who've been long in the acting profession tend to forget their childhood.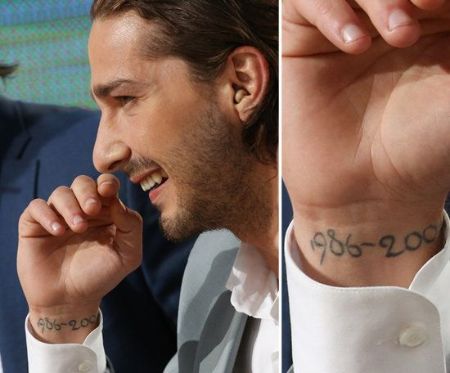 The 1886-2004 tattoo of Shia that is in remembrance to this childhood.
Photo Source: Ranker
The engraved dates are a reminder of LaBeouf's childhood days. Growing up, the artist didn't have things easy, as his father used to give him a tough time. His father even did so much to as point a gun at him. However, that didn't make Shia lose respect for his family, and he still takes good care of them.
Side Shackle Tattoo
The most prominent and talked tattoo of Witwicky from 'Transformers' is the large piece found on his side body. When you first look, it seems like a barrel of gun, but that's anything like it.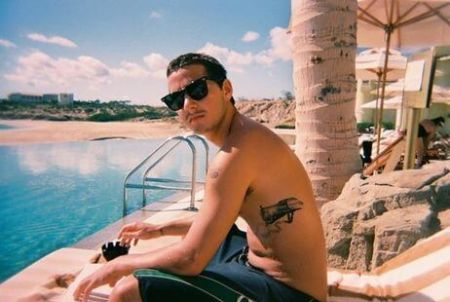 The shackle tattoo of Shia LaBeouf.
Photo Source: Inked Celeb
The ink is of a left hand, which is bound in prison shackles. Apparently, the actor felt inspired by this piece as he related to it as an artist drawing his own prison. The tattoo gives out a message about the stories of life and the message of entrapment.
Also See: Some Facts You Didn't Know About Brian Malarkey
Hope you enjoyed the article. For more be sure to check out Glamour Fame.
-->