Should Miley Cyrus Start Being More Private On Social Media?
Published Mon Sep 09 2019 By Sea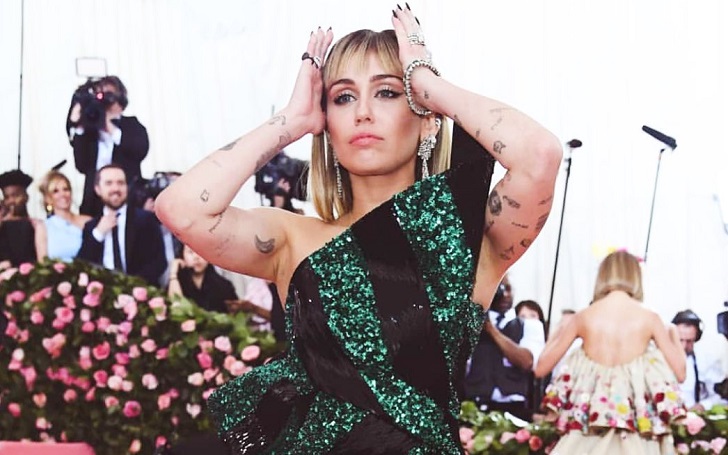 Miley Cyrus advised her sister to ignore the social media comments. Should she follow her own advice?
There's not a month that the media doesn't spout out something about Miley Cyrus. With several controversies and reports to her name, she is getting fed up with it. And so she posted a lengthy statement on her social media accounts to shut the haters, at least have a try at it.
Every little thing makes up to be conflicting and a little offensive in today's world, and anytime Miley does something, there are bound to be some form of disagreement with certain groups of people. Ever since her Disney stardom, the list of negative things on her part is piling up. But, for every such people, a group of fans remains as loyal as they come.
Using Social Media To Express Opinions
The 26-year-old is quite prominent on social media and is extremely active with her Twitter and Instagram accounts. She posts photos and tweets that may raise questions, but there'll be certain messages from her on the caption. It's not like anyone else never does that and still gets praised for them. Granted they got a history, but looking at things individually, it's not new.
Don't fight evolution, because you will never win. Like the mountain I am standing on top of , which was once under water , connected with Africa , change is inevitable. The Dolomites were not created over night, it was over millions of years that this magnificent beauty was formed. My dad always told me 'Nature never hurries but it is always on time'.... it fills my heart with peace and hope KNOWING that is true. I was taught to respect the planet and its process and I am committed to doing the same with my own ....
Source: Miley Cyrus, Instagram
Miley's openness to her private life on social media is always going to get backlashes from critics, and it's also probably one of the reasons of her split with her husband, Liam Hemsworth, of less than a year. August was a rocky time for her, and she plainly shared everything she ever felt about people climbing on her back.
Disney Days May Have Kept Everything Hidden To Suddenly Explode Later
The daughter of ex-country singer Billy Ray Cyrus had already discussed with her mother, Tish Cyrus, about her non-platonic love for girls just as she would love a guy, when she was only 14. That's about when she started on Disney's 'Hannah Montana'.
Keep some things private when on TV, Emily.
Source: Hannah Montana, Disney
Disney has certain rules about not letting its celebrities do anything that might besmirch the company's name. She was always going to have to be discreet about many things and keep the history of unsavory habits on the dark. She was in the closet but had to come out sooner or later. And the sweet Miley turned sex-symbol was obviously going to be thrown rocks at, after she unabashedly used suggestive clothing styles for her image.
The Thing With Liam
Their marriage may have lasted for only seven months, but Miley won't stop loving the former 'Neighbours' star. They'd been in an on and off type of relationship for the last ten years before the split, first meeting in 2009 on the set of 'The Last Song' based on Nicholas Sparks' book. Even at the off- times Miley had feelings for him to make her reconcile with him on several occasions.
The spark began with a Sparks movie.
Source: The Last Song, Touchstone Pictures
As you can imagine, Liam is an extremely private person and doesn't like to just talk about disappointing stuff. He didn't want to discuss this separation from Miley following the divorce either. He's always been like that, despite the formerly delinquent character he portrayed on the set with Miley.
There may be certain things he would have liked to keep private, but Miley never shied away from saying what she feels on social media. It could be one loose hinge that existed in their relationship. Miley's family all love him too; they have, for the past decade. But he could not withstand the enormous amount of questions into their relationship that gets fired at him. A guy can be soft, you know.
Watch: Noah Cyrus Talks Miley, Liam And Family
Despite the Tennessee born star trying everything to keep this one going longer, it was not easy for Liam to keep up. Makeup sex, Cybersex and the rewards she gave him for saving her pets when their Malibu home burned down; she tried, in retrospect of her actions elsewhere. The 'Slide Away' dedication is a post-breakup attempt to remind him she still loves him.
The Advice For Noah Cyrus
The 19-year-old sister, Noah, also has her share of experience with controversies, despite being overshadowed by Miley's. Her social media is also rampant with racy and inappropriate pictures, and fans might be getting on their high horses against her as well.
"even in my sleep yall can f**k off (some of these comments are furthering the point of this post.)"
Source: Noah Cyrus, Instagram
The 'Make Me (Cry)' hit-maker is able to cope with these kinds of stuff and continue doing what she loves, because of the suggestion from her dear sister. She too was open to talk about any issues of Miley brought on to her when being interviewed. She stands her ground in her family still loving the 'Malibu' pop-star through everything.
Watch: Achy Breaky Heart Revamped
Noah got a smart piece of advice from her sister — "turn your comments off on Instagram". Noah said that she was told not to read anything related to her, so that she can be independent without having to worry about any backlashes. She finds it sound, and while embarking on a singing career, she's learned some positive things from her sister's mistakes.
Don't Worry, Miley Follows Her Advice As Well
If social media is inviting troubles for the 'The Climb' singer, people find it's better for her to step away from it altogether for a while. But how she is boldly able to confess everything is because of her own advice as well; the one she gave to Noah.
"Throne 👑"
Source: Miley Cyrus, Instagram
In fact, Miley was the reason the Instagram people introduced their "disable the comments off" feature, however partly. She was considering taking herself off the digital media prior to that. But for the decision to stay on them, she went to the "head tip top of Instagram" and told them they should do something to let artists express themselves and not be verbally abused for it.
"I was a part of that with Instagram. I went to the head tip top of Instagram and said that I couldn't be on the platform anymore if they didn't start making it a place that artists really can express themselves and not be completely verbally abused when you do so."
The Instagram head eventually considered her thoughts, and she felt safe to be on it again. She loves the feature. Also, "Don't google yourself," suggests Miley. On the other hand, she might be in the dark about her loyal fans sending off their love in the comments section. That's something to consider too, for an artist's self-esteem.
Social media is not the only place where people can come at you, and Miley knows it all too well. Topics relating her will always come around every month, and she can't hide it out forever. She has to make a stand, but should probably consider pausing and letting go for a while. Just temporarily.
It's been alright for her right now as she is enjoying her life with Kaitlynn Carter, and there are reports of them even living together. We can only hope she gets it all together and not scr*w things over.
-->