Single Mum Impressed By Tinder Man's Home Finds Out He's Posing In IKEA
Published Wed Apr 17 2019 By Andrew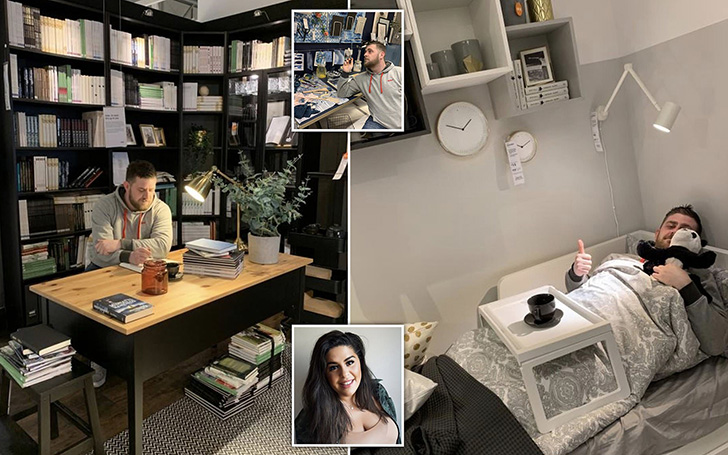 A single mum who was intrigued by a mans' home finds out he took the photos in IKEA.
Natasha Reid was truly oozed when she swiped on Lee's profile on Tinder. In fact, the dating profile of the hunk is filled with photos showing him lounging around in style in his elegantly furnished home.
You may also like: ​Kit Harington Reveals He Almost Lost A Testicle While Filming Major Game Of Thrones Scene
The prankster is showcased studying in a well-appointed office surrounded by scores of books. The other photo shows him deep in thought as he brandishes a paintbrush at a desk surrounded by arts-and-crafts gear.
The cozying up photo of Lee.
Source: Sun
The dating app photo ensemble also includes pictures which see him cozying up in bed, musing in a chair and also one pulling a cheeky pose as he sits on the loo.
Don't miss: The New Flavor Of Diet Coke Is A 'Fruity' Addition To Your Fridge
However, only afterward of the match that Natasha took notice of the dream man bio on the app. She then discovered that Lee, 28, had mentioned that he was a "fan of taking photos in Ikea". In fact, that was when the penny dropped and she came to the realization that the pics were all a brilliant joke.
Lee on his study.
Source: Sun
Despite the unbelievable turnout, 24-year-old Natasha claims the Lee was the most unique of her matches by far as he stands out from the crowd with his hilarious photos.
Natasha, 24, is impressed by Lee's sense of humor.
Source: Sun
Natasha, a resident of Englefield Green, Surrey, maintained,
"It's 100% a good way to stand out on Tinder. Even if he and I never go on a date, he will definitely get one with a profile like that."
She added,
"I can't even remember some of my other matches, so I think this one will stay with me. Rightly so, as well - he deserves it. At first, I didn't understand what they were because they just seemed like really odd pictures. Then it dawned on me that all of the furniture looked amazing in this place."
Commenting on Lee's creative take on the Tinder profile, Natasha took it upon herself to compliment the extraordinary tactics.
Also read: Son Sues Parents For $87K After They Destroy His Porn Collection
Natasha said,
"I thought it was so funny. We have all at some point walked around IKEA and wanted to act like it was our house. I literally swiped right and we matched straight away, so I messaged him to tell him the pictures had made my day."
She further stated,
"He messaged me back seemingly very proud of them."
She also mentioned that her favorite pics are of Lee cozying up to a teddy bear in bed - and the "brazen" snap of him on the toilet.
Lee's photo in IKEA bathroom.
Source: Sun
She went on to say,
"The way he's looking in surprise and he's got his hand over his mouth like he's just been caught on the toilet is really good. I think IKEA should take him up on being a sort of live mannequin because he pulled it off very well."
Mum-of-one Natasha who is a full-time carer shared Lee's profile online and the social media users urged her to marry the creative profiled guy. Moreover, she went on to extended lengths to complement the creativity even more.
-->