Sophie Turner Looked Understandably Upset While Cuddling Her Dog Porky On Set Of Joe Jonas' Music Video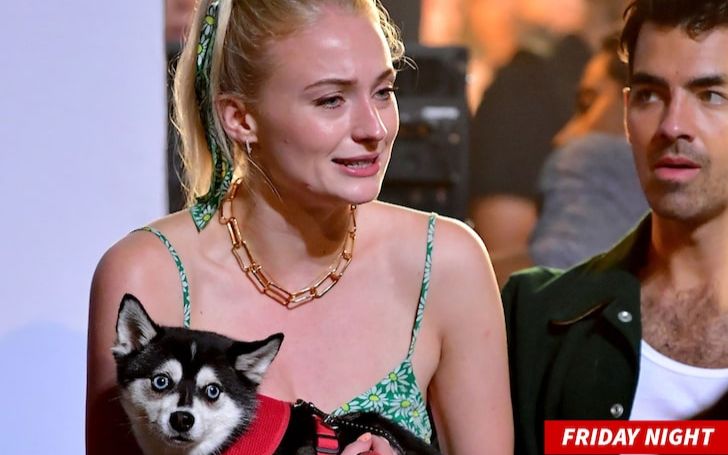 Game of Thrones star, Sophie Turner, seemed upset while cuddling her dog, Porky.
Sophie Turner, on the set of Joe Jonas' new music video understandably looked sad cuddling her dog Porky as her other dog, Waldo, was killed in a very unusual accident.
Sophie was seen holding her pup gently and protectively while watching her husband, Jonas, filmed a music video on July 26.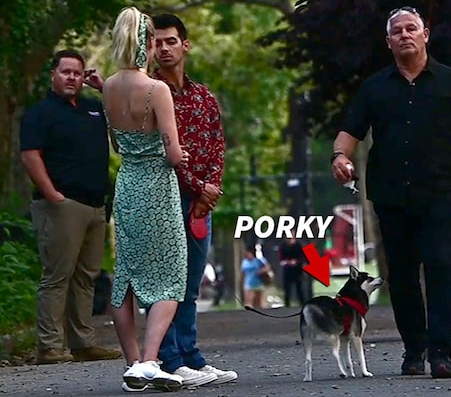 Turner, 23, seemed very emotional in photos obtained by an online outlet, as it had been only two days the couple lost their other dog, Waldo.
Also See: 'Game of Thrones' Star Sophie Turner Already Told Her Friends The Ending
Waldo, an Alaskan Klee Kai, was struck and killed by a car in Lower Manhattan after breaking free its dog walker.
While Sophie looked upset, Joe held her hand during his break from the filming. Sophie was wearing a green floral dress with a matching hair tie for the occasion, Joe, on the other hand, was rocking a red patterned shirt and jeans.
The reports say the tragedy was a "freak accident," the couple waited two days to go file a police report as they were so devastated by the news, they had to go to a therapist.
Also Read: 'Game of Thrones' Star Sophie Turner Wasn't Allowed To Wash Her Hair While Filming HBO Series
New York Police Department provided a statement following the accident, which stated, "A police report, was filed for a motor vehicle collision involving a dog struck at Bowery & Broome Street, within the confines of the 5th Precinct. On Friday, July 26, 2019, a female complainant filed a report stating, on Wednesday, July 24, 2019, at approximately 2335 hours, a vehicle struck the dog, did not stop and left the scene."
The statement further read, "The dog was brought to the hospital where the dog later died. There is no vehicle or driver description. We cannot confirm the names of the person filing the report, nor can we confirm the owners of the dog. No further information is available."
Jonas adopted Porky as a surprise for Sophie and later added Waldo to the family. The Game of Thrones Star was so excited to adopt Waldo she even announced it on Instagram, which was April 16, 2018.
Recommended: Joe Jonas Took a Style Risk as he Sported Denim-on-Denim Look in NYC's Little Italy
The newlywed couples had a great attachment with their dog, Waldo. Losing a precious member of the family was understandably hard for the star couple.
-->