Sophie Turner Says Game of Thrones Petition To Remake Season 8 Is 'Disrespectful'
Published Tue May 21 2019 By David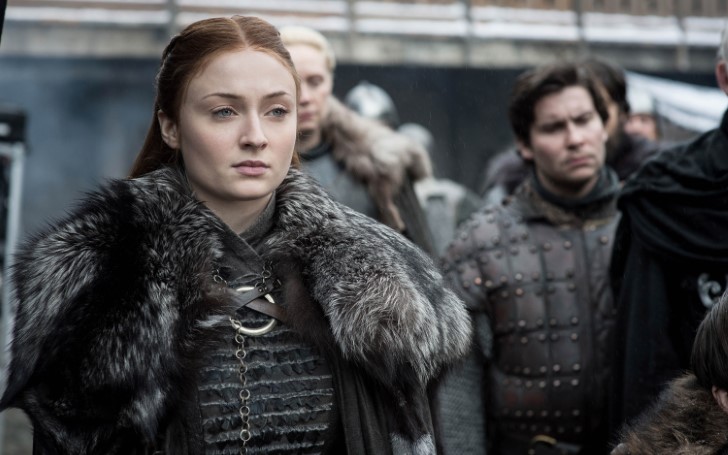 Sophie Turner calls season 8 remake petition "disrespectful".
Game of Thrones actress, Sophie Turner has taken aim at 'disrespectful' viewers who have signed a petition to remake the final season.
The 23-year-old actress criticized fans who 'rubbish it because it's not what they want to see', after the campaign to do over call for season eight reached more than 1.3 million votes.
Discussing the fate of "Daenerys" in particular, Turner told the New York Times that the popular character's dark turn in the final episodes 'shouldn't be such a negative thing for fans'.
Sophie Turner calls the motion of Game of Thrones' fans urging to redo the show's latest season as disrespectful.
Co-star Kit Harington also came to the show's defense, saying Emilia Clarke's "Daenerys" had 'done some terrible things' throughout the series and not just at the penultimate episodes. Some disappointed viewers have argued by saying that they felt Daenerys' arc deserved a better ending.
Also Read: Emilia Clarke Cried After Reading The Game Of Thrones Series Finale Script
The recently turned Mrs. Jonas said that Daenerys becoming something of the Mad Queen shouldn't be such a negative thing for fans and that it might be a shock for sure but it shouldn't be so because the show didn't favor the fan service.
The actor further added: 'All of these petitions and things like that - I think it's disrespectful to the crew, and the writers, and the filmmakers who have worked tirelessly over 10 years, and for 11 months shooting the last season.
So many people worked so, so hard on it, and for people to just rubbish it because it's not what they want to see is just disrespectful.'
Sophie also mentioned '50-something night shoots', alluding to the epic Battle of Winterfell sequence that took 55 nights to film and set a feat as the biggest battle sequence in film and television history.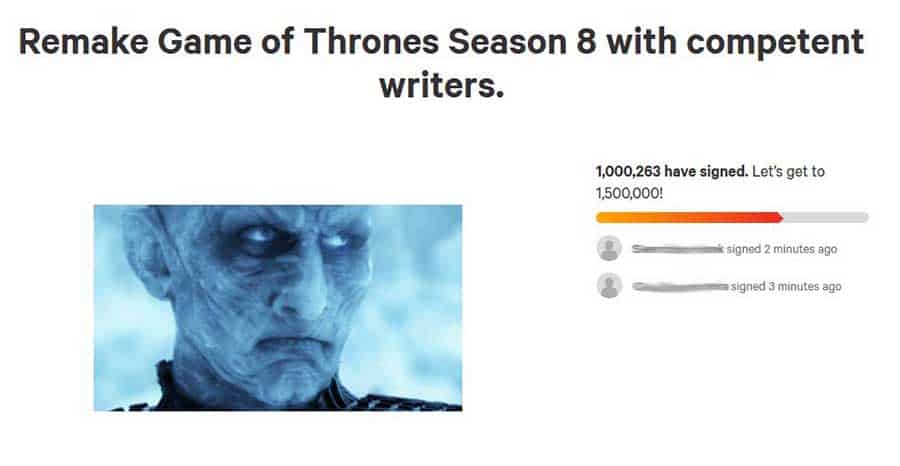 Game of Thrones fans signed a petition urging to redo the final season of the show.
The urge to improvise the final season had more than 1,350,000 signatures early on Tuesday morning.
Signed through Change.org, it frontlines a critical title: 'Remake Game of Thrones Season 8 with competent writers.'
The show was based on novels by George R.R. Martin but it outpaced the books in between its run, meaning showrunners did not have the same source material to visualize the final season accordingly.
Recommended: George R.R. Martin Reveals 3 'Game Of Thrones' Spinoffs Are Currently In Works On HBO
Speaking to Entertainment Weekly, Harington said some of the audience was 'in denial' about Daenerys.
The 32-year-old said: 'I think it's going to divide. But if you track her story all the way back, she does some terrible things.
'She crucifies people. She burns people alive. This has been building. So, we have to say to the audience: You're in denial about this woman as well.
'You knew something was wrong. You're culpable, you cheered her on.'
In Sunday's final episode, The Iron Throne, Daenerys was stabbed through the heart by Harington's Jon Snow, after she had ruthlessly burned Kings Landing to the ground.
One viewer said: 'I've always rooted for Daenerys and honestly that season finale broke my heart'.
Likewise, another fan (on Twitter) said: 'My heart is broken, I demand justice for Daenerys, the only true character of Game of Thrones'.
'Daenerys deserves so much better. I am so devastated,' wrote another.
Before the series finale, veteran writer Stephen King had also defended the character's storyline, saying: 'I've loved this last season of GoT, including Dani going bugs*** all over King's Landing.
'There's been a lot of negativity about the windup, but I think it's just because people don't want ANY ending. But you know what they say: All good things...'
Stephen King also defended the Game of Thrones' finale.
King went on to praise the show's 'enthralling fantasy and human drama' and declared it a 'groundbreaking' series.
Turner's own character, Sansa Stark, ended up being the Queen in the North.
Later, after the premiere of the final episode, she went on to say: 'People always have an idea in their heads of how they want a show to finish, and so when it doesn't go to their liking, they start to speak up about it and rebel.'
Defending the show, she insisted there had 'always been crazy twists and turns' since the first season, beginning with "Ned Stark's" execution.
Sophie also admitted the Bran's ascension as the ruler of Westeros (the six kingdoms) was 'unexpected' but insisted it 'made a lot of sense' and said she believed the three-eyed raven would be an 'incredibly fair ruler'.
Turner recently got hitched to Joe Jonas in a surprise ceremony in Las Vegas earlier this month.
The actress is returning as "Jean Grey" in 20th Century Fox's highly-anticipated X-Men: Dark Phoenix, which is set to hit the theaters on June 7. She is also appearing in Broken Soldier, alongside Ray Liotta, which though is yet to announce its release date.
-->