What is Stephanie Hollman's Net Worth in 2021? Learn About Her Earnings and Wealth
How much does Stephanie Hollman earn? Learn all the exclusive details here.
Born on (June 13, 1980) in Coweta, Oklahoma, United States, Stephanie Hollman is a reality television star best known for being on The Real Housewives of Dallas.
She is married to her partner Travis Hollman since April 19, 2008, and is blessed with two children Chance Hollman (2011) and Cruz Hollman (2013). Many fans are curious to know about the reality television star networth and earnings, which we have compiled all the details here.
What is Stephanie Hollman's Net Worth in 2021?
According to Wealthygenius, Stephanie Hollman boasts an estimated net worth of $18 million as of 2021. Stephaine staggering fortune leads her to live a lavish lifestyle.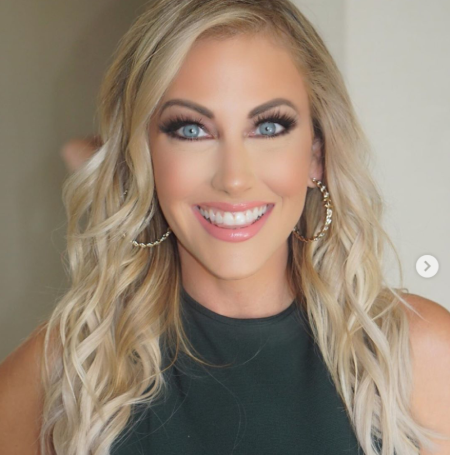 Stephaine Hollman holds a whopping net worth of $18 million.
Photo Source: Instagram
This amount of number comes from the Hollman locker fortune, in addition to her Encore salary of TV roles, Real Housewives of Dallas. Stephanie also runs a podcast called Weekly Dose of BS, which she hosts with her RHOD co-star and best friend, Brandi Redmond.
Also See: What is Maurice Benard's Net Worth in 2021? Learn About His Earnings and Salary Here
Stephanie is head of philanthropic donations for her husband's firm. Stephanie also used her presence on the show to rack up that social media influencer money. Additionally, she also promoted BondiBoost hair products, Kissable Dental, Furbo dog cameras, Pei Wei meal kits, and a skincare app called Acne Intelligence, among other companies.
Stephanie earned affiliate revenue by sharing her shopping recommendations on her own website, which is posted on Instagram. Stephanie did not "need" Real Housewives to live a rich life, but she has undoubtedly made the most of her platform.
Stephanie and Travis Hollman Mansion
In 2019, Turtle Creek Tour of Homes satisfied some pop-culture curiosity when the doors opened to a house that got its storyline on The Real Housewives of Dallas: Stephanie and Travis Hollman let the public peek inside their $5 million mansion.
The Hollman Family Mansion.
Photo Source: The Dallas Morning News
In Season 2 of Real Housewives, Travis splendidly purchased the home without being known by Stephanie. Undeniably, its most memorable feature was a swimming pool in the main foyer, which she insisted be covered for the safety of their minor children.
The home showed a long and flashy history, which Dallas real estate diva Candy Evans chronicled on her site CandysDirt when the Hollman's bought it. That year's tour featured three high-rise residences and the Hollmans' single-family home.
They are 3816 Turtle Creek Blvd, 17th floor of The Warrington at 3831 Turtle Creek Blvd, 24th floor of The Warrington at 3831 Turtle Creek Blvd,15th floor of The Vendome at 3505 Turtle Creek Blvd. Likewise, Sales that benefited from it will go towards The Turtle Creek Association, dedicated to preserving Turtle Creek.
The Hollman Family Foundation
Stephaine and her husband Travis started Hollman Inc in 2018 in the field of Hollman High Education + Learning Program (Hollman H.E.L.Ps). Engaging in partnership with Dallas Community College, Hollman Inc can provide employees with the knowledge and skills to help them advance in their careers and create a more robust workforce.
The Hollman Family Foundation, together.
Photo Source: Hollman Family Foundation
Tuition at Dallas Community College and books are covered 100% by Hollman Inc. Later, in 2019, Stephanie Hollman expanded Hollman Helps and launched an annual Hollman Helps Locker Room Renovation program – Hollman Helps High School Edition.
Related: What is Cole Hamels' Net Worth in 2021?
Additionally, the new program gives deserving schools across the nation the opportunity to submit videos advocating why they must be reasonably selected for the company for a free $100,000 locker room rehabilitation. High schools across the nation submitted videos advocating why they must be selected for free locker room rehabilitation.
For 2021, The Hollman Family Foundation has selected Beecher High School to renovate, located outside of Flint, Michigan.
As The Hollman Family Foundation continues to grow for the prospects, they look forward to accepting more schools into the program and expanding their community outreach efforts.
For more information and news on your favorite stars, stay connected to Glamour Fame.
-->