Does Tana Mongeau Have a Husband? Facts About Her Dating Life!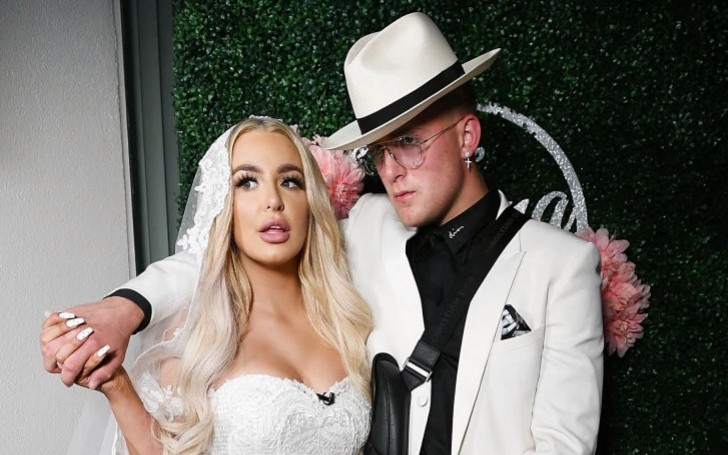 Tana Mongeau is a 21 years old YouTube personality who garnered massive followers through her 'StoryTime' videos, and other similar skits.
The 21-year-old who hails from Las Vegas, Nevada, created a massive stir on the social media, or should we say, on the whole internet when she married her fellow YouTuber - Jake Paul.
There's a catch to this couple's wedding though, which is exciting and you should know. We will discuss just that here.
Tana Mongeau and Jake Paul are not Legally Married
Tana and Jake's marriage is not legal.
Source: Life and Magazine
Tana Mongeau and Jake Paul's wedding was one of the hottest weddings of the year 2019. The couple had a wedding ceremony in Las Vegas, which was even streamed for fans who were willing to pay to watch their wedding.
Even Mongeau and Jake Paul were constantly updating fans on their wedding day, through which we got to see Mongeau getting ready, and we got see her beautiful gowns. Apparently, the internet personality wore two wedding dresses for the night. And talking about Jake, the YouTuber wore a white suit.
While it certainly looked like the wedding of the century, their marriage is not legal. Even Tana herself confirmed her wedding to Jake Paul is not legitimate on paper, meaning they failed to register their marriage.
Watch: WE GOT MARRIED.
There's literally no marriage certificate or license listed under their names in Las Vegas, Nevada, and to make the matter more confusing, even their wedding officiant, Arman Izadi, is not registered with Clark County.
Despite everything, Tana Mongeau insisted her marriage to Jake Paul is real when people question her relationship with the fellow YouTuber.
Just days after their nuptial ceremony, Tana even changed her last name to 'Paul' on her official Twitter account, to prove their union is genuine.
Tana, who was frustrated of answering people who doubted their marriage, said, "I think one day we're gonna have kids, and people are gonna be like... 'You hired those paid actors.' You know, but it's OK."
Even Jake took to his Twitter to prove his nuptials is real. Paul, on his tweet, wrote, "tana and I are already talking about a kid."
After Months Into Their Wedding, Something Changed Between Jake Paul and Tana Mongeau
Recently, Tana Mongeau and Jake Paul's relationship seems to have some issues, as seen on YouTube personality's Twitter account. Tana taking to her Twitter account, wrote, "Thank U, Next," a parody of Ariana Grande's song dedicated to her ostensible husband, Jake Paul, as we assumed.
Apparently, the 22-year-old YouTuber was with his ex-girlfriend, Erika Costell, which Tana found out as they were photographed together, and one of the users uploaded it to Twitter while having lunch together.
Tana, who previously dated Bella Thorne, took to her Twitter and posted another tweet where she wrote, "Even actually got married / And for Jake I'm so thankful / Except when he goes out to lunch with his ex / And I find out on Twitter."
And Tana's last name, which she had changed to 'Paul,' is now back to Mongeau. Moreover, Tana lost her grandmother in August 2019, but Jake was nowhere to be seen during Mongeau's family emergency.
All this piled up to question the legitimacy of Jake and Tana's relationship. However, the YouTube personality still insist their union is emotionally legitimate, if not legally. And Tana further stressed she is in love with Jake Paul.
For more information on your favorite celebrities' lifestyle, stay tuned to Glamour Fame, and don't forget to sign up for the newsletter.
-->