Tarek El Moussa slams fans for "Proposal" comment on girlfriend Heather Rae
Published Sun Dec 29 2019 By Travis
The holiday season is the best time to propose to your special someone, everyone is in a good mood, unlike thanksgiving, and the risk vs. reward is highly favored in the reward side of things. So, it is probably the reason why most guys like to propose during the Christmas season, surrounded by friends and family, but Tarek El Moussa was not in the mood of proposing.
This is the thing one fan found out in a curt way on Instagram the other day. Tarek is enjoying his best life with his girlfriend, and the two appeared even closer during the Christmas celebration, where she was in the family photo with Tarek's two kids. The couple definitely seems to be comfortable with one another, which leads to one fan speculating Heather Rae Young; Tarek's girlfriend was expecting a ring during the holidays.
Tarek El Moussa and Heather Rae Young were together during the Christmas time with Tarek's kids.
Source: Instagram
Tarek is one of those celebrities who check they Instagram comment section, and despite the fact he is followed by over 600K followers on Instagram, the father of two does his best to respond to the comments on his Instagram feed. This time though, a cold response awaited one of the fans of the HGTV star.
Tarek El Moussa Clapped Back at One of His Fans Who was Starting a Proposal Rumor
Heather and Tarek picture resulted in a fan speculating she was hoping a ring during the holidays.
Source: Instagram
Tarek and Heather are together for about half a year now, and the couple gradually got close to one another as the relationship between the two deepened. Christmas was the time when Tarek and his girlfriend got extremely close and closing out Christmas, the father of two posted on Instagram about the weight he gained over the holidays.
In the image he shared, Heather Rae Young is seen holding her left hand around the chest region of Tarek, and both are smiling at the camera. Cute picture and the caption was also funny, Tarek shared, "Well folks, Christmas is officially over, and I'm ready for the New Year! Today was a lazy day … I needed it! No filming, no traveling, no working … Just cleaning the house! I did make it to the gym, though … I've been a bad boy the last 2 weeks. X-mas belly! How was your Christmas aftermath? What did you do today!? Any fun New Year's Eve plans?"
After a few moments of the picture being up, one fan commented, "OMG, I think Heather thught you would propose! Sad." Well, just because Tarek is friendly with his fans doesn't mean he wa going to let the comment slide, as the Flip or Flop star responded, "There is nothing sad about this. TY."
Are Tarek El Moussa and Girlfriend Heather Rae Young Married?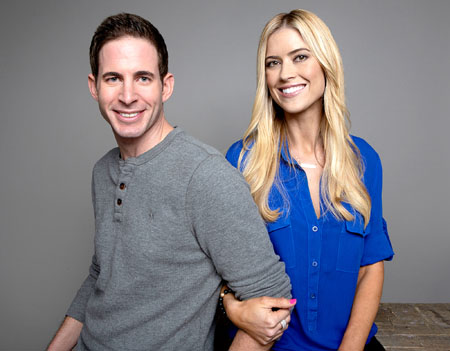 Tarek and Christina Anstead were married from 2009 and got divorced in 2018.
Source: Instagram
The first time Tarek El Moussa and Heather Rae Young confirmed their romance was in August of this year when they appeared together for an interview. This was the first time we saw the HGTV star with a special lady after his marriage ended in 2018, with Christine Anstead, in a divorce.
Tarek was seen getting close with his new girlfriend, and it was probably the reason why fans were thinking Tarek was going to propose. But, he did not, the couple is still together, but as he stated before, the couple is going with the flow of the motion in their relationship and not rushing into anything.
Heather and Tarek are serious about each other but they are going with the flow in their relationship.
Source: Instagram
In an interview, Tarek talked about proposing; he said, "We've definitely talked about [a proposal], but we're just kinda rolling with things right now. We're living life, and we're going to Europe together in a few weeks. We're gonna go to Amsterdam for four days and then Paris for four days."
Considering the massive net worth of Tarek El Moussa, he can go wherever he wants; also, he did not propose in Paris, so maybe a special occasion is in store for the proposal because Heather said before she was expecting to get hitched. Heather said she was 100 percent looking forward to getting married, so going with the flow relationship will most probably end in a marriage, but not anytime soon.
Before you leave, make sure to visit Glamour Fame to be in the know of all the happenings in the world of show business.
-->