Facts to Know About Television Personality - Chris Bukowski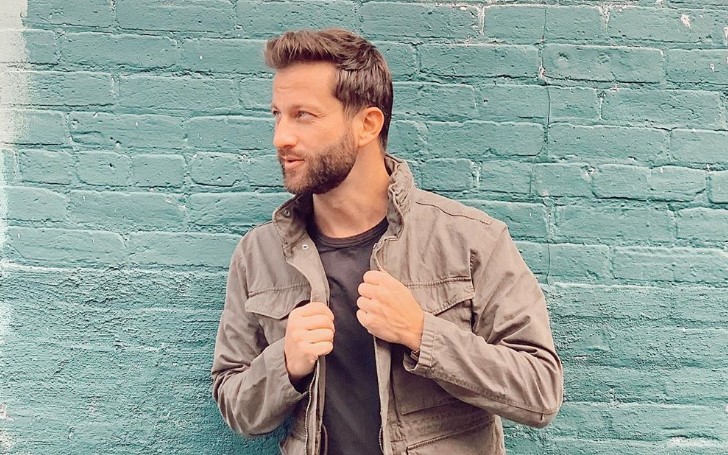 Chris Bukowski is an entrepreneur who hails from Chicago, Illinois. The 'Bachelor Nation' alum is for sure good at his work, we don't doubt it, but the 33-year-old is famous for a different reason.
We are pretty much sure you came looking up Chris Bukowski as 'The Bachelorette' contestant who was eliminated in week eight of the 8th season of the reality show. So, we assume, you are eager to know some intriguing facts about this gentleman. So, without further ado, here are some facts, you should know about the Television personality - Chris Bukowski.
Chris Bukowski's Wiki - Thing You Should Know
Chris Bukowski was born and raised in Chicago, Illinois. Before he tried his hands on reality TV shows, he was a well-established person as a corporate sales director for 'Front Row Marketing Services.' The reality star did not limit himself as sales director though; looking at his profile; we found out he has engaged himself in pretty good deals.
Watch: Chris Bukowski Explains Why He Came Out of Retirement for 'Bachelor in Paradise'
Chris Bukowski, who was born on 10th September 1986, co-founded 'Bracket Room Sports Lounge & Eatery' in 2012 with his partners Jeff Greenberg and Nicole Pettitt in the heart of Arlington, Virginia.
Also See: Is Royce Pierreson Married to a Wife? Details of His Girlfriend
Chris is also an advisor for a female-centric dating app, 'The Catch,' in which he has been working for five years now. Moreover, he is also a director of 'Rant INC.' since 2015, and looking at his profile made us believe, Chris Bukowski seems to have pretty good holds in his businesses. He, for sure, knows his things.
Chris Bukowski's Road to Fame - the Reality Star's Stint on the 'Bachelor Nation'
Chris Bukowski's road to fame has been pretty straight-forward. From the moment the 33-year-old stepped into 'The Bachelorette' set, he was fans' favorite. Chris appeared on Emily Maynard's season of 'The Bachelorette,' but sadly, he was eliminated in week eight.
Watch: Bachelor in Paradise: Tayshia Adams and Chris Bukowski Spill Season 6 Secrets (Exclusive)
The reality star, however, was not ready to give up just and came back in a spin-off of the show, 'Bachelor Pad,' on the third season. The format was completely different from the original show, but the reality star was successful in placing himself on the 'runner-up' position.
Also Read: Who Is The Witcher Actor Björn Hlynur Haraldsson? Facts about the Icelandic Actor
Not satisfied with his performance on 'Bachelor Pad,' the 33-year-old TV personality returned on the 10th season of 'The Bachelorette' again to meet Andi Dorfman; however, Chris did not get lucky this time as well.
Then the reality star crashed into the first and second season of 'Bachelor in Paradise,' but did not quite succeeded there too. Finally, After returning for the 6th season of 'Bachelor in Paradise,' Chris won. We must give it to the reality star's dedication to winning, he is a true inspiration, and of course, he became the contestant from 'Bachelor Nation' with the most appearances.
Chris Bukowski did not just win the season 6th of 'Bachelor in Paradise,' he found love, too, with Katie Morton, but sadly it did not last
Chris Bukowski won the 6th season of the 'Bachelor in Paradise,' and this time, he got lucky with his charms too. Chris met Katie Morton on the show, and the two fell in love with each other. The pair eventually got engaged on the show's final episode.
Watch: 'Bachelor In Paradise' Stars Katie Morton And Chris Bukowski Call Off Their Engagement
The two had strong chemistry between them, but it did not last for too long after the show ended. The former couple seemed to have a rocky relationship, and within a matter of a couple of months, two decided to part their ways.
Unlike other celebrities, Chris Bukowski was pretty open about his breakup with Katie Morton. Taking to his Instagram on 10th December 2019, the reality star posted a picture of him and Katie with a rather long caption.
Recommended: Who is the Witcher star Therica Wilson-Read? Facts about the actress
Chris' caption read, "One of the many lessons this life has taught us is that it's okay to be stubborn in the pursuit of happiness. To fight for what is real and good, and that oftentimes the hardest thing and the right thing are the same. We've reached a point in our story where we agree it's best to go our separate ways. We have chosen to love and respect each other as friends because that's the base of our relationship, and it's what is most natural for us."
Bukowski further added, "We are incredibly thankful for the support we've received from our family, friends, and everyone who supported us throughout our journey - from paradise to this moment. We are grateful for everything that we've learned in this chapter, and are hopeful for what is to come in life and love for both of us."
For more information on your favorite celebrities' lifestyle, stay tuned to Glamour Fame, and don't forget to sign up for the newsletter.
-->