The 'Bachelor in Paradise' Star Dean Unglert is on a Road to Recovery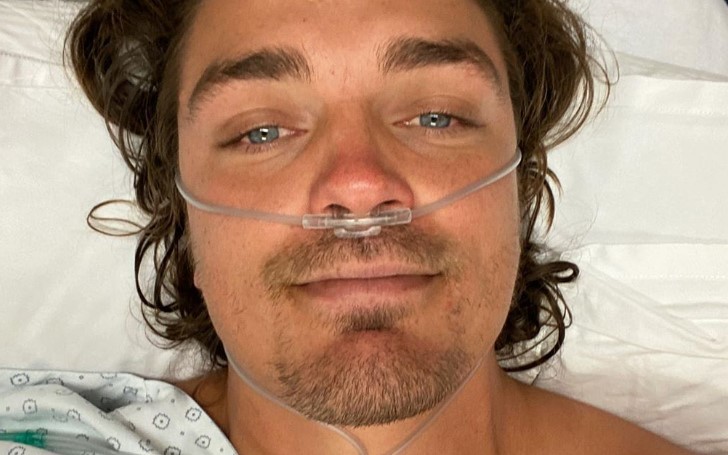 The 'Bachelor in Paradise' star, Dean Unglert, is on the road to recovery, and surprising Caelynn Miller-Keyes was there to take care of him.
A week or so earlier, we found out the 'Bachelor in Paradise' star, Dean Unglert was in a severe accident. The reality TV personality himself updated his fans about the accident posting a photo of him in a hospital bed with an oxygen tube in his nose on December 24.
According to the reports, Dean took a nasty spill while skiing in the Swiss Alps, and the accident landed him in the hospital. The reality star "nasty spill" cost him dislocated hip and broken femur. On 25th December, the 26-year-old reality star confirmed there were four screws put into his body during surgery.
Watch: Dean Unglert Gets In Serious Skiing Accident -- Caelynn Miller Comes To His Rescue...
The reality star has been updating his fans about his ongoing recovery through his social media. Dean shared on December 23 he was trying to find positives in twelve-week recovery time, and recently on 28 December, he posted a video walking out of the hospital, leaning on crutches.
Also See: Jared Keeso Tattoos and Their Meaning
And surprisingly, Caelynn Miller-Keyes was there with him, to take care of Dean, of course. Apparently, the couple reunited in Switzerland, and they were cuddling on a hospital bed. Moreover, Caelynn took very good care of the reality star, as she was seen carrying his luggage too through the Zurich airport. Unglert, after walking out of hospital, wrote, "First steps as a free man after five short days in the hospital. Getting out of bed is hard, but it must be done, I am taking my recovery one step at a time."
A while ago, we covered a story where Dean ignored the possibility of him getting married to Caelynn. But he did not fail to mention she is different than other women he dated in the past. But something was bothering Dean, which was holding him to fully commit himself to Caelynn and push their relationship to one step further. But after this incident, we hope he has his clarity. Caelynn pushed all limits to be with him and take care of Dean. We don't think there will be any other person better than Miller-Keyes for Unglert.
Also Read: Yolanda Hadid Surgery - Did She Remove All Her Implants and Extensions?
For more information on your favorite celebrities' lifestyle, stay tuned to Glamour Fame, and don't forget to sign up for the newsletter.
-->