THE BIGGEST JOKE OF THE YEAR! David Benioff And D.B. Weiss, D&D Nominated For Emmys; Besides Horrible Writing, Learn The Reason They're The Biggest Pricks!
Published Thu Jul 18 2019 By Eden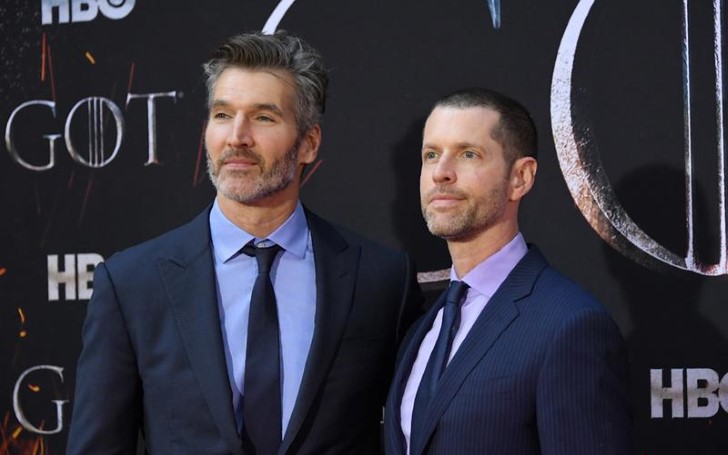 The biggest joke of the year amongst the Emmy nominations!
In one of the most bizarre nominations in Emmys history, David Benioff and D.B. Weiss, yes D&D, the same two incompetent waste of space who somehow managed to screw beyond repair the most epic drama series in television history, are nominated (WTF!) for 'Outstanding Writing For A Drama Series' (Are You ******* Kidding Me?!) for Game Of Thrones Season 8 Finale 'The Iron Throne' (Jesus Christ! You must be having a laugh!).
We are not even exaggerating when we say Game of Thrones season 8 is arguably the worst fall from grace in the entire television history. At one point, fans even came up with credible theories suggesting D&D deliberately sabotaged the show.
Watch: 3 Minutes of the Game of Thrones Cast Being Disappointed by Season 8
Life is not really fair though, is it? D&D aka Dumb & Dumber after turning the most epic show into ruins like Daenerys turned King's Landing into ashes frauded their way into receiving the reward for their incompetence as they're now set to write and produce a new series of Star Wars films.
You Might Like: Top 10 Chilling Scenes In Game Of Thrones That Still Gives You Goosebumps!
The series finale 'The Iron Throne' is rated the worst Rotten Tomatoes score in the series at 49% based on 130 reviews. To make it even worse, the worst IMDb score of all-time is the same episode with 4.2/10 based on 208,000 votes.
D&D not just ruined the show we love so much, they are also a bunch of egoistic, spiteful scumbags. For instance, here's a story many may not be aware of. It involves the actor, Ian McElhinney, who played 'Ser Barristan Selmy'.
Ian is a fan of the books just like us who read them all way before the show. It's depressingly sad how the actor got treated by the showrunners, D&D.
The incident occurred before the filming of season 5 when the actors received their respective scripts. D&D phoned him and informed his character was going to die in Season 5. Ian being an avid book reader responded with, "Are you sure about that?" The writers confirmed the character's demise which prompted a letter from McElhinney explaining in great detail the fact that Barristan was supposed to enjoy an even bigger role the same season.
Also See: Game Of Thrones Creator Believes Prequel Show Is Unlikely To Be As Successful As Original
The actor mentioned Barristan's significance as a Point of View character in 'A Dance with Dragons' who had some great chapters. As a matter of fact, GRRM even released one or two POV chapters of Barristan from the upcoming 'The Winds of Winter' for the fans to read.
Ian was hopeful it was finally gonna be Barristan's season with a story arc of his own. When this got taken away from him, the actor got understandably pissed at the way D&D dealt with his character.
Watch: Game of Thrones Death of Ser Barristan
McElhinney's plea fell into deaf ears as the character got killed off anyway and in the worst way imaginable. Ser Barristan Selmy... Barristan the Bold, a living legend, an Arthurian Knight in George R.R. Martin's universe, killed in an alley like a footsoldier by some masked men with knives.
Following the conclusion of season 5, Oxford Union held an interview with D&D. The interview somehow drifted off topic where the partner in douche said,
"We make phone calls every year when a character is going to perish, and this year, for the first time, we got some push back where the actor said 'Are you sure about that?' and we said 'Yeah we're quite sure you're going to die this year' and then there's a long conversation and we get a long letter explaining why this was a bad idea, which just made us want to kill that person that much more."
Although Dumb & Dumber did not confirm the person at the time, it was quite obvious they were making fun of Ian who later confirmed the story.
Watch: Ian McElhinney on Barristan Selmys Death
One significant portion of the quote that stands out to us, "Which just made us want to kill that person that much even more" - This is low even by D&D's bottom barrel standards. A well informed guy who was definitely more educated than them on the concerned topic was merely suggesting a better way to go about things and they just pissed on him.
Also Read: George R.R. Martin Says Fan Culture Is Toxic Following Game Of Thrones' Ending
If any one ever feels these two men are getting bashed unfairly, remind yourself of the true egoistic douchebags that they are. As a matter of fact, do not hesitate to move forward with pissing on them just like they pissed on all of us after we invested so much of our time into this show.
-->