'The Real Housewives of New Jersey"s Danielle Staub is Leaving the Show Again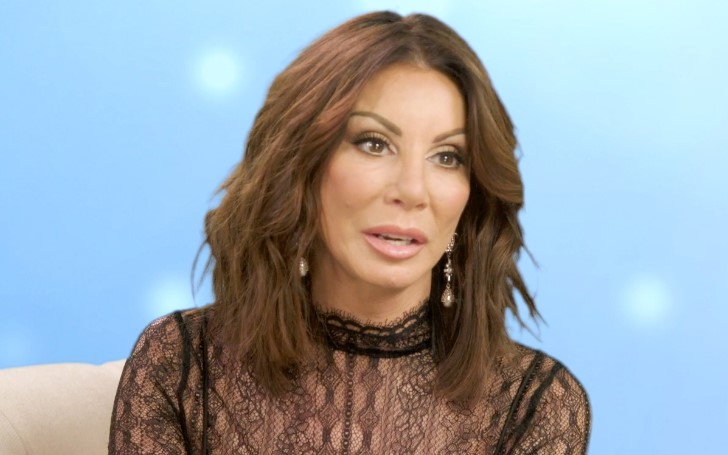 Danielle Staub is leaving "The Real Housewives of New Jersey" for good this time.
Well, it's happening people, Danielle Staub decided to leave 'The Real Housewives of New Jersey' for the second time, and she said it's a final goodbye.
According to the statement by the star recently, she is done with the show after the five-season again. Talking with Andy Cohen on his show 'Watch What Happens Next,' the 57-year-old reality TV personality said she is moving on.
Watch: Danielle Staub Announces Departure from RHONJ | WWHL
Danielle wrote, "I have, over the past twelve years and ten seasons, been a part of this whole franchise. I have been thrilled to rally and stand on the platform, and be here with all of you."
Also See: AJ and the Queen star Katerina Tannenbaum; Facts about the actress
Staub further added, "But it is time for me to leave and do something that I want to do that makes my heart happy every day." On her interview with Andy, Danielle said she wouldn't be returning for the next season of the show, and also revealed she has some plans up her sleeves.
Danielle admitted she is planning to open her own cooking channel; as she mentioned cooking is more like a therapy to her and finds her peace in the kitchen. Well, that's for sure, at least there won't be any dramas.
Also Read: Prince Harry and Meghan Markle Step Back as Senior Members of the Royal Family - Get all the Details of Ongoing Royal Drama
Staub starred in seasons 1 and 2 of 'The Real Housewives of New Jersey' and later appeared as a friend in season 8, 9, and 10 Apparently, Staub's decision to leave the show could be her misunderstanding with her co-star Caroline Manzo. Previously, it was rumored Danielle and Manzo were in some feud.
Watch: After Show: Will Danielle Staub & Caroline Manzo Ever Reconcile? | WWHL
But Staub did not mention any of those things on her interview with Andy, so we can guess she really wants to move on with the patterns and do something she loves - Start a cooking channel.
Recommended: Netflix Original Series 'Luna Nera' - Everything You Need to Know About the Show
Well, we wish Danielle all the best and hope for her Cooking channel, and all the future endeavors. For more information on your favorite celebrities' lifestyle, stay tuned to Glamour Fame, and don't forget to sign up for the newsletter.
-->