Tom Hanks' Son Shared An Amazing Story About Luke Perry After Meeting Him On A Flight
Published Wed Mar 06 2019 By David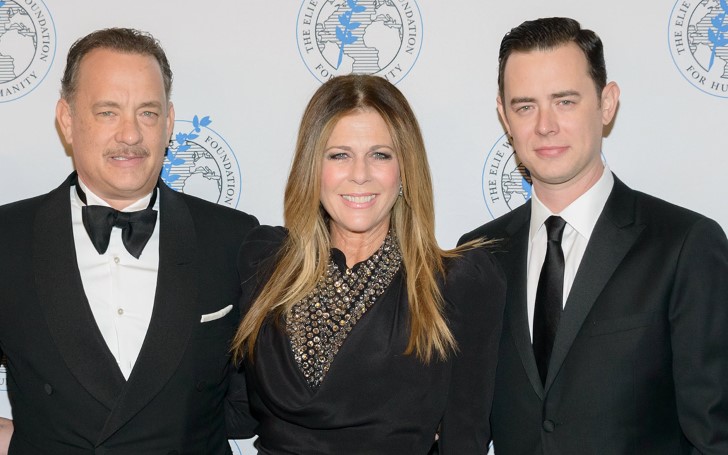 Colin Hanks, the son of Tom Hanks lamented a memorable recital of him took place with the late actor, Luke Perry.
Right now, Hollywood is wailing in the shocking death of Luke Perry.
The actor who was famous for playing Dylan Mckay in Fox hit series "Beverly Hills, 90210" passed away on Monday morning at St. Joseph's Hospital in Burbank, days after suffering a massive stroke when the actor was at his Los Angeles home--TMZ. Then about five days later, a rep for the actor came forward to confirm Perry's untimely demise.
Perry is survived by his two children, Jack, 21, and Sophie, 18, his kids with ex-wife and an actress, Rachel Minnie Sharp.
Many big names from the film industry conveyed their heartfelt empathies for the actor and his families. Some went over at their official twitters, facebook, and Instagram to pour words of homage for the 90210 actor. The likes include the names of Ian Ziering, Gabrielle Carteris, Leonardo Dicaprio, Molly Ringwald, Josh Whedon, Asha Bromfield, Sarah Michelle Gellar, Scott Foley, Christine Elise McCarthy, Emma Caufield Ford, Josh Gad, Marlin Matlin, Michael Chiklis, David Boreanaz, John Cryer, Alison Sweeney, Felicia Day, Carson Daly, Rosanna Arquette, William Shatner, Charlie Sheen, Stephen Baldwin, and Austin Nichols.
Some are even sharing their few or two happy anecdotes eventuated with the actor. And one such account has come from rather an unusual source, Colin Hanks—also the heir of two time Academy winning actor, Tom Hanks.
Colin Hanks was raised by one of the most down to earth individual from Hollywood, but as for now the son of Tom and Samantha is taking time to praise another star who he calls a "true gent" – Luke Perry.
Also Read: Luke Perry Remembers Bidding Farewell To 'Beverly Hills, 90210'
Colin took to his Instagram to post a photo of Perry and a long inscription about the only time he met the actor. The 47-year old wrote,
"My wife and I are on a plane back from Mexico. Couple of rows ahead of us, these two brothers, young kids, are beating the hell out of each other. Their poor parents are powerless to stop the crying, yelling and screaming."
"If you're a parent you understand. Sometimes there's nothing you can do," the actor wrote. "It was like this for close to two hours. Then about 10 minutes before landing it starts to get real bad. Out of nowhere, a man comes from first class." Hanks described the man as wearing a hat, beard, and sunglasses. He was blowing up a balloon,"
Recommended: Sharon Stone Offered some supportive Words For Luke Perry while he was just taken to the hospital following his stroke
He then continued with,
"Kids calm down in milliseconds. Plane damn near bursts into applause," Hanks narrated what the stranger said to his children.
"15 minutes long and it probably would have started WWIII, but we landed before that could happen."
Colin said when he and his wife got off the plane and were waiting for the customs, he realized who the man was.
"Finally get a good look at the guy and I say to my wife 'Holy s**t. I think that balloon man/hero is Luke Perry.'"
The story about Perry to the rescue does not end there, though. "As luck would have it we end up standing next to each other," Colin's post continued. "Out of the blue, he turns to me and says some kind words about Fargo, which kinda blew my mind." (since the Hanks Jr had starred as Gus Grimly in the "Fargo" TV series.)
"I start singing his praises about how long I've admired him and also about the move with the balloon," the Orange County actor recalled. "'That's a heck of a move! You can't force that!' I say. Perry tells me he always flies with a couple of balloons for that very reason, to give to screaming kids just in case."
"Don't know if that's true," Collin added. "But [I] have no reason to believe it wasn't. Guy seemed like a true gentleman."
Though Hanks only met Perry once, his kindness and courteousness made a lasting impact on the actor. "I'll be damned if I don't start boarding with some spare balloons," he concluded.
-->