Top 5 Unknown Facts About The Night King Actor Vladimir Furdik
Published Fri Jun 14 2019 By Travis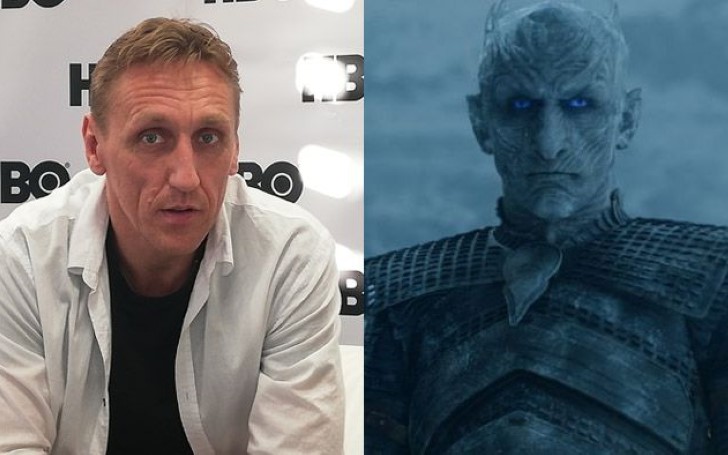 Vladimir Furdik is a stuntman and he would have been just that, one of the thousands of stuntmen, making the stars look good.
Furdo, as he is affectionately known started working as a stuntman some 30 years ago. Many roles and many movies later he was hired to work in Game of Thrones, joining Game of Thrones was the best decision he ever made.
Starting as a body double and just a stunt performer, he was given the role of the Night King. He was just a stuntman and then he was thrust into the greatest role of his career. The reason for the switch of Night King actor is attributed to scheduling conflicts but like it is said, one man's trash is another man's come-up.
The change of fate due to Vladimir's dedication to his craft is the stuff of storybooks. Vladimir did his best with the role he was given and we got an amazing villain, though the demise of the great baddie was cartoonish, still the menace and the scare was there.
Vladimir's career changed for the better and not much was known about him before his portrayal of the great big baddie of Thrones. Here are, Top 5 Unknown Facts About The Night King Actor Vladimir Furdik.
5. He Was Not The First Actor To Play The Role
Vladimir was just a stuntman and a body double on the sets of Game of Thrones. In season 4 Richard Brake appeared as Night King for the first time, season 5 was also the same with the same actor. But in season 6, due to scheduling conflicts, Richard Brake left the role and was replaced by Vladimir Furdik. He was rewarded for his dedication to the show by getting the biggest baddie role. He explained in a documentary how the creators came to him and asked him to play the role of 'Night King' but he only heard the word king and replied, he would play any king they want him to play.
4. During Filming He Slept With His Makeup On
The makeup and dressing process is a very tedious process for the actors, taking up to 4-5 hours to be completely done. Then the dresses are heavy and difficult to put on, it was especially hard for Vladimir because Night King makeup took 4 hours to put on. Since his role in an episode is mostly for a minute or two the 4 hours of makeup for 2 minutes of the shoot was an inspiration for many including Kit. There was an image where it was evident that Vladimir sleeps in his costume and it was an inspiration for Kit Harington.
3. He Is Not A Fan Of Game Of Thrones
Everyone and their mother would love a role in Game of Thrones, however small it may be. To be in one of the most watched TV show in history is something we would make t-shirts about. But it seems the fame has no effect on Vladimir, he said that he is a fan of action movies because those are more relevant to his skills and he has only watched a few Game of Thrones episodes here and there.
2. He Is seen Without The Makeup In One Game Of Thrones Episode
In the episode 'The Door' Vladimir is seen tied to a tree as the Children of the Forest stab him with a dragon glass to turn him into Night King as a weapon against mortal men. This event was seen in a vision of Bran and this was also the first time wight walkers came into existence. It is also funny to consider that Vladimir hasn't uttered a single word either as a human or a white walker. In this scene, he is gagged and can't speak, and as the Night King, he doesn't speak period.
1. He Played Ser Arthur Dayne During The Action Scene Against Young Ned Stark
During the Tower of Joy scene, there is a confrontation between Ned Stark and Targaryen knights while Ned tries to rescue his sister. This scene was one of the best sword fightings in the entire series but the actors are not the one portraying the fighters, Vladimir is the stunt double for Ser Arthur Dayne and his skills as a master swordsman is on full display in this fight scene.
Vladimir is a well-reputed stunt man and maybe Game of Thrones has paved the way for him to not just be behind the scene to make the actors look good, but also stand in front of the camera as the amazing actor he is. Our hope is that we get to see him as the Night King in the planned prequel series.
-->