Tori and Zach Roloff Are Expecting Baby #2!
Published Tue May 14 2019 By Andrew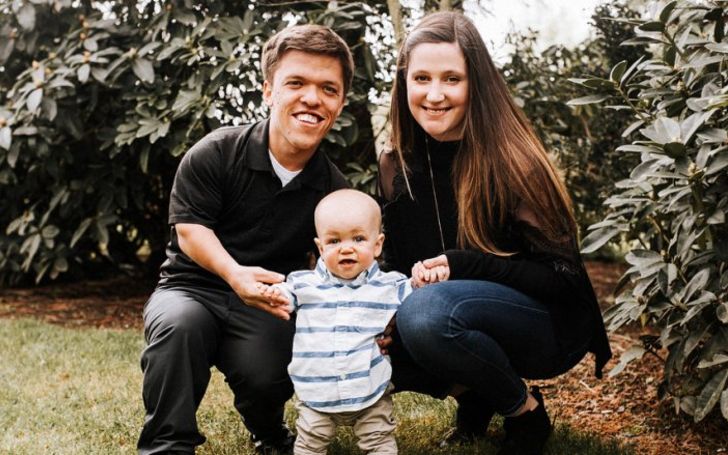 Baby number 2 on the way for Tori and Zach Roloff.
People are head over heels with the TLC's reality show Little People Big World and now, there is a piece of good news swiftly approaching the fans.
It has recently been revealed that Tori Roloff is expecting her second child with beau Zach Roloff.

Tori and Zach Roloff and their son
SOURCE: Good Housekeeping
During an interview with Us Weekly, the Little People, Big World stars told,
"We are so excited to announce that Jackson is going to be a big brother! We can not wait to meet our sweet baby girl!"
The secondborn of the couple is due in November. The soon-to-be fourth member of the Roloff family sure will be a huge enrichment in their lives.
Also Read: 'Little People, Big World' Stars Jeremy Roloff And Audrey Roloff Are Getting Roasted By Fans Over Their Book
The couple who exchanged their vows back in 2015, posed alongside their 2-year-old son in their pregnancy announcement. Moreover, Jackson wore a "Big Brother" tee while the parents held a sonogram picture in their hand.
It was only a month earlier that Zach, 29, and his wife, 28, confessed to Us exclusively about their desire to add more members into their family unit with Zach maintaining "We have plans."
The beauty went on to add,
"We want a family. I would love four or five kids. I want a little pack. Right now, we're just kind of [like], if it happens, it happens. It's just on God's timing and just whenever. We're ready for it."
The duo went on to gush about their son stating that as of late the boy is talking more, he's mimicking more, he can understand more he's just doing everything a little bit better lately.
Watch: Zach & Tori Move Into Their New Home!
Currently, airing 19th season of the show depicts that Zach and Tori have a lot going on in their lives as of late. After moving into a new home, they're in a celebratory mood whilst indulging in a party but still trying to sell their own house.
You May Also Like: "Little People, Big World' Star Amy Roloff Opened Up About What She Regrets About Her Divorce From Matt
Little People, Big World can be followed every Tuesdays at 9 p.m. E.T. on TLC.
-->