Tragic News! Telenovela star Edith Gonzalez Passes Away At the Age of 54
Published Fri Jun 14 2019 By Jessica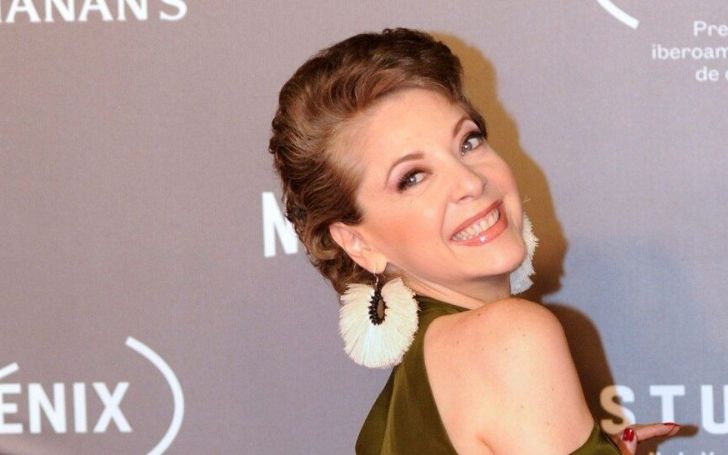 Famous Mexican tv actress Edith Gonzalez dies at the age of 54 on Thursday.
Mexican television family and fans are stunned to learn the tragic news of Edith Gonzalez's death. The 'Telenovela' iconic star was only 54 when she took her last breath.
Family of the late actress confirmed the death of Gonzalez's on Thursday by releasing a statement to her workplace at the Televisa TV station.
The cause of Edith Gonzalez remains ovarian cancer she was diagnosed with back in 2016.
The late actress herself shared the news with a picture of herself in a hospital bed on Instagram where she informed her fans about the removal of the cancerous cells found in her ovaries, further writing: "I am strong, full of life and working,"
Related: Midnight Cowboys actress Sylvia Miles Passes Away at the age of 94
Although being diagnosed with a dangerous disease, Edith always remained positive and strong about her cancer journey.
Edith Gonzalez pictured with her daughter Constanza.

SOURCE: Edith Gonzalez IG
"I am not a warrior, I am a lover of life," Gonzalez said in an interview with Hola! magazine in 2017.
Gonzalez acting career began after she made her debut appearance in the 1974's film; 'Canción de Navidad' where she played the role of Fanny.
The actress then later went on to appear in more than a dozen of films and tv serial drama including 'Lorna Madriga', 'Esperanza Gamboa Martel / Isabel Clara Martel', 'Doña Bárbara Guaimarán', and 'Eva Soler' since her major breakthrough in the 1993's tv series, 'Corazón Salvaje' where she played the lead role of 'Monica'.
Born on 10th December 1964, Gonzalez is also a recipient of several Awards including the TVyNovelas prize she won for the category of the best actress in 1986.
Also See: Cuba Gooding Jr. All Set To Turn Himself in to Police Over Groping Accusations
In mourning of Gonzalez's death, many fans and celebrity friends of the star paid emotional tributes on social media, with one writing: "My heart is broken over the passing of one of my fave actresses- Edith Gonzalez. She was a legendary actress and I'll miss seeing her on my screen. The passion, strength, beauty, and resilience she could convey with just one look is unparalleled by Mexico's current "stars" RIP"
Another one added: "So sad. Growing up in a Mexican household it's almost impossible to not see a telenovela in the background. Even as a child I noticed Edith Gonzalez always played strong, baddass female characters and NOT the damsel in distress trope which infested the genre. RIP, Queen."
"I'm so sad to hear about #EdithGonzalez one of the most amazing telenovela actresses," a third one said:
Edith Gonzalez leaves behind her husband Lorenzo Lazo Margáin and a fourteen years old daughter named Constanza the actress shared with her former partner, Santiago Creel, a politician in Mexico.
Don't Miss: Mira Sorvino Opens Up Her Experience Being A Survivor Of Date Rape
The last picture shared by Gonzalez on Instagram showcases herself and her daughter smiling as they pose in front of a Buddhist temple.
Rest well, Edith Gonzalez (1964-2019).
-->