Up and coming rapper NLE Choppa is dating; Who is his girlfriend?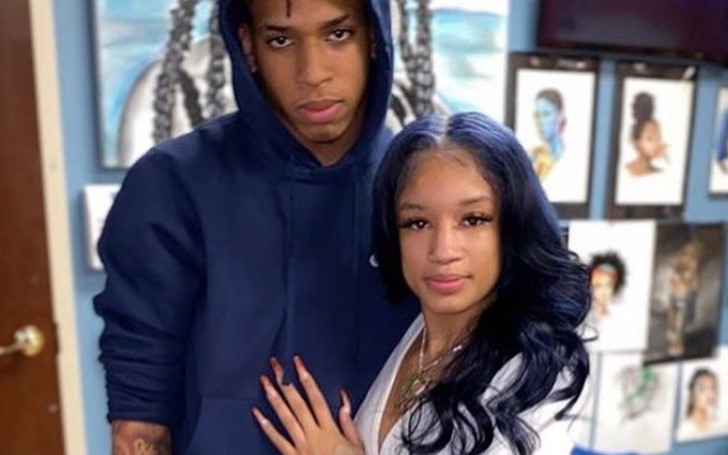 Bryson Potts AKA NLE Choppa is an aspiring rapper from Memphis, Tennessee, USA. The rapper, who was born in 2002, has managed to create a stir in the hip-hop music scene.
NLE (No Love Entertainment) is the name for Choppa's record label he opted to use as his name. To add to his achievements, the Warner Records partnered with NLE Choppa's to launch rapper's record label, No Love Entertainment (NLE).
Within a short span of time, the rapper has managed to garner a massive following on his social media and YouTube Channel. But recently, the rapper is famous for his romance with the girlfriend.
NLE Choppa is Dating Mariah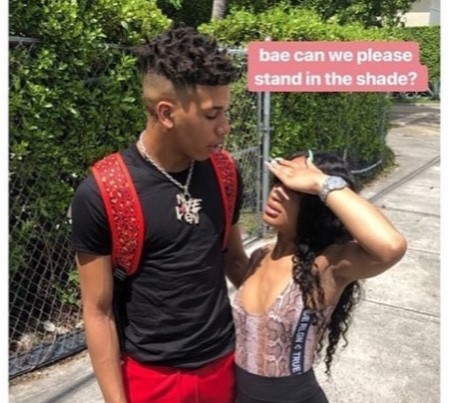 NLE Choopa is dating Mariah.
Source: Instagram
If you follow the rapper, then it's no surprise the 17-year-old is truly, and madly in love with his girlfriend. After remaining mysterious for quite a while, the rapper's girlfriend has finally revealed her identity.
Also See: Theryn Meyer - How Well Do You Know Her?
We know, many hearts were broken when girl fans found out the 17-year-old rapper was already taken. And it seems, the two are truly a definition of love. NLE Choppa and his girlfriend, Mariah, is the epitome of all romantic relationships.
NLE Choppa and Mariah has a Tattoo of Each Other
NLE Choppa and Mariah got each other's tattoos.
Source: Instagram
Just to prove our point, and their love, the couple crossed all limits and decided to get a tattoo of each other. As seen on their profile, the 17-year-old rapper has 'Mariah' inked on his neck, followed by a heart symbol.
And Mariah, on the other hand, inked a portrait of the 17-year-old rapper. The couple who is not even over a legal age has proved true love does exist.
It's obvious if someone is linked to a celebrity, they get attention from fans. Similarly, when people find out Mariah is dating NLE Choppa, she was bombarded with followers on her Instagram account.
Also Read: Brenda Song is Dating Actor Macaulay Culkin Since 2017 - How Did They First Meet?
The rapper's girlfriend now boasts more than 400K followers. And it seems, Mariah, who is known has a username - 'gorgeeoussss,' started a Instagram business.
When we checked the profile, we found Mariah boasts another business account where she markets tresses (hair locks.) And it seems she is doing pretty good.
NLE Choppa Dedicated a Song for a Mariah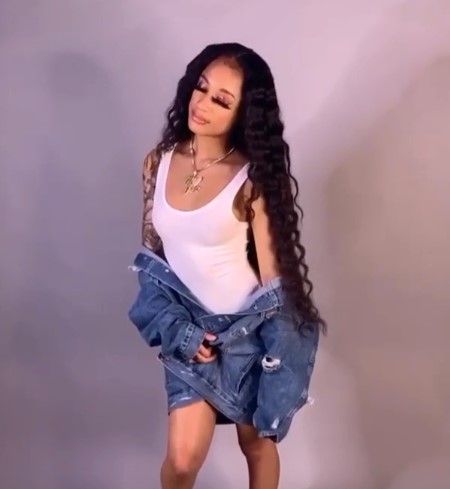 NLE Choppa's 'Forever' song is dedicated to Mariah
Source: Instagram
It is one of those gestures where you go off-limit to show your love to significant other. NLE Choppa dedicated an original song for the love of his life, Mariah.
The song titled - 'Forever' is the song he dedicated to his girlfriend. Moreover, the 17-year-old rapper even featured his love on the video, and what we can say, they looked perfectly fine together.
Also See: Rapper NLE Choppa and Ex-girlfriend Mariah are Beefing Right Now - Find Out Why!
Excerpt from the song read, 'They say forever ain't forever, but I know it's gonna last 'cause I found my treasure. I say, baby girl hold me. Can you hold me? (Baby, you hold me?). I be feelin' so lonely, I be feelin' so lonely (So lonely). Feelin' like I ain't got nobody but you always beside me (You beside me, beside, yeah)."
For sure, the kid has lot of sense put on that two verses, and we can't ignore this pure gem of talent. And we don't dare to doubt his love for Mariah. They are the most adorable couple we will ever see.
For more information on your favorite celebrities' lifestyle, stay tuned to Glamour Fame, and don't forget to sign up for the newsletter.
-->