Victoria's Secret Angel Josephine Skriver is Engaged To Her Boyfriend Alex DeLeon Under The Northern Lights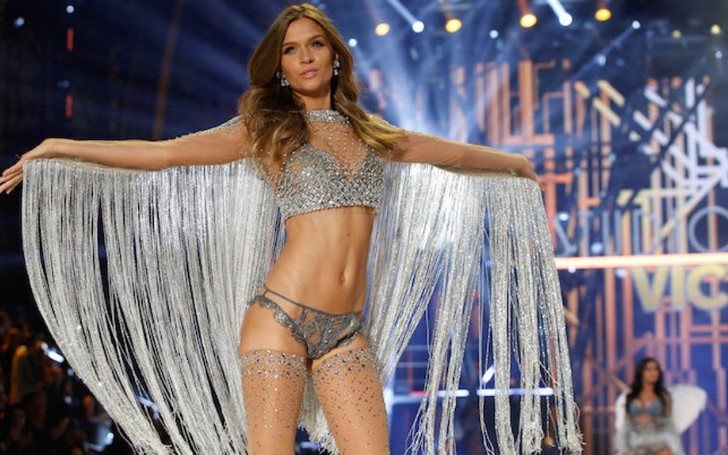 Josephine Skriver has taken her relationship with boyfriend Alex DeLeon to next level as the couple celebrated their engagement.
Victoria's Secret Angel Josephine Skriver enjoyed a very big month. As a matter of fact, she appeared for the third time in the Fashion Show in early November.
The model then wrote on Instagram that she was taking a "break from social media" in order to "sail the Norwegian waters in search for orcas and the northern lights!"
After taking a slight break, she's returned to Instagram and she had delightful news to share.
Also Read: Miley Cyrus and Liam Hemsworth Confirm Their Status As Husband and Wife; Details of Their Wedding
During her trip abroad, she and longtime boyfriend, Alex DeLeon, a musician, formerly of The Cab got engaged. Skriver displayed her excited as she captioned "I SAID HELL-FREAKIN'-YES!!!!"
It turns out DeLeon took Skriver up to Finland to see the northern lights, one of the items on her bucket list. The proposal took place on November 23rd, the anniversary of when DeLeon released his song "Aurora Borealis" which is another name for the northern lights.
You Might Also Like: Actor Kevin Spacey Charged For the Alleged Sexual Assault of a Teenage Boy
Interestingly, this was his first ever composition about Skriver while 23 is also the model's lucky number.
Also See: Nick Jonas is Named As The Most Stylish Man of 2018
Meanwhile, DeLeon posted a close-up of the ring on Skriver's finger with her smiling face on the background.
The couple is dating since 2013 and they share a home in Nashville. Moreover, they travel together to a lot of places, so it's not too far-fetched to imagine their wedding might take place in some far-off destination.
-->