Vitaly Zdorovetskiy And Kinsey Wolanski - When Did They Start Dating? Learn All The Relationship Details Of This Prankster Couple!
Published Sun Jun 09 2019 By Chester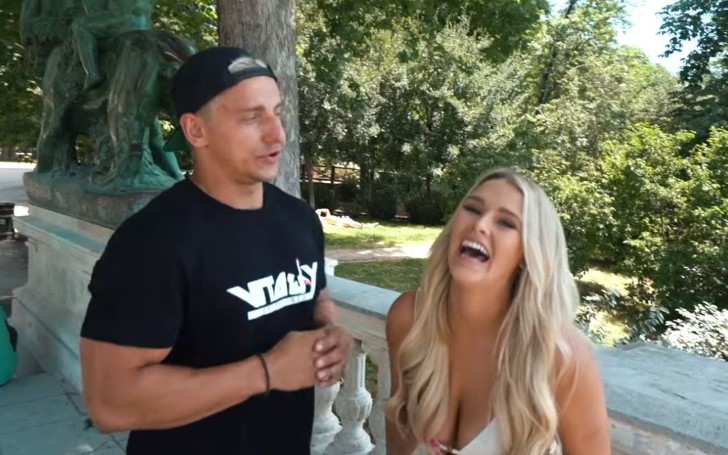 Learn about popular Russian YouTuber Vitaly Zdorovetski and his model girlfriend Kinsey Wolanski and their crazy own world.
After the recent brow raising prank during the Champions League Finale on June 1, Kinsey Wolanski is now trending all over social media.
The Russian model astonished us with something that most of us never ever in our wildest dream ever dare pull off. From tabloids to the magazine she bloomed shockingly as her Instagram followers swell over a million overnight.
But do you know the other end part of the story? All the risk and dare she carried was to prove her loyal love to her boyfriend Vitaly Zdorovetskiy. Well, we will later discuss Vitaly's reaction and oath at the end of the story.
"I can't wait to marry you," Zdorovetskiy writes.
SOURCE: TheSun
For those who are uninformed about the rebelling couple, let us enlighten you with a short introduction, Vitaly Zdorovetskiy is a Russian-American youtube personality popularly known by his YouTube username VitalyzdTv.
Similarly, his girlfriend Kinsey Wolanski is an American swimsuit model and blogger who recently got so much recognition after she streaked the Champions League Final.
How Model Kinsey Wolanski Boyfriend Vitaly Zdorovetskiy Pulled Off $4 Million Stunt During The Champions League Final >>>
Well, the 27 years old Youtuber Vitaly does all kinds of crazy stuff in his youtube channel and his 22 years old girlfriend Kinsey features in most of the videos. They mostly upload x-rated prank videos.
Check Out: WHAT AN AMAZING SURPRISE!
So the questing might be popping inside your mind when the dare seekers fell into the trap of each other's love?
When did Vitaly Zdorovetskiy And Kinsey Wolanski Start Dating?
Well, both the lovey-Dobey pranksters initially hinted us about their sizzling love story sharing a blissful luxury image in a wondrous cliffside at Mykonos town.
The first ever photo was shared by Kinsey Wolanski from her official Instagram on July 22, 2018.
Love started to sparkle like mellow as the rhythm of blues and color of adventures.
Learn The Story Behind Emily Ratajkowski's Daring Dundas Dress >>>
Within a short interval of time, the power couple began to collab for projects together releasing a series of couple goals videos.
Then on the recent valentines, Kinsey posted the first ever public photo of the duo unveiling both faces.
View this post on Instagram
Besides Prank videos, the couple also uploads their travel blogs, Q&A with their fans and more.
View this post on Instagram
On the other side, her daring partner Vitaly was all no less expressive of his love as he vowed to marry girlfriend, Kinsey after getting overwhelmed and impressed.
On May 18 during their one year anniversary of the relationship, Zdorovetskiy wrote,
'Happy One Year Anniversary to my ride or die, it's been a year but feels like ten, we been thru everything and that everything is fucking amazing...thank you for helping me run my business, thank you for saving me stupid money on my credit cards 😂 thank you for wiping my ass, thank you for cooking every night, thank you for being my gym partner, thank you for being a savage like me, thank you for letting me eat your booty, thank you for traveling the world with me, Turkey-Iceland- Israel- Netherlands- Italy- UAE-France-Mexico- Greece- South Africa-Spain-Belgium and many more. Thank you is not enough!! I love you @kinsey_sue ❤️'
Well seems like both Zdorovetskiy And Kinsey are a perfect match for each other, aren't they? Wolanski devotion for love proved that she is ready to die in the arms of his beloved partner and Vitaly's words proved that he is ready to be with her in blood and sweats. We definitely wish to see the couple walking down the aisle.
How To Make A Girl Fall For You - Check Out These Simple Steps On How To Impress A Girl! >>>
Stay tuned and connected to find intriguing news of your beloved celebrities.
-->