Why Is The Internet Confusing Jenelle Evans With Ashley Martson?
Published Fri Jun 21 2019 By Chester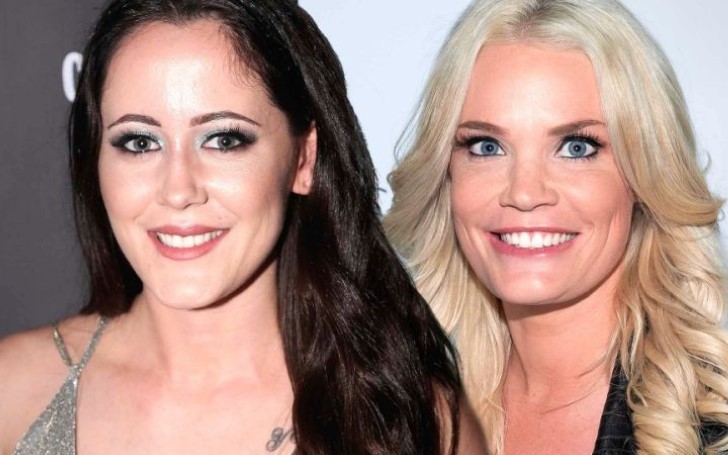 Internet is bamboozled between two reality stars Ashley Martson and Jenelle Evans!
On the facade, Jenelle Evans and Ashley Martson have quite a lot in common but not as much the internet recently went on to be!
Both reality stars seemed to share quiet things in common, both have a questionable taste in men and both the actress takes everything to their social media from personal to professional.
Jenelle Evans and Ashley Martson are longtime friends.
SOURCE: THG
So why are both Jenelle, 27 and Ashley, 31, resembling in the same headlines, and why is the internet going crazy stating them as the same person?
Well, it all started on Wednesday morning when a news channel E! ran a story claiming that the former 'Teen Mom' star had been hospitalized for lupus.
The site quoted Evans stating,
"I am dealing with a lupus flare-up and pyelonephritis. I also have a large cyst on my left ovary the surgeons are coming down to evaluate if they need to remove or not."
Many sources stated that Evans and her husband David Eason were "quietly dealing" with the diagnosis.
Besides, people even came with rumors that the stress from Jenelle having restrictions to meet her kids resulted in the flare-up symptoms.
But in reality, Jenelle is fine and doesn't have lupus. Well, what actually happened was 90 Day Fiance star Ashely was the one diagnosed with the medical condition.
Well, things like this often happen with so much news and gossips going on the internet, however, this one was a bit weird.
Ashley Martson Admits She Still Loves Her Cheating Ex Jay Smith >>>
The news, in fact, ran on numerous sites and social media actually making fans and readers believe it was real.
Well, such reputed site E! should be cautious and verify the news before publishing. Small things can really impact and exaggerate things beyond we assume and so happened with Ashley.
Jade Cline Is Set To Replace Jenelle Evans In Teen Mom 2! >>>
Stay tuned and updated as we guarantee to bring you news and updates of your favorite media personalities.
-->