Winona Ryder Wants The World To Be Reminded She's Married To Keanu Reeves
Published Mon Jul 15 2019 By Travis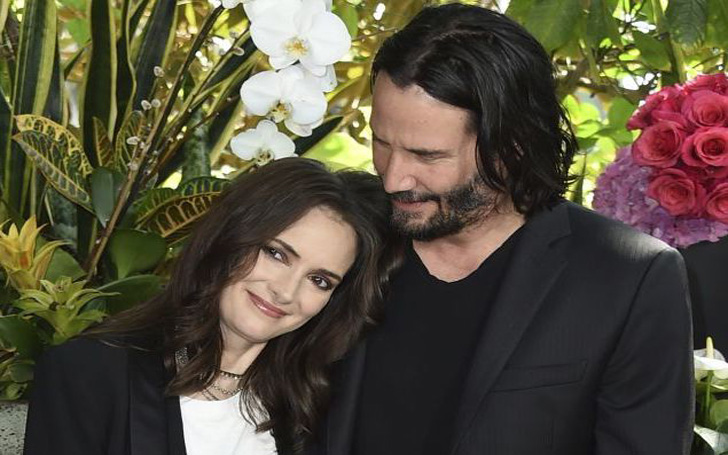 Winona Ryder and Keanu Reeves are married!?!? What??
Bram Stoker's Dracula is known for two things Gary Oldman's amazing performance and that god-awful English accent by Keanu Reeves. Those are the two exact reasons why this movie is still loved to this day even though the movie itself was Francis Ford Coppola's worst movie ever.
Watch: The trailer for Bram Stoker's Dracula
Well, people watching the movie again when you see the marriage ceremony in the film, know this, Winona Ryder and Keanu Reeves were most probably married in real during that ceremony.
It turns out the two actors who played in the 1992 Dracula movie together are confused if their marriage ceremony in the film was real or not. The two actors appeared together in Destination Wedding again, and as they were doing the press tour for the movie back in 2018, she got confused as to whether the two were really married or not.
She was thinking about the wedding and then in confusion said, "We actually got married in Dracula. No, I swear to god I think we're married in real life. In that scene, Francis [Ford Coppola] used a real Romanian priest. We shot the master, and he did the whole thing. So I think we're married."
Ryder was joking, and Keanu took it in stride and reciprocated the joke by saying, "It's lovely to see you again." Still, the actress went on with her joke as she thought back to the day and said that both of them said their "I dos."
Now, Reeves got confused, well he looked confused as he asked, "We said yes?" and Ryder replied, "Don't you remember that? It was on Valentine's Day." Now Reeves was in a bind, and he had nowhere to go but confirm what Ryder said. Reeves said, "Oh my gosh, we're married."
Also Read: Keanu Reeves; The Man, The Legend; Despite Facing the Loss of his Girlfriend and Infant Daughter, The Man is still Going On
Even the director of the movie Francis Ford Coppola weighed in on the situation and said that they re-did the scene and Coppola used a real priest in the movie and in a sense both of them are married still as a result of the ceremony involved in the scene.
Watch: Keanu explains how he is still married to Winona
Keanu Reeves who has never married it seems is semi-married to Winona Ryder. We know it was all a joke and a fun way for them to promote their new movie but still for the fan of the 1992 film, this feels like a dream come true.
Destination Wedding is now available on streaming sites and also on Blu-ray. Keanu Reeves is currently starring in Toy Story 4, and Winona Ryder is playing in the hit web-series Stranger Things on Netflix.
-->