A Woman Tricked into Having Sex With Her Boyfriend's Friend, Exposed in University
University student tricked into having sex with her boyfriend's friend.
Abigail Finney, an Indiana college student spokes out after she had sex with her boyfriend's friend whom she thought was her boyfriend. Abigail jumped back into her boyfriend's bed, that's when all these horrors happened.
The student accused her boyfriend's friend, Donald Grant Ward of raping her but Donald would not be facing any penalty for his actions.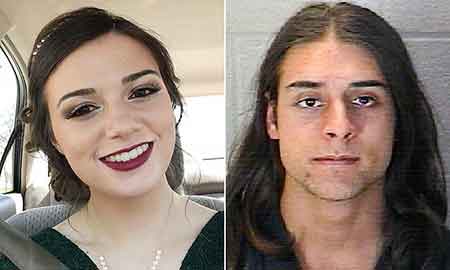 CAPTION: Abigail Finney and Donald Grant Ward.
SOURCE: Daily Mail
As per Abigail, all these incidents took place a year back when she fell asleep one night at her boyfriend's room. She then awoke to a man whom she assumed to be her partner groping her from behind.
See More: Australian Couples Are Hiding Luxury Purchases From Their Partners
After some time, they had intercourse without seeing the face. A minute after the intercourse, she went to the bathroom and found her boyfriend's friend on the bed after returning to the room.
Finney explained the scene,
"I remember him grinning at me. It was a freaky image. I was just kind of - I was frantic. I didn't know what was going on."
The couple went to police after Abigail's boyfriend confronted Donald. In an interrogation, Donald told that Abigail thought that he was her boyfriend so went so close.
Discover: Modern Family Actress Sarah Hyland Opened Up About The Death of Her Cousin, Trevor Canaday
Similarly, in February 2017, Donald was charged with two counts of rape. But, his lawyer defended and said he should not be charged with that. The lawyer added while Ward's conduct was ''ungentlemanly'' it was not illegal under the law of Indiana.
Read More: Saturday Night Live' Star Pete Davidson is Reportedly Dating Again After his Split From Ariana Grande
After few hours of deliberations and two days of testimony, Donald became free from the charges. However, Abigail was not happy with the action and told one of her friends,
"I was like, "I feel violated. This feels wrong. But I don't know if it's illegal."
She added,
"I was pretty angry. I felt like I'd wasted a year of my life because I could've been trying to heal, but instead, I was reopening the wound over and over again."
Besides, Abigail began suffering from nightmares and anxiety.
-->