Zinedine Zidane Speechless Over Eden Hazard's Another Injury
Published Mon Mar 15 2021 By Bran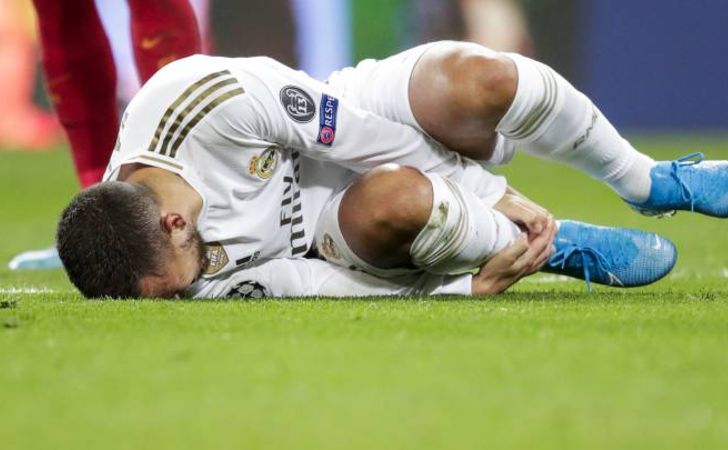 Less than a week after making a return, Real Madrid star Eden Hazard is injured and out yet again. Find out what Zidane had to say about it.
Eden Hazard's move to Real Madrid seems like a curse now as the Belgian skipper has been haunted with numerous injuries ever since joining the Galactico club in 2019. You would be surprised to acknowledge how the former PFA Player at Chelsea has only made twenty-five La Liga appearances for the Spanish capital, which just describes the horrible state of affairs in the magician's fitness.
Just a few days after returning from a long injury that kept him outside since January, Eden Hazard was the victim of a right psoas muscle injury, as per a club statement from Real Madrid.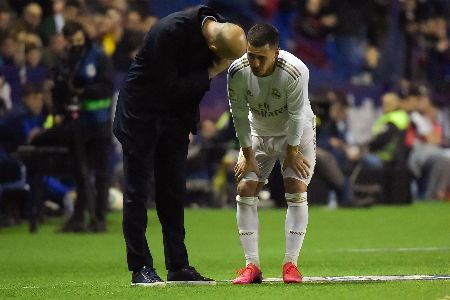 Zinedine Zidane wanted people to be patient over Eden Hazard's injury and fitness condition.
Photo Source: Bleacher Report
Just like everyone else at the majestic club, manager Zinedine Zidane wasn't happy with the injury situation for the club's big-money signing. Before the club's knockout round tie against Atlanta on Tuesday, the Frenchman disclosed how 'Hazard wouldn't be in a condition to be with' in the squad for tomorrow.
Don't Miss: Top 10 Greatest Real Madrid Players Of All Time!
The three-time consecutive Champions League winning manager further stressed Eden's condition saying how Hazard 'is a player who had never been injured in his career or not many times.' Zidane tries his best from the entire team to help the player to be back to his best shape and return to the top again.
Eden Hazard suffered an injury in the right psoas muscle to keep him outside the pitch again.
Photo Source: Euronews
While everyone lauded Eden Hazard to handle the responsibility to lead Real Madrid from the front, as he did at Chelsea for seven years, the injury crisis happened to the Belgian pretty quickly. In fact, he labeled his first season injuries as 'the worst of his career. He faced two ankle fractures back then, which more or less wasted a great debut season at the Spanish capital.
Recommended: Is Real Madrid The Undisputed Most Glamorous Football Club In The World?
Both Eden Hazard and Real Madrid fans were disappointed and frustrated at the player's health condition. In the past, the media even called out his unhealthy eating behavior as one of the reasons for his injury issues as he always returned fat following vacations.
Eden Hazard only missed 21 games due to injury at Chelsea.
Photo Source: Celebrity Net Worth
There were even some pointing fingers at Real Madrid's medical team. But, in response, Zidane defended them by calling them extremely 'competent.' He further urges the fans to remain patient to see the very best of Eden Hazard, the one people remember at his time at the London club.
Related: Eden Hazard's Childhood Sweetheart Turned Wife Natacha Van Honacker - 5 Facts You Might Not Know!
For more news and updates about your favorite stars, please stay connected with us at Glamour Fame.
-->